MIG Welding Helmet Review
Article by Mark Trotta
For the part-time hobbyist, selecting a MIG welding helmet is going to be a compromise of function and price. We need one to be safe and comfortable, but also fit our budget. And admittedly, some of us don't mind paying a little more for appearance as well.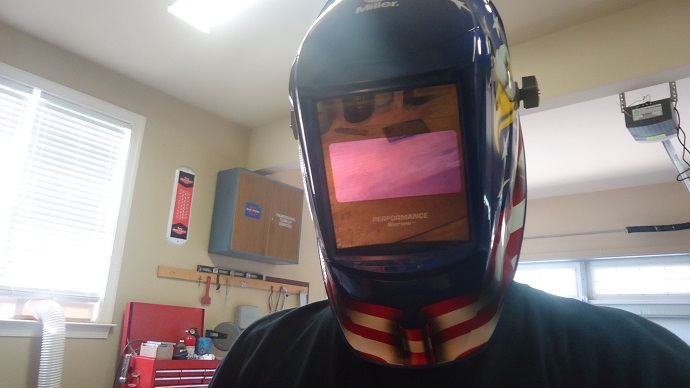 Reaction Time
Auto-darkening helmets have different sensitivities to brightness. This is the amount of time it takes for the filter to switch from light to dark mode. The cheaper helmets don't have as fast a response time as the more expensive ones do. This correlates to your eyes getting sore during longer welding sessions.
Viewport Size
To keep production costs as low as possible, inexpensive helmets will have a small viewport size. One example is the Antra AH6-260-0000 which sells for under $50.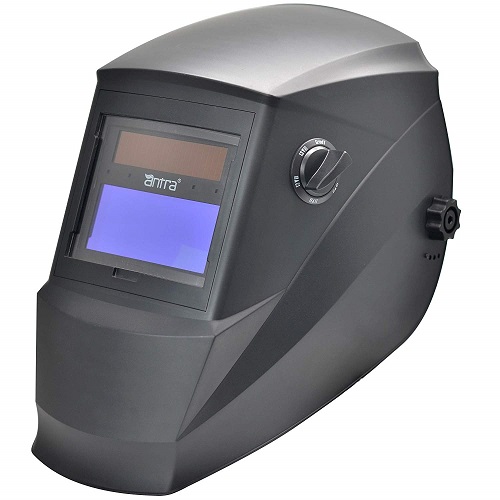 Although a large viewing screen is a nice feature, they come with a higher price tag. Commercial-grade welding with large viewing lenses include the Miller Infinity and the Lincoln Viking 3350. Both are over the $200 mark.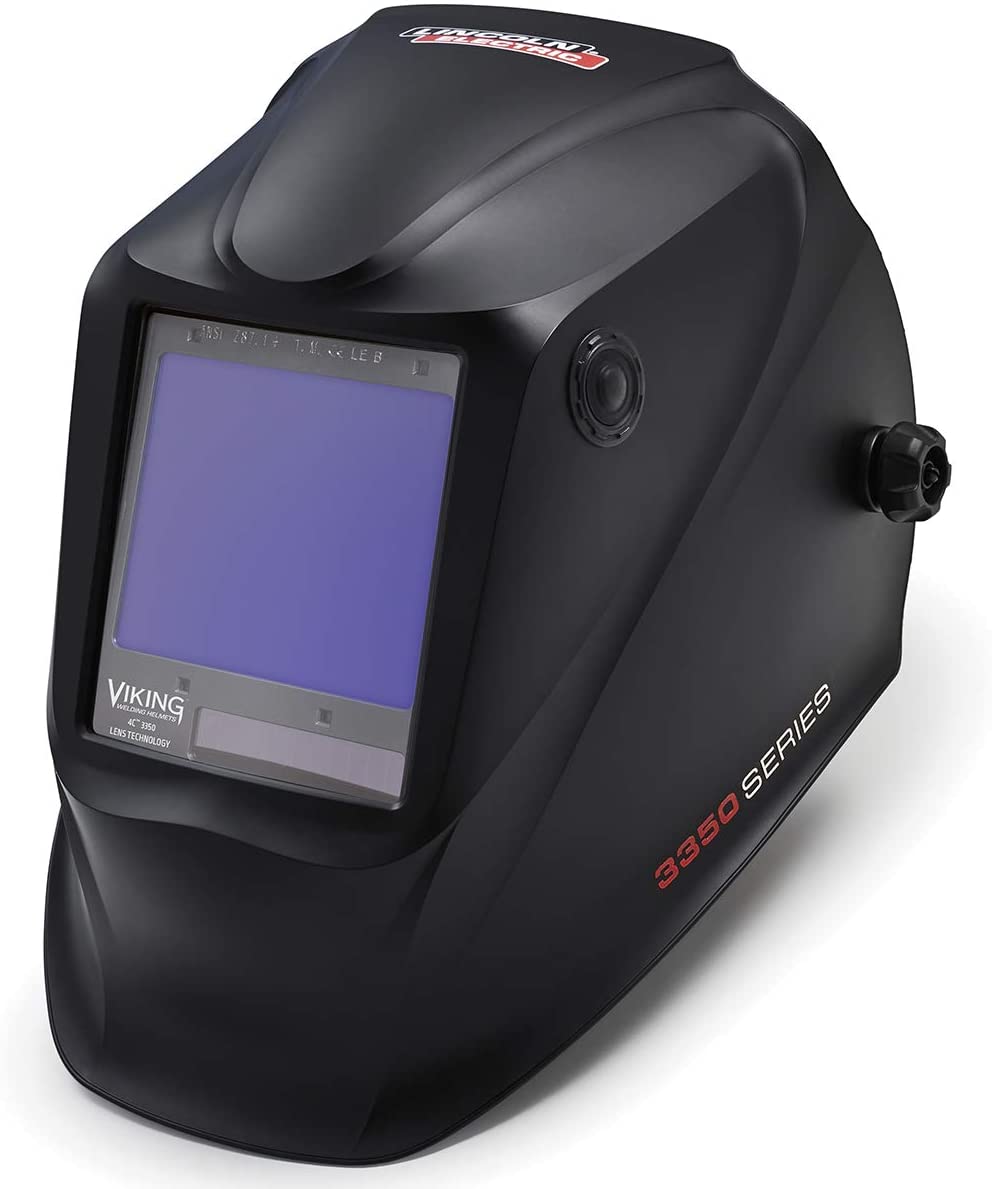 Helmet Weight And Comfort
All welding helmets have an adjustable inner headband that allow you to make headgear adjustments, and most will have a cushion for your forehead as well. If you're planning on welding for hours at a time, how much a helmet weighs should be a factor in your buying decision.
Grinder Mode
Most auto-darkening helmets will also have a grinder mode, which disables the auto-darkening feature. This is helpful when grinding metal or working outdoors.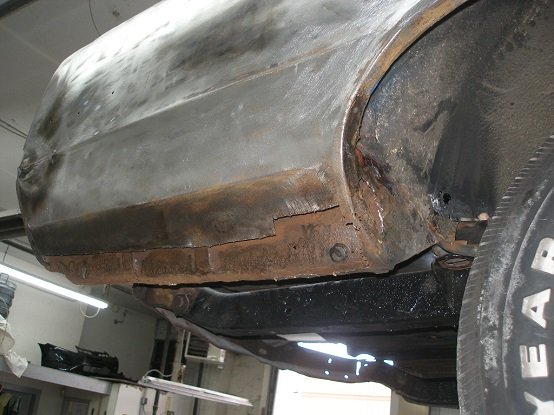 Overhead Welding
The overhead welding position brings the potential of hot slag going through the helmet and onto the user. This is not much of a concern for the classic car hobbyist, as most of our welding will be in the horizontal position. Of course, wearing a welders cap under your helmet will help prevent stray sparks from reaching your skin.
Parts Availability And Warranty
Most companies will offer a one-year warranty policy, but the better brand helmets will carry a two or three year warranty. Other things to look for in a welding helmet are availability of additional parts, such as replacement lenses and "cheater" lenses.
Antra Welding Helmet
Because of it's price point, the Antra AH6-260-0000 is one of the most popular welding helmets out there. Features include a battery indicator and tester as well as a power-off delay. The filter remains active for ten minutes in dark environments before it goes to sleep.
Viewing Size: 3.86" x 1.73"
Reaction Time: 1/25,000 of a second
Weight: 16.5 ounces
For the beginning welder, the Antra is a good first helmet for the money. It is magnifying lens compatible and comes with a useful hard hat adapter. Suitable for use with MIG, TIG, and Stick welding.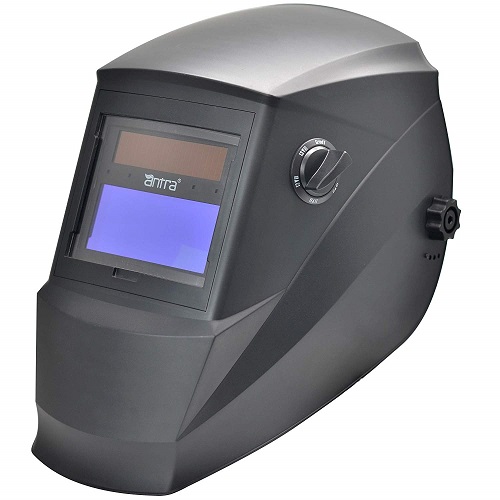 The Antra helmet comes with a one-year warranty and is available in several different color options. It's made of thin plastic so it's very light, but because of that, it's not going to be industrial rated. But if you need a helmet for anything more than occasional hobby welding, you're better off looking elsewhere.
Miller Infinity
Miller's "ClearLight" Lens Technology allows more colors of the light spectrum to come through the lens for a more natural-looking view. Four independent arc sensors provide superior lens response for obstructed or low amp welding. There are four operating modes - weld, cut, grind, and "x-mode".

Viewing Size: 13.4 square inches
Transition Time: 1/20,000 of a second
Weight: 2.99 pounds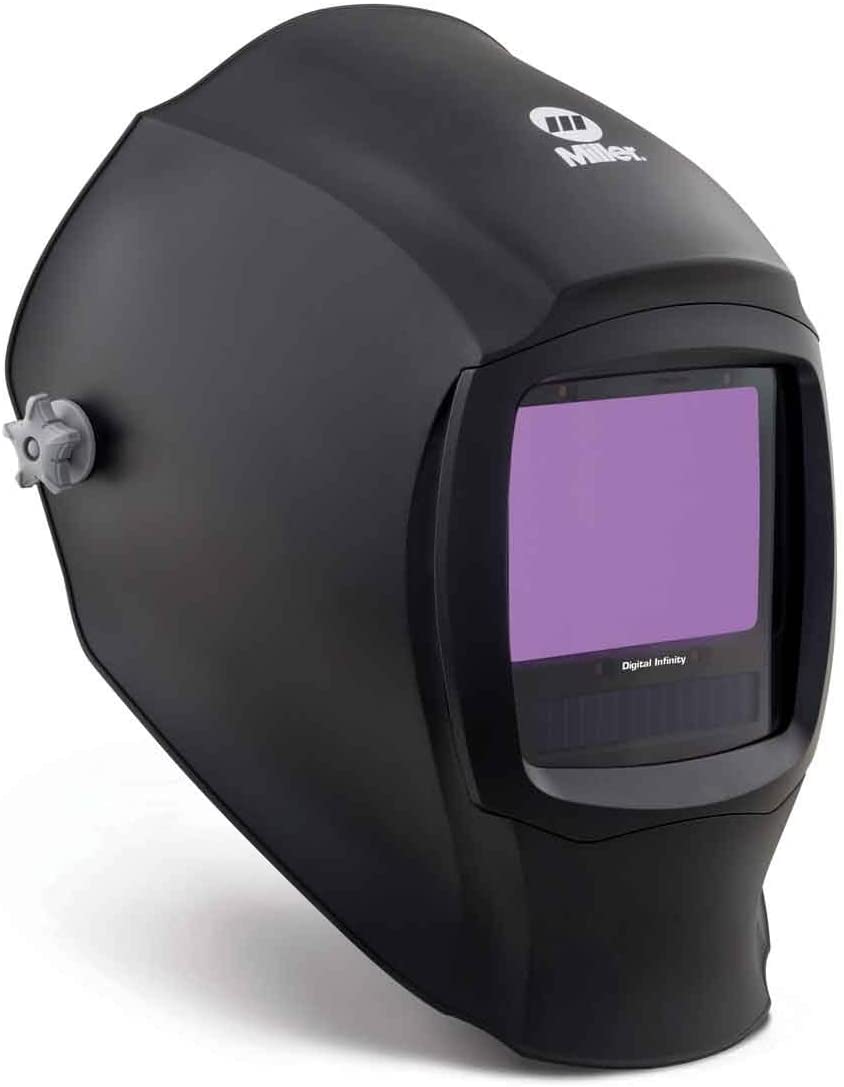 The large lens is 13.4 square inches, making it one of the industry's largest viewing areas. All Miller Digital Infinity helmets are backed by a three-year warranty.
Also in their helmet lineup is the Miller Elite series, which has all the same functionality but smaller viewing area and it's a bit lighter.
Below the Elite series is the Miller Performance Series, which is my present welding helmet. The lens size is 3.85" x 1.85" and the weight is 17 ounces. It can be fitted with lense shades of 8 to 13, and also features a grinding mode.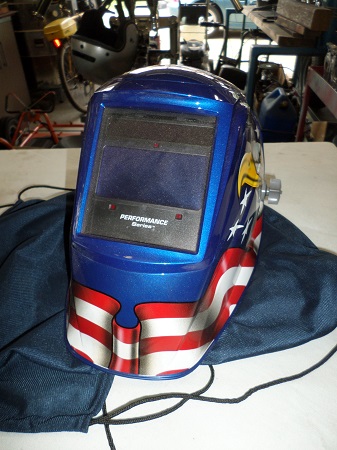 I bought this helmet new in 2012 and it still performs very well. There are three arc sensors, and three operating modes: weld, cut, and grind. It's nice and roomy, and I can wear my eyeglasses underneath it.
Safety Concerns
Professional welders are staring at welding arcs for hours at a time, so they need the best protection for their eyes and skin. For occasional use hobby welders, prolonged exposure should still be a major concern, especially when using lighter shades. Be aware that prolonged exposure causes arc burn and even blindness.
True Color Lenses
Consumer comments indicate that "true color" type of lenses take some getting used to. Some say it's not dark enough, but once the initial adjustment is made, it allows you to see more of the work.
Conclusion
If you weld for an hour or two at a time, an inexpensive lightweight helmet will most likely fit your needs. But if you see yourself welding more often, and for many years to come, consider investing in a better quality, name-brand helmet.
Related Articles