Set Up Garage Workshop
Article by Mark Trotta
None of us have enough time or space for our old car projects, so we need to organize our work-space as effectively as possible. The goal is to have tools, equipment, and supplies accessible and ready to use. Find what you need quickly, and eliminate extra trips to the parts store.
From making a simple workbench to utilizing high ceilings for overhead garage storage, here are the best practices for getting more work done in your garage workshop.
____________________________________________
____________________________________________
The 'nucleus' of a garage workshop is usually a workbench, with tools and toolboxes close by. You can build an inexpensive workbench yourself with a saw, a drill, and a tape measure. Use 2x4's for the legs, and 2x4's or similar lumber for the horizontal structure that will support the bench.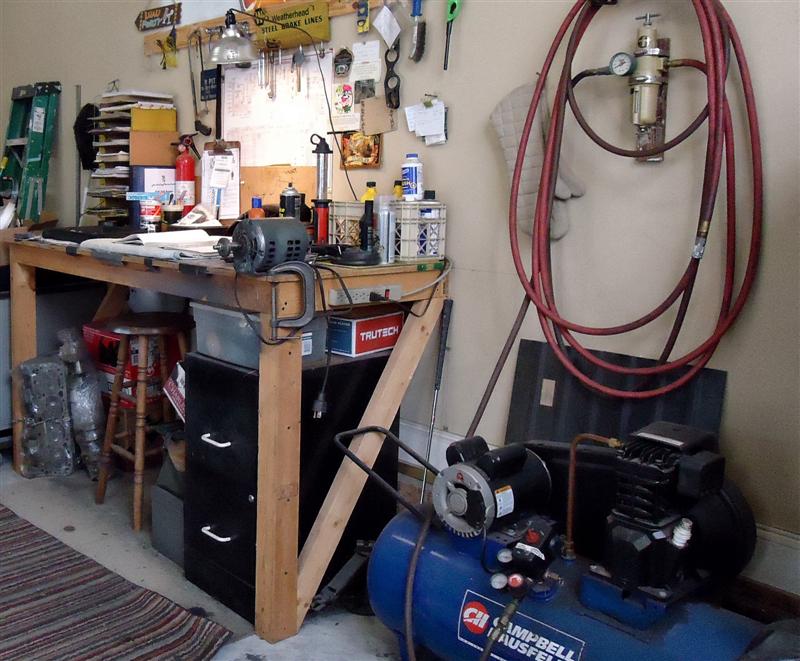 Overall dimensions will vary, but on an average, a home-built workbench will be 32-36" high, 48" long, and 24" deep. I built my workbench with 2x4's with a 3/4" wooden top. It's bolted to the back wall and is very sturdy.
You can buy a workbench fairly cheaply, but if you do, get a heavy-duty one. A workbench with overhead lighting is a nice feature.
Workbench Placement
Most people set up their garage workbench along the back wall, but since many garages are little more than a car-length deep, consider having your workbench and tools along the side wall as an alternative.
If you decide on having a workbench on a side wall, the right side (passenger-side) wall is the better choice, so as to open your car's door towards the other wall. (unless of course you live in England!)
Everything On Wheels
Aside from a sturdy workbench, having everything on wheels (welder, engine stand, roll-around tool boxes, etc.) gives you the option of rearranging your workspace for different needs.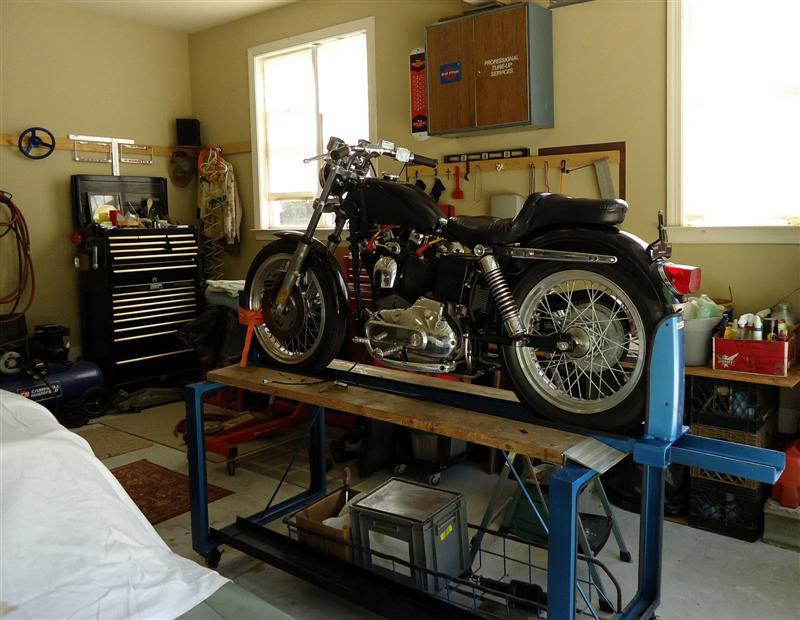 With everything on wheels, it's easy to move everything from inside the garage to outside, then start bringing in the biggest items and putting them in place. Play around with several designs, varying placement of large items that will take up floor space.
____________________________________________
____________________________________________
Workshop Dolly
Of course you can buy one, but a cheap workshop dolly can be made with a few 2x4's, wood screws, and casters. You can add 3" hard-rubber swivel casters and some carpet remnants to protect finishes and prevent slippage.
Good Lighting Is Essential
Good lighting reduces eye strain, and is essential to quality work. I'm fortunate that my present garage has two large windows which give great natural light during the daytime. When working at night I rely on two twin four-foot fluorescent fixtures.
A single four-foot fluorescent fixture is a good choice to hang above your workbench or mount to the underside of a high shelf. For automotive bodywork, install enough light fixtures so that you can see everywhere without shadows. Painting the interior walls white will make a big difference in brightness.
Air Tools
Having a garage air compressor and air tools saves you time and allows you to work more effectively. Like other shop equipment, they are an investment, so buy quality name brands. Some of my air tools are over 20 years old, and work just as well today as when I bought them.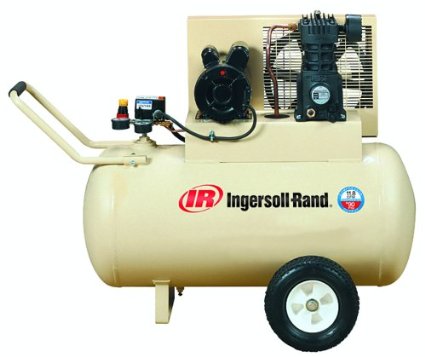 Have Enough Electrical Outlets
While 110v power outlets every ten feet or so are enough for most garage equipment, air compressors and larger welding machines need a higher electrical output. I paid a licensed electrician to install a 50 amp 220v circuit for my air compressor.
____________________________________________
____________________________________________
Extension cords take up room and can be dangerous.
Have A Place To Move Your Project Car
If you block up the garage with your project, you'll have no room for minor maintenance on other vehicles, such as changing oil in your daily driver. If your driveway is large enough to park an extra car on, use it as a staging area for a day or a week.
Have Storage Space Other Than The Garage
A shed is usually the best place to house all yard tools and equipment, but it can also can be used for garage equipment you seldom use (sand blaster, engine hoist, etc.)
Utilize High Ceilings
If your garage happens to have a high ceiling, use that to your advantage (high ceilings come with high walls). Install tall shelves, even if you need a step-stool or ladder to reach them. Store things on them that you don't need to get to often, like old parts or rarely-used tools.
An itemized bin for fasteners and small parts is invaluable to have. It will save you time looking for nuts and bolts and other small items.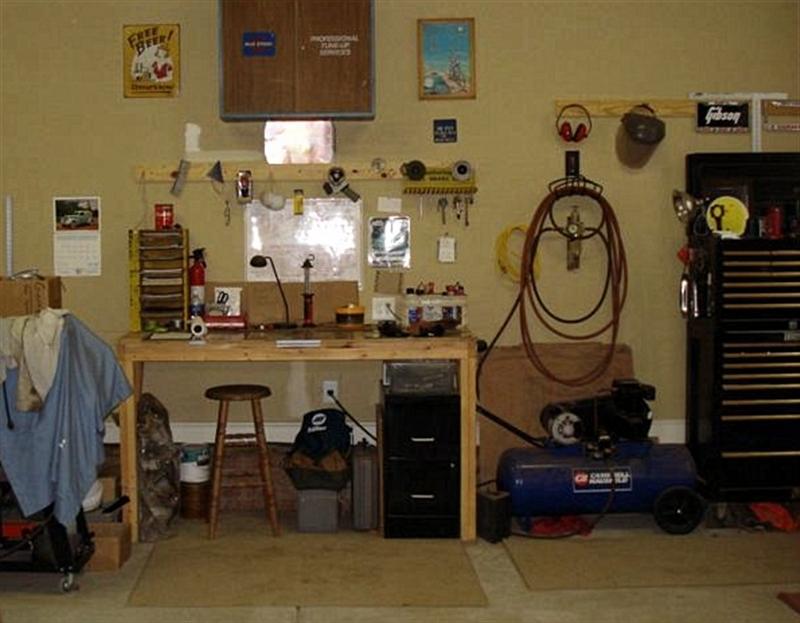 Safety First and Always
When working in your garage workshop, please be safe. Proper protective equipment includes safety glasses with side shields, foam ear plugs, and gloves. When cutting and grinding metal, wear a face shield.
************************
Related Articles: