1931 Ford Coupe
Produced from 1928 through 1931, the Ford Model A was Ford's successor to the infamous Model T. Henry Ford did not want to stop producing the Model T, but was worried about falling behind rival Chevrolet in sales. The Model A came in a wide variety of styles, including coupe (standard and deluxe), Convertible (cabriolet and sedan), Phaeton (standard and deluxe), Tudor Sedan (standard and deluxe), and others. During it's time, it was one of the best-selling cars in America.
When production ended in March, 1932, nearly 5 million Model As were made in all styles. Loved by hot rodders and customizers alike, the five-window coupe is one of the most popular classic cars.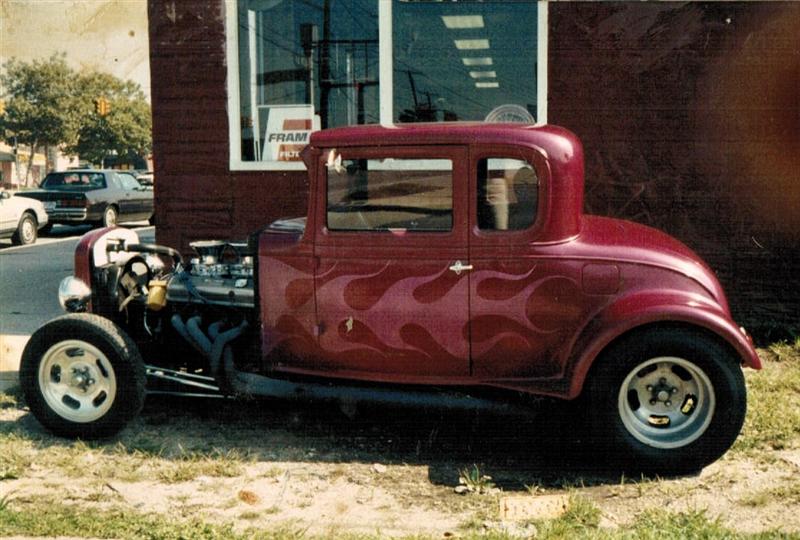 When Rick Wagner bought this 1931 Ford coupe in 1986, it was painted metal-flake green. Since then, it's gone from brown and primer in the late eighties, to black primer in the early nineties, then sprayed purple with flames. Presently it is all black.
The first drivetrain transplanted into the five-window coupe was from a 1968 Mustang 390 GT, including a top-loader four-speed transmission and 9" rear with 3.90 gears. The 390 engine was replaced several years later with a 428 big-block out of a 1966 Ford Galaxie. Sitting on top of the motor is an original Ford medium-rise dual-quad manifold. Carbs are 660cfm center-squirt Holleys.
When purchased, the wheels on the coupe were 14x6 aluminum slots up front and 15x8s in the rear. They were replaced with 15x4 and 15x10 vintage (not uni-lug) Ansen Sprints.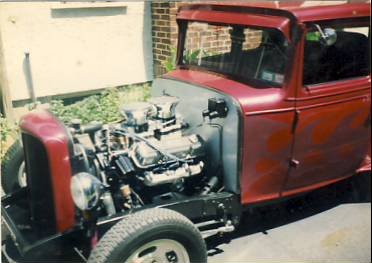 Stopping the five-window coupe are four 10" chromed drum brakes which came off a 1960s Ford Econoline. The firewall-mounted master cylinder is from an early sixties Chevy truck.
The frame is a '36 Ford with transverse springs front and rear. A Pete and Jake dropped tube axle with hairpins carries the front wheels. 4-1/2 foot ladder bars do their best to get the power to the ground.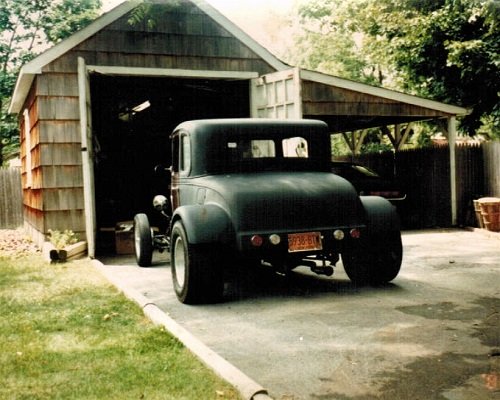 Many hot rods built today have a fiberglass or newly minted steel body. Rick's car has the original (though slightly modified) all-steel body, making it very rare indeed.
"A true hot rod is never finished, it's just taking a rest until the next idea comes up."
Inside the coupe, the dash is filled with old-school Stewart-Warner gauges. The heater works, as does the one wiper blade. Bucket seats are from a Pontiac Fiero with speakers in the headrest. Rick installed a $10 radio, and adds, "I'd rather listen to the motor!"