Best Heads For Gen-1 SBC
One of the Chevy small-block's strong points is the cylinder head design. Even original, non-modified heads from the 1960's (in good condition) will perform pretty well by today's standards.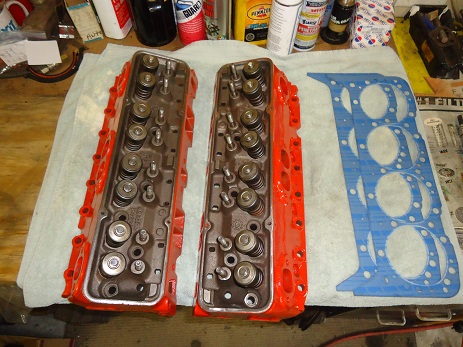 461 Castings
The cylinder heads used on many performance small-blocks back in the day were 461 castings (#3782461) with 1.94" intake and 1.50" exhaust valves. These were the best flowing factory heads GM had to offer at the time. They are easily identified by the double-hump shape on the end of each head.
Double-Hump Heads
Casting #3782461 heads became known as "fuelie heads" since they were originally fitted to 327/375-horsepower fuel-injected engines.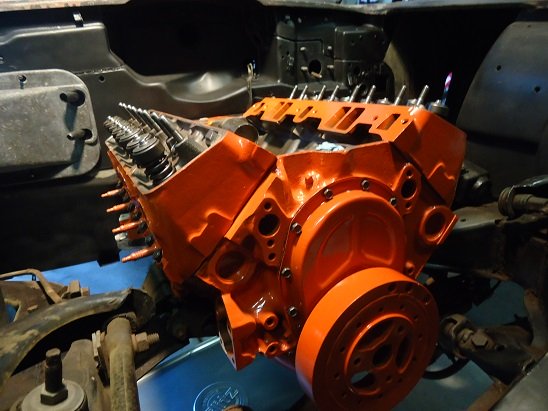 461 vs 461X
Casting #3782461 heads featured 160cc intake ports and 62cc combustion chambers. Casting #3782461X had a larger 172cc intake ports and 64cc combustion chambers.
1.94 vs 2.02 Intake Valves
From 1964 through 1968, some, but not all, double-hump heads had 2.02" intake valves. These larger-valve heads were usually fitted to 327/350-horsepower and 327/365-horsepower carbureted engines.
462 Castings
Another good GM head is casting #3890462. The "462" double-hump castings are similar to the 461's but with the spark plug mounted slightly higher.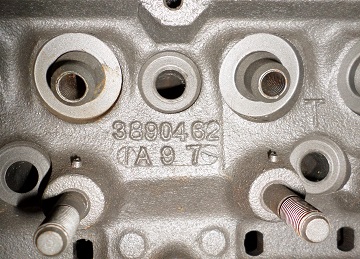 Other similar double-hump heads are the "291" (3917291) and "492" (3991492).
*****************************
Accessory Mounting Holes
Early Chevy small-block cylinder heads did not have accessory mounting holes on the ends of the head. Except for some early truck applications, it was not until 1969 that all small-block cylinders had factory-equipped accessory holes.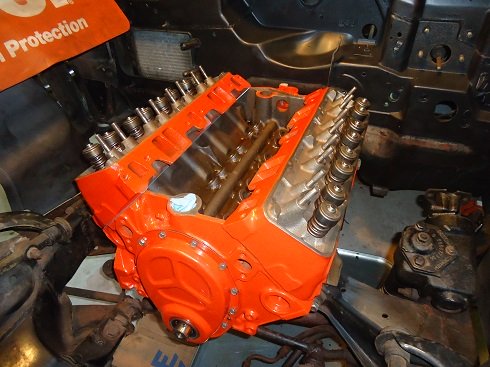 The only double-hump heads to have factory drilled accessory bolts are casting #3927186. These "186" heads were produced from 1968 to 1972.
*****************************
Good Used vs Aftermarket
Trying to find a set of good, used, vintage small-block cylinders is not an easy task. And once you do find a pair, you won't really know what you have until you take the valves out and look inside. How many valve jobs has it seen? What other work has been done to them? Many a cylinder head has been ruined by an well-meaning mechanic and a Dremel.
This is where the aftermarket comes in to help us, and no other V8 engine has more performance parts available than the small block Chevy!
There are many excellent choices for performance small-block Chevy heads. Brand names include Dart, Brodix, Edelbrock, and Patriot. If cost is no object, all of these will give you a solid increase in performance. But, for those of us on a budget, there's Flotek cylinder heads.
*****************************
Best SBC Heads For The Money
For those on a budget and can't spend $1500+ on a set of heads, check out Flotek 101505 cylinder heads. They're designed for use on old school (gen one) small blocks up to 1986, and ready to be bolted up right out of the box.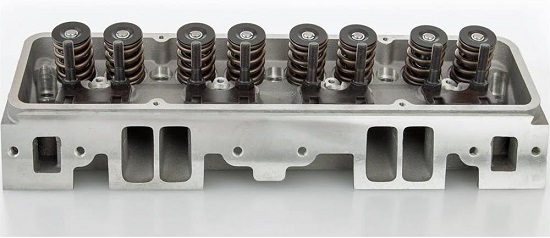 Flotek 101505 cylinder heads are machined from aluminum, so they're about 20 pounds lighter each than factory cast iron heads. They're compatible with either solid (mechanical) cam/lifters or hydraulic flat tappet cams with up to .550 lift.
Specs on the Flotek 101505 are similar to the best factory heads: 2.02" intake valves, 1.60" exhaust valves, 180cc intake ports, and 64cc chamber volume. There are bolt holes on the front of the head to mount your accessories. Also, note that the spark plug holes on the 101505 are angled, so stock exhaust manifolds may give you clearance problems.
*****************************
Straight vs Slant Spark Plugs
Commonly found on many replacement SBC heads, angled, or 'slant' spark plug holes help get the plugs into a more ideal location for a fuller combustion. It often helps reduce detonation, too, since the plugs are angled closer to the exhaust valves.
Back in the day, I ran a set of factory slant plug heads on my old 70 Chevelle. They were the cast-iron, parts-counter-only version. With a 350-hp camshaft, headers, dual-feed Holley and single-plane intake manifold, they made plenty of power!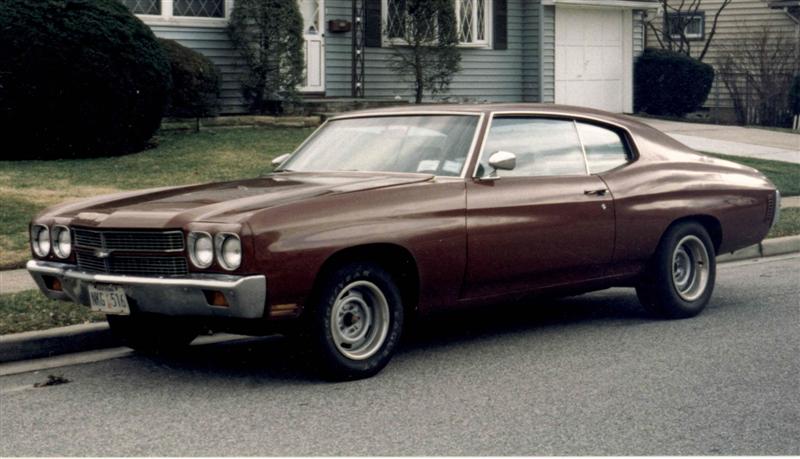 Many of today's top header brands are designed for use with the slant plug heads. When shopping for headers, you may see the phrase "for use with angle plugs".
*****************************
Compression Ratio
If your 350 SBC has flat-top pistons with valve reliefs, any 64cc chamber head will immediately help by adding compression. Going from a factory 76cc chamber head to a 64cc chamber head will raise engine compression from 8.5:1 to 9.7:1 with no other changes.
*****************************
Head Bolts - Cast Iron vs Aluminum Heads
Factory head bolts from a cast iron head cannot be used with aluminum heads. Why? There are two reasons for this:
Aluminum head bolts need to be installed with a flat washer, so the head of the bolt doesn't "sink" into the soft alloy. This can cause cracks in the head.
Another reason is, once the correct hardened washers are installed, the factory bolts are a bit too short.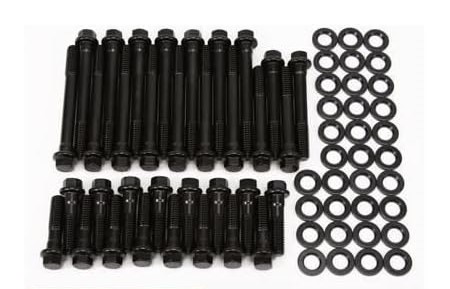 Aluminum Head Torque Specs
To ensure proper head bolt thread engagement, use the right length bolts and washers, and apply the proper torque value. Torque head bolts with washers in proper sequence to 40, 50, then to 60 ft/lbs. A little engine assembly lube helps prevent galling and improper torque values.
*****************************
What Pushrod Length Do I Need?
Any time there's a swap from factory to non-factory heads, pushrod length should be measured and verified. Hardened pushrods in a .100" or .150" longer than stock length are available if needed.
*****************************
Horsepower Per Dollar
Flotek offers the least expensive aluminum head for a small block Chevy. If you're looking for most performance for the buck, these are the best SBC heads for the money.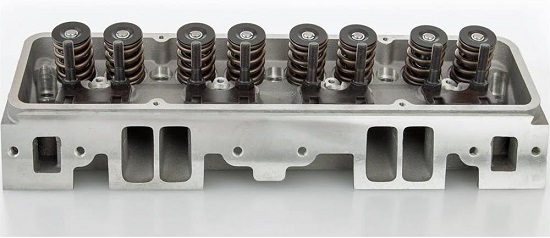 *****************************
Related Articles: