Flathead Ford Performance
Article by Mark Trotta
The Ford Flathead V8 is often given credit for the birth of the speed-equipment industry. Beginning in the 1930s, companies such as Offenhauser, Edelbrock, Speedway, Navarro Racing Equipment, and others began making performance parts for the flatty. Today, everything from bare blocks to exotic induction systems are offered by aftermarket suppliers.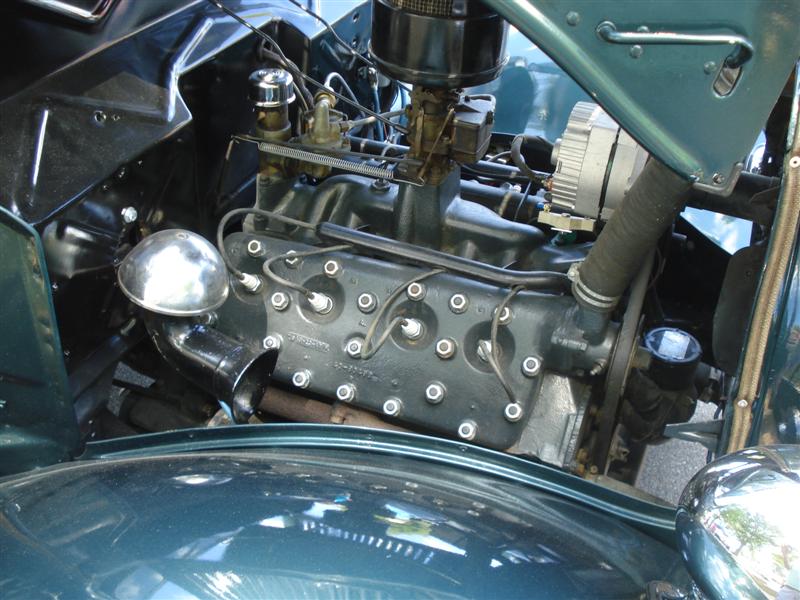 Intake Manifolds
This is generally where upgrading the flathead begins. Aftermarket intake manifold choices include a single four-barrel, two single-barrels, and three one-barrels. Multiple carbs not only provide more performance, they look great.
Edelbrock Slingshot Manifold
The Slingshot Manifold, originally designed by Vic Edelbrock Sr. in 1938, is currently being reproduced by Edelbrock. Great looks and good power make the Slingshot a good choice for a street rod, and can be used with the generator in it's stock location.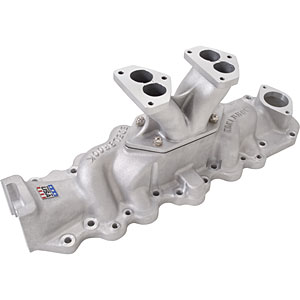 Tri-Power Manifold
Improved power can be seen with a tri-carb setup, but a stock 239ci flathead will have a hard time handling three carbs. A 258ci engine (3-5/16" bore and 3-3/4" stroke) with a mild cam would be a better platform for this. Running a tri-carb on the street would benefit from a progressive throttle linkage.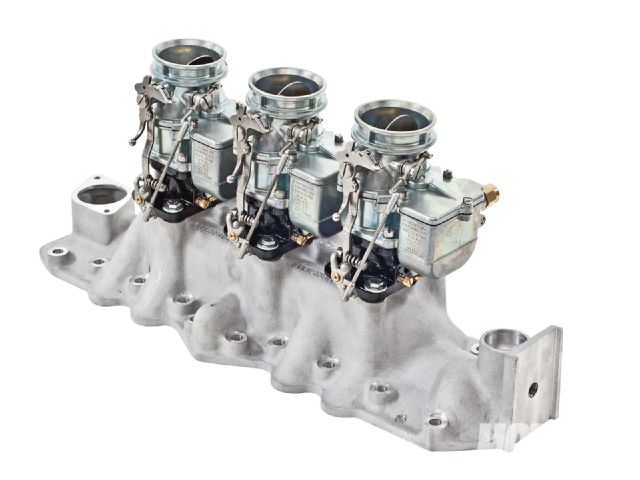 Carburetor Upgrades
The most common carburetors seen on the flathead are the Holley 94 and the Stromberg 97. Although the 94 has a slightly better flow rate, twin 97's are a more popular choice among traditionalists. A "new" Stromberg 97 carb is produced by a company called H&H.
____________________________________________
____________________________________________
Edelbrock makes their own "94" carburetor, which has a die-cast bowl and air horn and aluminum 3-bolt base. A secondary version of this carb, without the choke, is available for multi-carb setups. Both versions have extended throttle shafts for easy installation when used in dual and triple carb combos.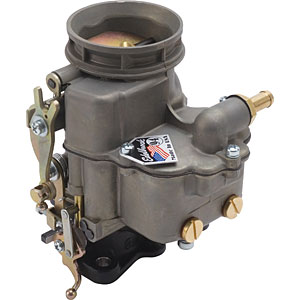 Carburetors generally work best when located directly over the intake ports. On the flathead, the ideal position for twin carbs would be one centered over the front four cylinders, and one over the back four cylinders, but then the generator does not fit in the stock location. This is solved by changing the mounting brackets to move the generator off to one side. Some older-style manifolds (like Offenhauser) have the carbs close together, leaving enough space for the generator.
***************************
Fuel Pressure
A common flathead malady is spark plug fouling. This is often due to carburetors getting too much fuel pressure. They only need two pounds to operate, any more than that and you'll be blowing the seats out and leaking gas. A fuel pressure regulator is a must for multi-carb setups. A fuel pressure gauge is always a nice touch.
***************************
Ford Flathead Valve Covers
These are simple, bolt-on goodies. Edelbrock, Offenhauser, and Baron offer reproduction heads, as well as new, improved versions.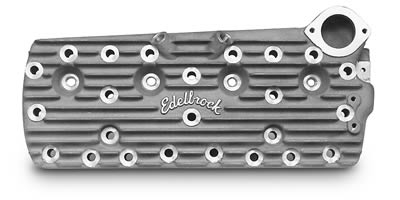 Finned Valve Covers
Nothing is more nostalgic than a pair of finned valve covers on a flathead V8! Edelbrock #1115 valve covers are made of A356 aluminum and have a natural finish. Improvements over stock heads include larger water capacity and better breathing characteristics. With a 3/16" base relief, standard compression ratio will be increased to 8.0:1.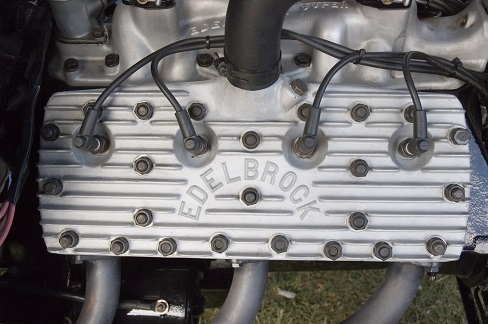 ***************************
Ignition
When in proper working order, a points ignition system works very well and should give 10,000 to 15,000 miles of service. For a classic car that gets driven a 1,000 miles a year, that's a pretty trouble-free system. Yet, some owners choose to convert to a non-stock electronic ignition system.
Dual Spark Plug Conversion
Once widely used in aircraft and racing applications, dual-plugging gives more spark and helps control detonation, which allows a higher power output to be run. Disadvantages include the additional cost for the conversion, plus double the cost of every spark plug change.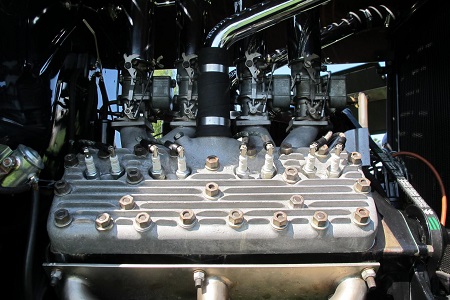 In reality, dual-plug motors do little on a street motor, and you certainly wouldn't want to drill extra holes in original, vintage valve covers.
But they sure do look cool.
***************************
Flathead Ford Camshafts
Isky, Schneider, and Elgin have been making flathead cams for decades. Newer, non-traditional grinds would be best for today's hot rods and street rods.
Flathead V8 Headers
Installing headers will give any engine an immediate gain in horsepower. Replacing the stock exhaust manifolds is any easy way to higher performance. Not only is back pressure reduced, the exhaust tone is sweet.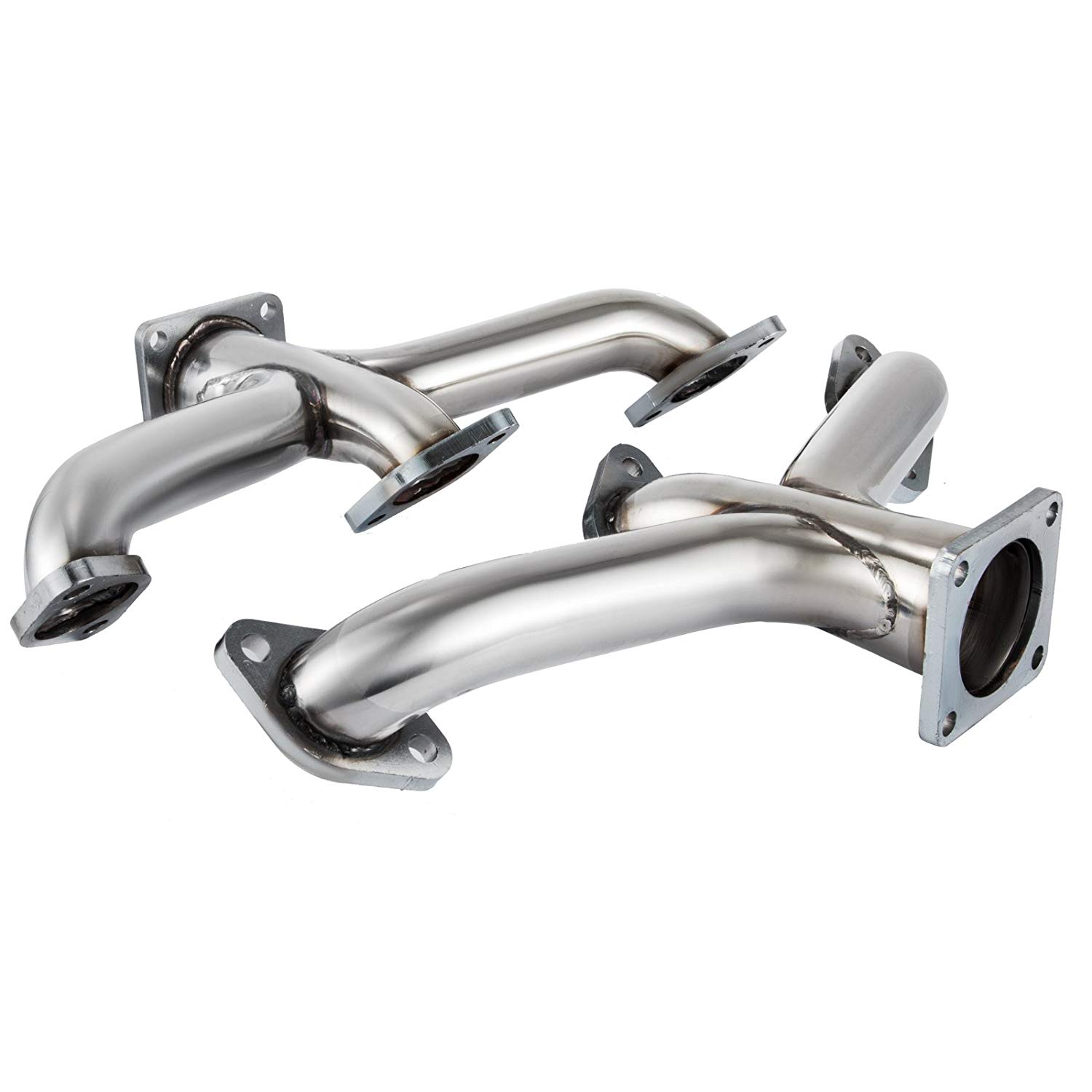 Made of high quality T304 stainless steel, these center-dump exhaust headers are made by Bestauto and will fit 1932-1953 Ford Flathead V8 engines.
***************************
Flathead Ford Distributor Conversion
The addition of multiple carbs and more radical camshafts require a good spark curve, and the addition of a centrifugal advance is a welcome addition to any 8BA flathead. One option is to cut-down a SBC Chevy distributor to fit the flathead and have it re-curved, or you buy one already converted.
Several internet sources offer upgraded distributors to fit Ford flatheads. Some feature a mechanical tach-drive, which allow running an old school tachometer.
***************************
Four-Inch Mercury Crankshaft
Produced from 1932 to 1953, the Ford Flathead V8 was offered in several displacements, but the block remained the pretty much the same. In 1949, Ford came out with a larger 255ci flathead for their new line of Mercury cars. The bore was the same as the 239ci (3-3/16") engine, but a new crankshaft gave a longer, four-inch stroke.
____________________________________________
____________________________________________
For early hot-rodders, the larger 4" crankshaft became the crank to have. It dropped right into the smaller, earlier engines, thus 'stroking' the earlier blocks to 255ci.
Companies such as Scat sell flathead cranks with up to a 4.5" stroke. They also offer new H-beam connecting rods. Arias, Egge, Ross, Wiseco, and others will custom-make pistons to your requirements.
***************************
Transmission Adapters
Trans-Dapt still makes adapters to install Ford passenger-car transmissions from the mid '60s to the late '70s behind the '49-'53 flatties (provided you have an original bell housing).
Flat-O Products sells well-designed, complete kits to install the Ford C4 automatic and T5 manual behind either 8BA or 59A flathead engines. Centerforce offers clutches and flywheels.
***************************
New Flathead Blocks
When production ceased in the United States in 1953, the Ford flathead V8 continued to be made in France for use in their military vehicles. French blocks, cranks, cams, and rods were produced into the 1980s.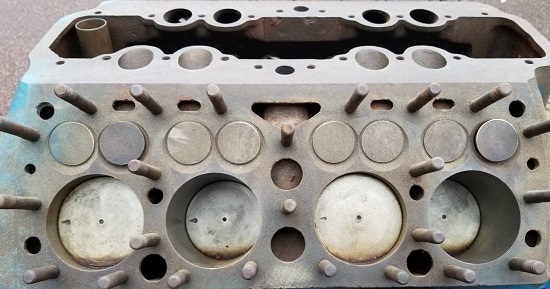 New Ford Flathead repair manual covers disassembly, inspection and repair, assembly of engine and tolerances. Contains info for 221ci and 239ci Flathead V-8 Engines (78-81A-59A Series).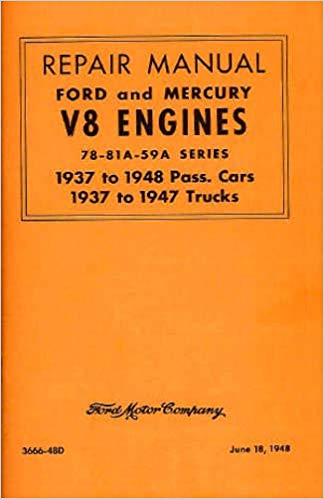 ***************************
Related Articles: