Ratchet Buyers Guide
One of my old Craftsman ratchets wore out after 30 years. Even though they're still under (lifetime) warranty, there's no longer a convenient place for me to bring them back to.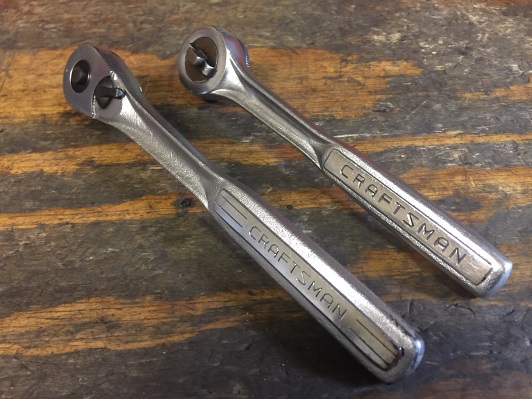 Since 3/8" ratchets are fairly cheap and last nearly forever, I decided to buy a replacement. I began doing research on what were the best ratchets on the market today.
Ratchet Sizes And Handle Length
Hand ratchets are available in 1/4", 3/8", 1/2", 3/4" and 1" drive. For DIY household and automotive repair, 3/8" is by far the most common.
Flexible vs Fixed Head Ratchet
Hand ratchets can have a fixed head or a swiveling flex-head. This helps access hard-to-reach fasteners. By design, they aren't as strong as conventional ratchets and are known to break.
Depending on your preference, ratchets can be either pear-headed and round-headed. They're available in different lengths (stubby, standard, and long), and handles can be plain or padded.
Ratchets are also referred to as socket wrenches.
Craftsman 44808 Ratchet
This is the current replacement for my old Craftsman ratchet. It's the same exact tool and part number from 30 years ago. The quick release button allows for easy switching between sockets, and you can change drive direction with one hand with a simple flip of the lever. These are standard features on many other ratchets as well.

Ratchet Tooth Count
By today's standards, the 36 tooth count (how many teeth are on the drive gear) on the Craftsman 44808 is on the low side. A ratchet with a high tooth-count (72 teeth and up) means that less handle movement is required for progress. Some techs like the smoother action of high tooth count ratchets, but others claim they have more chance of slippage. More teeth means smaller teeth, and that can equal less strength.
Unless you're doing hours of assembly work, ratchet tooth count isn't really critical to have. But it is nice to have for tight spaces where your range of motion is limited. For instance, removing and installing a fuel pump in a tight engine compartment.
GearWrench Ratchets
For an inexpensive tool, the GearWrench 81218 has some nice features. It has a quick release button and a one-handed direction lever, plus a 45 tooth-count drive gear. The knurled handle seems like a good idea, particularly when working with greasy hands. Overall length is 11-1/8".
Moving up the GearWrench line, the 81211 pear-head is a full polish ratchet. Features on this include a 72-tooth count drive gear.
GearWrench hand tools have a lifetime warranty.
Milwaukee Ratchets
Just like their power tools, Milwaukee hand tools are designed for professional use. Their slim profile 48-22-9038 ratchet features a smooth 90 tooth drive gear. Overall length is 13.3 inches.
Proto Ratchets
Officially "Stanley Proto", the J5250XL 3/8" drive features a small pear-head design for better access in tight, hard to reach areas. It's coupled with a long 11" handle for extra leverage and has a 45-tooth drive gear.
In contrast to chrome ratchets, the Proto J5250XLBL features a black oxide finish. It has an 11" handle, 45-tooth drive gear and small pear-head design.
Many Proto hand tools, including the J5250XLBL ratchet, are made in the USA.
*****************************
1/2" Ratchets
Although 3/8" drive ratchets are the most common when working on cars and light-duty trucks, they'll be times when you need more torque to remove stubborn bolts, suspension components, etc. An example would be loosening wheel lug nuts that are torqued to 100+ foot/pounds.
For extremely tight bolts you'll need a 1/2" breaker bar.
*****************************
3/8" Drive Sockets And Extensions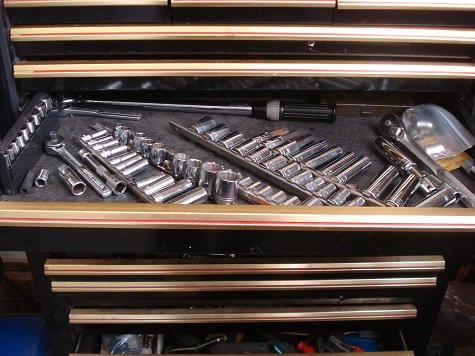 *****************************
1/4" Mini Ratchet
For very tight spaces where a regular driver won't fit, here's a reversible 1/4" drive mini-ratchet that's only 3.6" in length. This ratchet has a lot of teeth (72), which means you can drive a bolt or screw with minimal movement of the ratchet lever.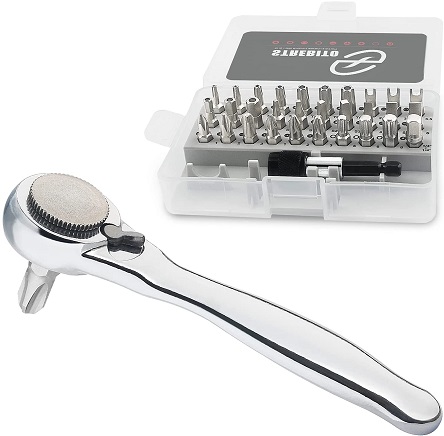 ***************************
Related Articles: