Pontiac GTO History (1964-1965)
Article by Mark Trotta
Pontiac wasn't the first car company to drop a big motor in a mid-sized car, but they were the first to market a big motor in a mid-sized car. Regardless of this fact, most people today consider the GTO the first muscle car.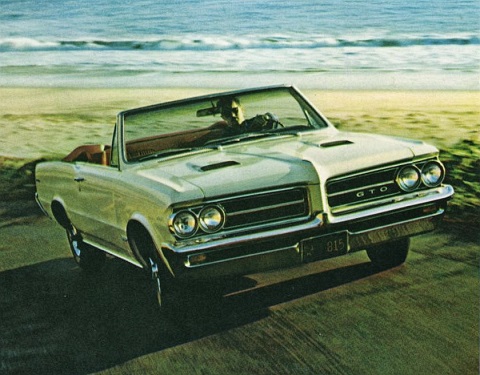 1961-1963 Pontiac Tempest
Pontiac GTO history starts with the 1961 Pontiac Tempest. A unique drivetrain arrangement had the front-mounted motor coupled to a rear-mounted transaxle through a torque shaft, eliminating the floor hump and giving the car a near-perfect front/rear weight distribution. Equally unique was the engine, a 195ci straight-four cylinder derived from the right cylinder-bank of Pontiac's 389ci V8. The optional LeMans package debuted in mid 1961, and by 1963, a 326ci V8 was available - and very popular.
A-Body Platform
Along with the Buick Special and Oldsmobile Starfire, the Pontiac Tempest was enlarged from unibody compact to full-frame intermediate-sized car for 1964. The new platform, called the A-body, used a conventional front-engine, front transmission, rear-wheel drive configuration.
The 1964 Tempest wheelbase grew from 112 to 115 inches and from an overall length of 189.3 to 203 inches. Standard engine was a 215 cubic-inch inline six-cylinder. Capitalizing on last year's successful V-8 option, two versions of the 326ci V8 were offered.
389 V8
Looking to compete with Chevy Chevelle, Olds 4-4-2, Dodge Polara 500, and Plymouth Sport Fury, Pontiac needed to make the new LeMans more appealing. Executives quickly realized that their 389 motor, already in use in full-sized Catalina and Bonneville models, would easily fit under the hood.
GM Corporate Loophole
There was, however, an obstacle in offering the larger V8. General Motors had set a corporate policy on all A-body series cars, which stated that engines were to be no larger than 330 cubic-inches. The corporate ban did not seem to apply on options, so by promoting a 389-equipped Tempest as a special model, Pontiac got around the rules. The new performance package would be a low-volume option on the LeMans series, named GTO.
GTO Name
The GTO name was the idea of Pontiac chief engineer John Delorean. It was inspired by the Ferrari 250 GTO, and since Ferrari had not patented the name in North America, it was free to use. Although many claim that GTO stands for Gran Turismo Omologato ("grand tourer homologated"), others contend it stands for "Grand Tempest Option".
1964 Pontiac LeMans GTO
Available with either two-door coupe, hardtop coupe, or convertible LeMans models, standard features included front bucket seats, floor-mounted shifter, dual exhaust, seven-blade clutch-fan, stiffer springs, and larger diameter front sway bar.
Base engine was a 325 horsepower 389, topped with a single Carter AFB four-barrel carburetor, chrome air cleaner, and chrome valve covers. A floor-shifted three-speed manual with Hurst shifter was standard, with four-speed manual or two-speed automatic transmission optional.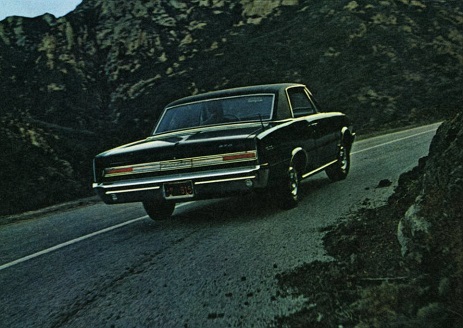 The exterior was set off by 14"x6" wheels, 7.50" × 14" redline tires, non-functional hood scoops, and GTO badges.
Performance options included quick-ratio steering, metallic brake linings, and limited-slip differential in several choices of gear ratios.
GTO Tri-Power
Topping off the option list was the 389 Tri-Power Engine, featuring an induction system Pontiac had used on full-size models since 1957. Three two-barrel Rochester carburetors sat on top of a cast-iron intake manifold, each with it's own small, chrome air filter. The engine ran off the center carburetor at idle and low speeds. When the gas pedal was stomped on, all three carbs opened together.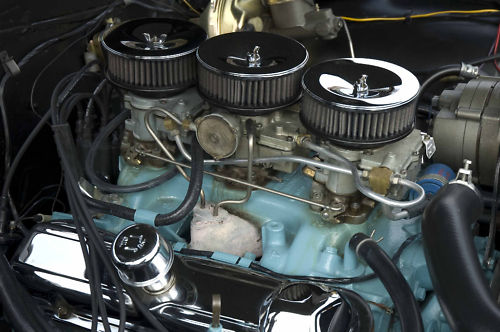 With the Tri-Power option, engine output was boosted to 348 horsepower, which gave the 3,500 pound car a power-to-weight ratio of nearly ten-to-one. No car in its price range could match it's performance.
By the end of the 1964 model year, the Pontiac GTO had proven itself at the track, as well as on the street. Road and Track magazine had clocked a Tri-power-equipped GTO in the standing quarter-mile, resulting in 14.1 seconds with a top speed of 104.2 miles per hour. A 375-horsepower fuel-injected Corvette, tested by Motor Trend magazine that same year, clocked 14.2 seconds at 100.0 mph.
Originally intending to build only 5,000 for the first year, a total of 32,450 GTO-optioned Tempests were produced in 1964. Model breakdown:
Sport Coupes - 7,384
Hardtop Coupes - 18,422
Convertibles - 6,644
Rivaling anything on the road in straight-line acceleration, the 1964 Tempest-based GTO was wildly successful, prompting others to use the same basic formula. Every U.S. automotive manufacturer began packaging a factory hot rod with youth-oriented advertising, bringing about the muscle car era.
********************************
1965 Pontiac GTO
The Tempest line, including the LeMans and GTO, was restyled for the 1965 model year. A new split grille had vertical headlights similar to the larger Pontiacs, with revised taillights that wrapped around the sides of the car.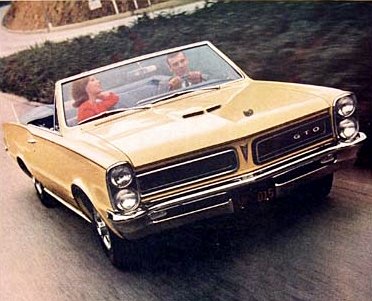 Although the hood scoop was non-functional, an optional dealer-installed ram-air kit included a metal underhood pan, scoop, and gasket, allowing cooler, denser air to enter the motor.
1964-1964 Engine Differences
Beginning with the 1965 model year, cylinder heads were revised and no longer had stud oiling passages. Intake manifolds were also different, and do not interchange with earlier motors.
Horsepower increased to 335 on the standard 4-barrel engine, and Tri-power motor output jumped to 360 horsepower. Because of the longer duration cam profile, the Tri-power engine had slightly less torque (424 lb/ft at 3,600 rpm) than the base engine (431 lb/ft at 3,200 rpm).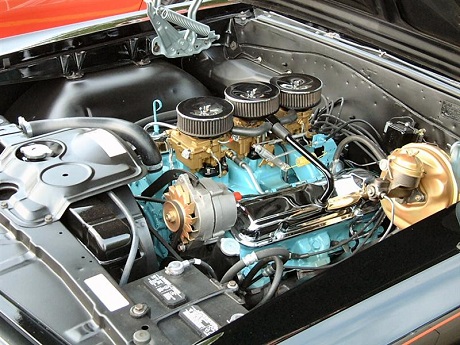 GTO sales more than doubled in it's second year, a combined total of 75,342.
Sport Coupes - 8,319
Hardtop Coupes - 55,722
Convertibles - 11,311
GTO VIN Information
Early model GTO's (1964-1967) had the VIN number stamped on a metal plate on the driver's-side door pillar. For 1964 models, it is an eight-digit number. From 1965 through 1971, the VIN number was 13 characters.
Because first and second-year GTO's were an option on the Pontiac Tempest model, they can be easily forged. Check the VIN of the car with PHS (Pontiac Historical Services) before buying one! In 1966, the GTO was no longer a Tempest-based option and became it's own model.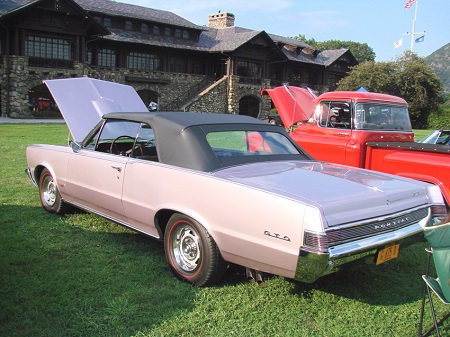 Pontiac also stamped the last eight digits of the VIN on a metal pad on the right-hand front of the engine block. Unfortunately, it is fairly easy to re-stamp this number, making original engine blocks hard to authenticate.
********************************
The song "Little GTO" by Ronnie and the Daytonas was a Top-Ten hit in 1964, and remains one of the all time greatest classic car songs. It reached #4 on the Billboard Pop Singles chart and sold over one million copies.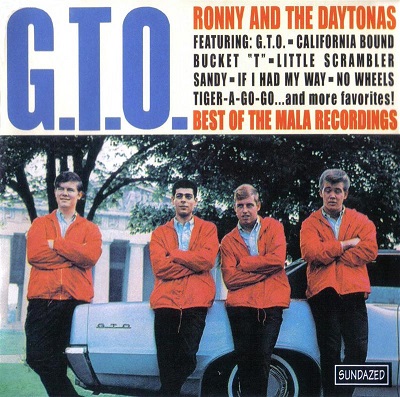 ********************************
Related Articles: