1965 GTO Project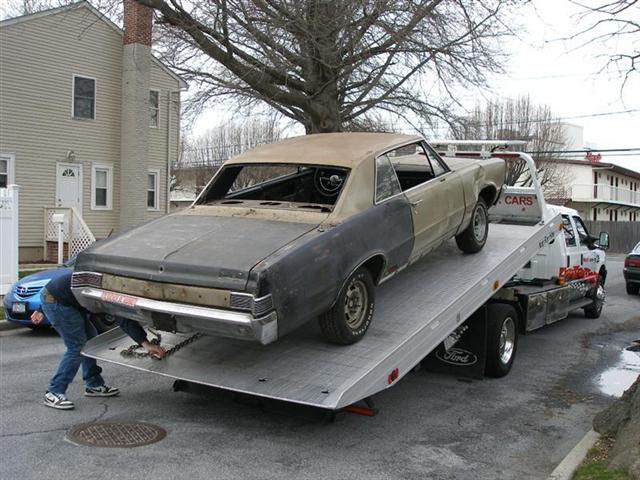 Beginnings
In the early part of 1979, Ray Guarino found a donor Ram Air Pontiac motor to fit into his 1965 GTO project car. It was quickly treated to a camshaft from Nunzi's Automotive (THE Pontiac Guru in the East Coast ), a set of Hooker three-tube headers, a Holley mechanical-secondary spread-bore carburetor and a re-curved distributor. The 400ci engine pulled strong and worked well with the wide ratio Borg-Warner T-10, sourced from a '62 Impala, with a 3.73:1 12-bolt posi out back.
The gas crisis of late 1979 saw a switch to closed chamber 6X unleaded heads, a mild Comp-Cam stick, and a big departure from performance with a Holley Economaster 450-cfm four-barrel carb. Even though the Goat was gelded and couldn't breathe on the top end as good as it had before, Ray still drove the car almost every day.
____________________________________________
____________________________________________
To complete the changeover from street-stormer to mild-mannered cruiser, the NMW ladder bars were replaced with a Chevelle sway bar with boxed lower control arms. Ansen aluminum slotted mags sporting Pro-Trac M-50's out back and F-60's up front were traded for G-78-15 radials mounted on Rally II rims. Gas mileage was still terrible, never eclipsing 10-mpg, but the car's road manners better suited the tamer engine profile.
So That Was Then And This Is Now
The current iteration of the Goat engine has found Ray and his builder, Bill Dugan of Bill Dugan Machine having to make some interesting decisions. When the engine was taken apart only a very small ridge was present, and the cylinders and crank measured out to be virgin 400 cubic-inch material. That's the good part - the bad part was that Bill found two bent connecting rods (maybe that was the cause of that mysterious engine miss).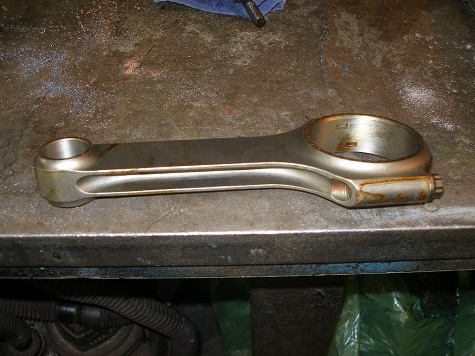 The stock Pontiac rods were tossed in favor of a set of Scat #66625 H-Beam 4340 Forged rods and ARP cap screws. K.B. hypereutectic short skirt pistons will be used with Eagle H-Beam rods - the rust-like color on the rod is packing grease.
Ray and Bill put their heads together and decided not to go for the stroker kit that would have been used had the bore or nodular crank been bad, instead opting for an .030" over treatment.
The crank centerline is perfect - Pontiac actually align-bored many of their blocks and unless you really lunched one, future crank fitment was never a problem. Ray will be using the Teflon (non-rope style) rear main seal and one piece oil pan gasket from B.O.P. Engineering. With the 72cc open-chamber heads, a set of KB 346 Hypereutectic pistons will give a final compression ratio of 9.5:1.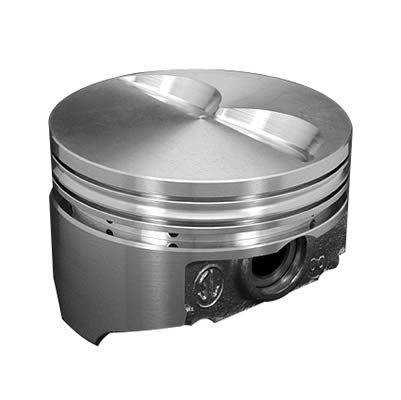 The cast Pontiac open-chamber heads were treated to a meticulous multi-angle valve job, a set of bronze valve guides and sodium filled exhaust valves. They were cc'd and topped with PBM aluminum full roller rockers. Ray is hoping they'll fit under the vintage Cal Custom valve covers he wants to use from the old days.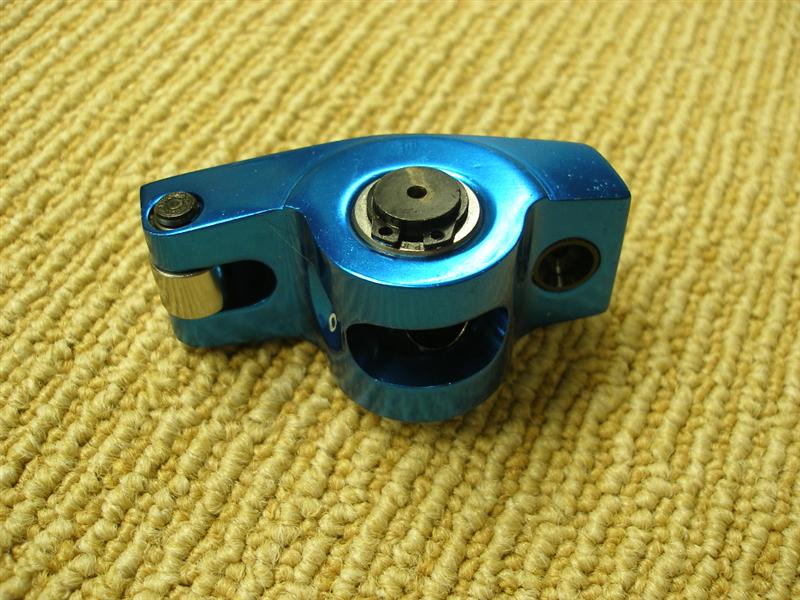 Edelbrock Dual Quad Intake
To top off the engine in his 1965 GTO project car, Ray chose Edelbrock's dual quad intake manifold package. Designed for 1965-79 326-455 Pontiac V8s (except Ram Air V), the manifold is offered separately or in a complete kit.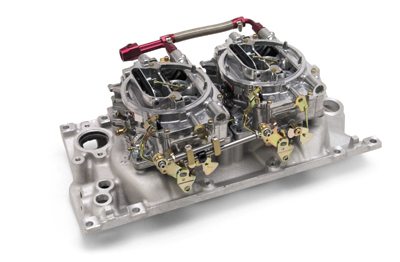 Ray's Dual Quad GTO received the Edelbrock manifold in 'EnduraShine' finish, two Edelbrock AVS Thunder Series carbs, a Performer-Plus cam kit, and all the finish stuff to bolt it up.
The EnduraShine finish is a bright silver chrome finish with powder-coated durability. It resists discoloration from heat and has an excellent chemical resistance. The clear topcoat enhances the polished aluminum look, and you never have to polish it!
Just like he did with his old Harley Super-Glide, Ray is going with a Sinister-Black paint scheme for the engine and most of the components. That way, any oil leaked doesn't show and any bright-work really pops!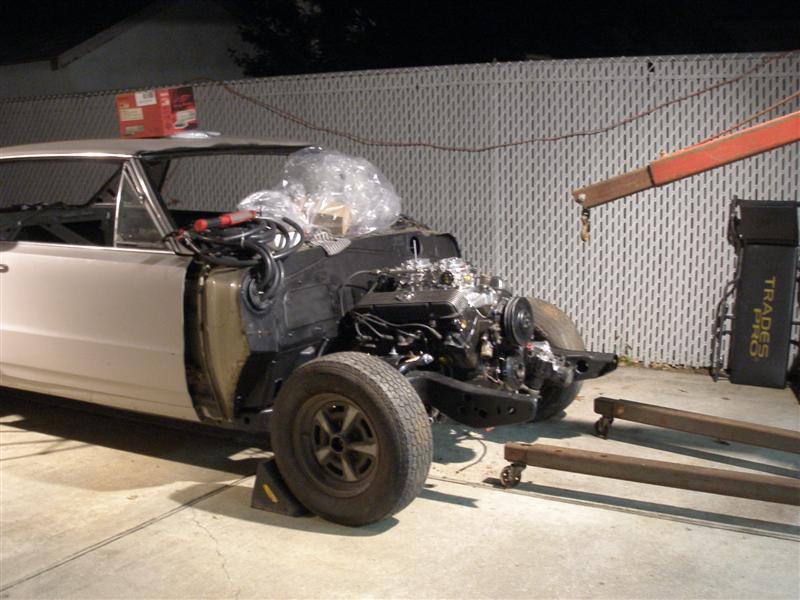 2019 Update
The Goat's still not completely painted, save for the hood and underside of the deck lid to test the color. In the meanwhile, Ray has developed a philosophy about leaving the car mostly in primer:
"It lets you walk away from it at a cruise night and not look over your shoulder every two minutes looking for scratch potentials."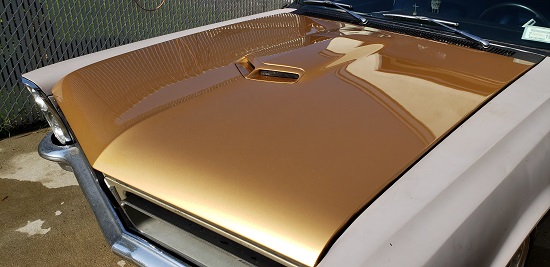 *************************
Related Articles:
*************************
Ray Guarino is the co-host of MotorMouthRadio, which is not your average automotive talk show. Ray, Chris, and Joe cover everything that has to do with cars, plus bikes, snowmobiles, boats, and they've even repaired an occasional washing machine!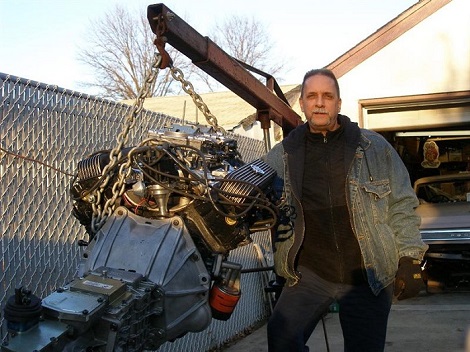 Listen to Ray, Chris, and Joe Livestream Sundays from 12 to 1 EST.