1978-1982 Corvette History
Article by Mark Trotta
When the third-generation Corvette debuted in 1968, gasoline was cheap, motors were big, and few people worried about gas mileage. Throughout the decade of seventies all of that changed, but Chevrolet was still able to keep their fiberglass-body sports car relevant, and sell more models than ever before!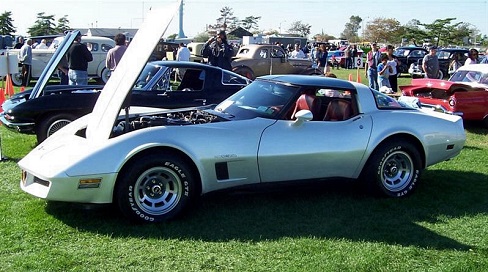 1978 Corvette
For 1978, a new roofline and fastback not only added looks, but increased visibility and luggage space as well. Slight performance gains were seen through use of a lower restriction exhaust system and a dual-snorkel air cleaner. The addition of a glove-box was a welcome interior upgrade.
To commemorate Corvette's 25th year in production, special commemorative emblems were added to the nose and deck on each of the 47,667 Corvettes manufactured this year. Two Limited Edition models were offered, the Pace Car replica and the Anniversary Edition.
Indy 500 Pace Car
Since its very first running in 1911, the annual Indy 500 race has chosen a pace car to lead the race cars around the first lap. Corvettes have paced the Indy 500 more than any other car.
The first Corvette pace car was 1978.
Originally intending to build only 2,500 Indy pace car replicas (a hundred for every year of production), Chevrolet eventually built a total of 6,200, one for each dealership. The Corvette pace car featured special black-over-silver paint, alloy wheels, raised-white-letter Goodyear tires, and front and rear spoilers. Exterior decals were installed by the dealer at the owner's request.
1978 Corvette Anniversary Edition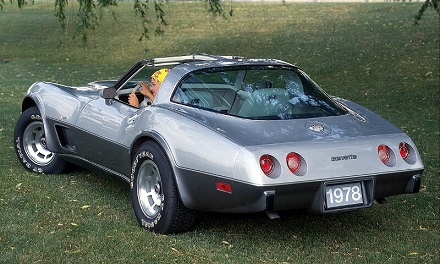 The second Limited Edition Corvette for 1978 was a two-tone, silver-over-grey Silver Anniversary model. Raised-white-letter tires and alloy wheels were standard, as was a color-matching silver interior. Tinted glass roof panels, optional on regular models, were standard on both Limited Edition models.
1979 Corvette
Model-year 1979 started Corvette's three-year weight-loss diet. Weight reducing measures included thinner, lighter seats, and the use of more plastics. All models were fitted with anti-theft steering column ignition locks. Bolt-on spoilers were optional.
Standard equipment now included an AM/FM radio and seat-backs which folded forward, helping access storage space. Model year sales totaled 53,807 and was the highest production of third-generation Corvettes.
1980 Corvette
A redesigned front-end included an integral air dam and three-piece spoiler, which improved radiator airflow and lowered the car's drag coefficient from 0.50 to 0.44. A rear spoiler was built into the redesigned back panel. Air conditioning, power windows, and tilt-telescopic steering wheel were now all standard equipment. Cornering lights appeared on the front fenders.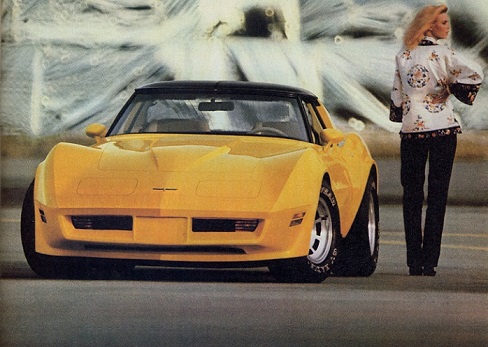 Engineers found ways to lose nearly 250 pounds off the car, such as switching from cast-iron to aluminum on the intake manifold and differential housing. At 3,495 pounds, it was the lightest Corvette since 1968.
Goodyear Eagle high-performance radial tires were optional, starting a three-decade relationship between Chevrolet and the Ohio-based tire company. Despite improvements, sales dropped to 40,614 units.
For 1980, the L48 350ci V8 rated at 190 horsepower was the standard Corvette engine in all U.S. states but California.
Corvette 305 California
All Corvettes delivered to California were equipped with Chevy's LG4 305-inch small-block V8 engine, rated at 180 horsepower. This was the same motor found in Chevy Malibu's, Camaro's, full-size Caprice's, and pickup trucks. Carburetor and ignition timing were controlled by Chevrolet's new Computer Command Control system.
The 305 Corvette/California motor was only available with a three-speed automatic transmission. As a consolation, buyers were credited $50, but were also required to buy a state emissions certification for $250.
1981 Corvette
The U.S. oil crisis of the seventies and ever-increasing emissions laws made fuel efficiency a priority. 1981 marked the beginning of computer-run engines, providing better fuel metering and driveability.
The Corvette was one of the first GM models equipped with the new Computer Command Control system. In contrast to the old days with seemingly endless engine choices, there was only one engine offered, the L81 350ci small-block V-8 producing 190 horsepower.
Emmisions Equipmenet
First year of oxygen sensors on all Corvettes was 1981, which coincided with the first year of the CCC computer. It's considered "bank one primary" and is located on the engine pipe, just below the exhaust manifold on the driver's side. 1981 models also had an air pump and air tubes in the manifold.
Further weight reduction was seen by replacing the steel rear transverse spring with one made from reinforced plastic. Manual-shift models kept the multi-leaf steel spring, as did those with the optional Gymkhana suspension. New stainless-steel free-flowing exhaust manifolds weighed 14 pounds less than the previous year's cast-iron manifolds.
Standard items on all Corvettes now included air conditioning, power windows, push-button AM/FM radio, leather wrapped tilt/telescoping steering wheel, and a luggage security shade. Goodyear Eagle GT tires on steel wheels, sized at 255-70-15, were standard, with 255-60-15 Eagles fitted to the optional alloy wheels. Power door locks, six-way power drivers seat, glass roof panels were other popular options.
Although early eighties Corvettes were capable of 120+ mph, speedometers only went up to 85 mph. It was part of a federally mandated attempt to slow cars down, and in doing so, save gas.
Bowling Green Factory
In June of 1981, Corvette production transferred from St. Louis to Bowling Green, Kentucky. The new state-of-the-art facility, covering 212 acres, was a giant step in reversing the car's reputation for sub-standard quality finish. Lacquer paint was phased out, with all Corvettes now finished in durable two-stage enamel.
Total sales for the 1981 model year were 45,631.
1982 Corvette
An on-going dispute between Chevrolet and Borg-Warner, combined with the all-new fourth-generation Corvette due out the following year, prompted Chevrolet not to offer any transmission options this year. GM's new 700R automatic transmission was installed in all 1982 cars. The four-speed overdrive unit helped achieve the quickest acceleration times since the 1974 Corvette, and at the same time return its best fuel-mileage yet.
Corvette Crossfire Engine
Increased pollution regulations, along with rising gasoline prices, led to Chevrolet's return to fuel-injected motors in 1982. The 350ci L83 Crossfire motor featured two cross-mounted throttle-bodies, one for each bank of cylinders. A cross-ram intake manifold was designed to quicken the velocity of the air/fuel mixture ratio.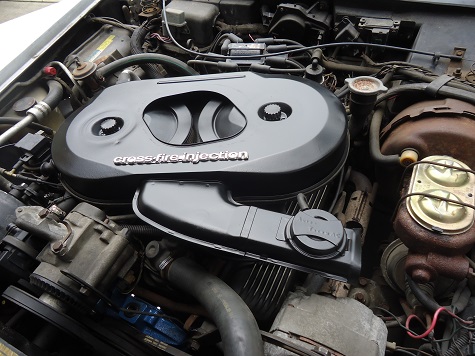 Computerized metering helped boost engine horsepower while lowering exhaust emissions.
Engine compression was raised from 8.2:1 to 9.0:1, helping boost engine output. The exhaust system was reworked, and an electric fuel pump mounted inside the gas tank replaced the mechanical style pump. At full throttle, a solenoid-operated trap door opened under the hood and allowed cool, cowl-ducted air into the motor.
Although a far cry from the sophisticated engines of today, the Crossfire Injection system helped raise horsepower figures to 200 and produced a respectable 283 lb/ft of torque.
1982 Collector Edition Corvette
To commemorate the last of the series, Chevrolet built 6,759 Collector Edition Corvettes, which featured a frameless, lift-up rear hatch, finned cast-aluminum wheels, special gradient-tint silver paint, and bronze-tinted T-tops. Inside was a matching silver-grey interior with multi-tone leather seats and door trim.
Early 80's Corvettes still turned people's heads, but underneath was a twenty-year-old frame and suspension. Anticipation of the fourth-generation Corvette, coupled with the worst economic recession America had seen since the Great Depression, made the 25,407 units sold in 1982 the lowest in over a decade.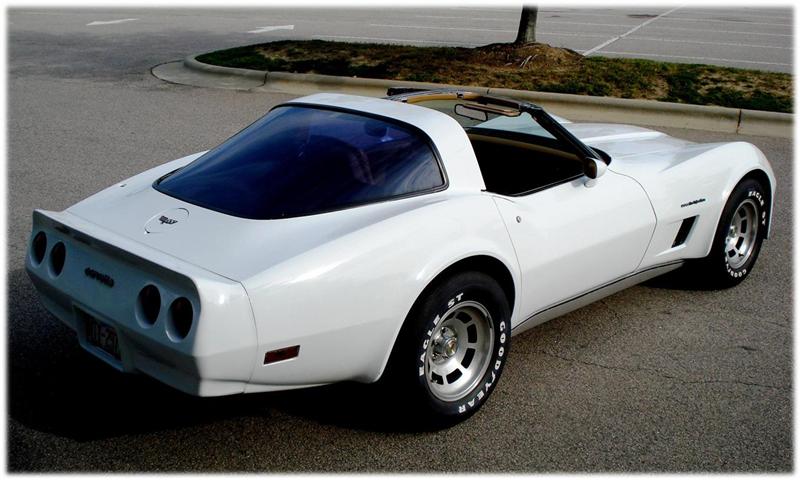 ***********************************
Related Articles: