Best Jack Stands And Lifting Procedures
Article by Mark Trotta
Anytime you're working underneath a car, jack stands are a must. Even if just one wheel is being removed, don't rely on just a hydraulic or scissor jack for support - use jack stands. This is Rule #1 of automotive garage safety.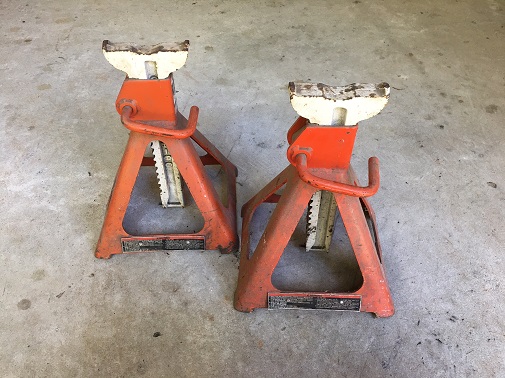 What Capacity Ratings Mean
A 6-ton weight capacity means each stand can safely hold three tons (not 6 tons each).
A 3-ton weight capacity means each stand can safely hold 1.5 tons (not 3 tons each).
For example, jack stands rated at two tons (4,000 pounds), will safely hold 2,000 pounds each. Jack stands that are rated at six tons (12,000 pounds) will safely hold 6,000 pounds each.
Jack stands that are too tall or too short for your vehicle will require extra steps to assure safe usage. If you work on a lot of different cars like I do, the solution is to have two pairs of two different-sized stands.
*************************
Over the years, jack stands have allowed me to safely perform countless brake jobs and tire rotations, replace front end parts, install and repair exhaust systems, swap out clutches, and many other automotive repairs.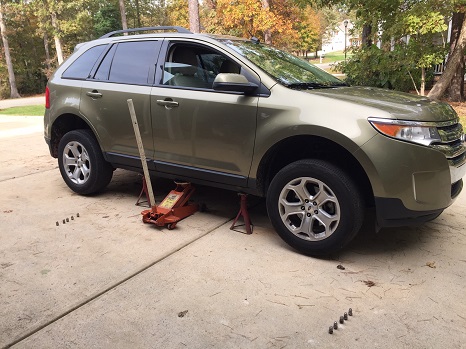 *************************
Best Jack Stands For Home Garage
Jack stands are available in different heights and capacities, and should safely support at least 50% of the weight of the vehicle. They are designed to be used in pairs, and most capacity ratings reflect that. If you're in the market for jack stands, consider the following choices.
Hein-Werner Jack Stands
I've had this pair of Hein-Werner jack stands for over 25 years, and have trusted my life with them time and time again. Hein-Werner's reputation is second to none in lifting equipment field. Their quality and reputation has made them a favorite brand for military, government, and private sectors.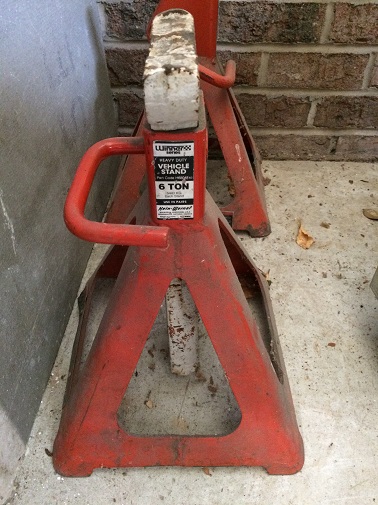 Today's Hein-Werner jack stands sport a blue and yellow color scheme. Dimensions on the six-ton version are the same as my old ones; 16-1/4" minimum height and 25-3/4" maximum height. Base footprint is a large 10-1/2" x 13". This allows usage on softer asphalt or hard-packed dirt without sinking into the ground.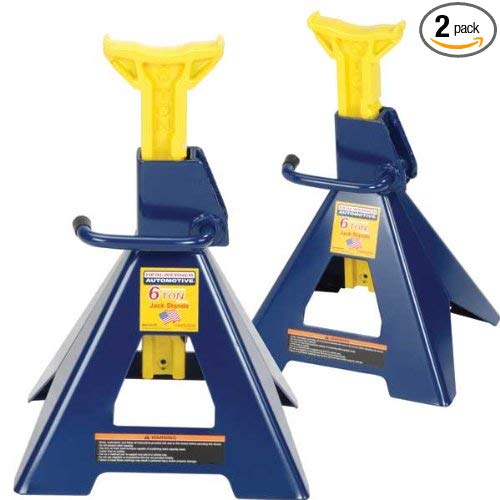 Although some materials are now sourced from overseas, H-W jacks are still partially made in the U.S.A. They offer the highest standards of quality and performance in the industry. All Hein-Werner products carry a two-year manufacturers warranty.
Always adhere to jack stand capacity limits and safety instructions.
*************************
Torin Six-Ton Jack Stands
The Torin "Big Red" jack stands are rated at 6 tons capacity. They are constructed of high-grade forged steel and meet ASME safety standards. Compared to the Hein-Werner jacks, overall fit and finish isn't as good, but they cost a lot less.
A nice feature on these stands is the double-safety lock. When you lift the platform on the stand it locks in place, and for additional safety, there is a secondary pin.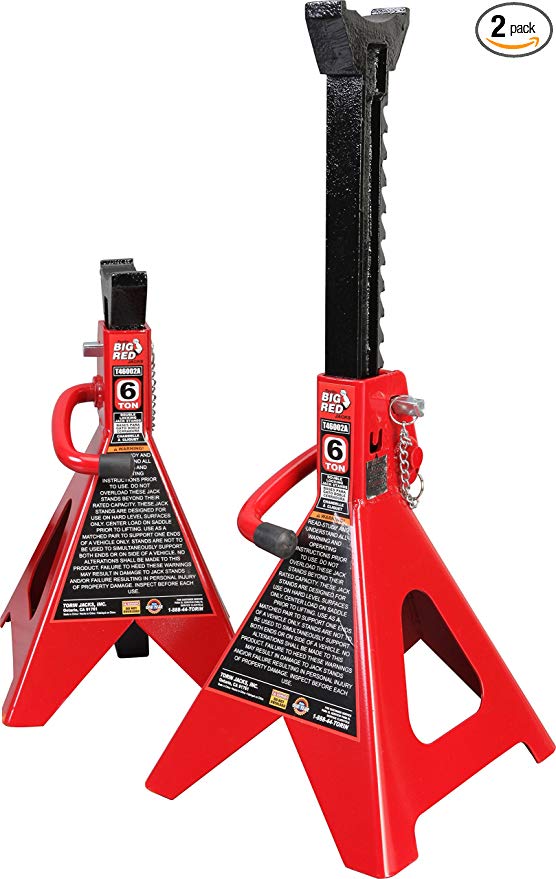 Height ranges from 15-3/8" minimum to 23-13/16" maximum. The footprint is 10-13/16" x 9-7/16". All Torin jack stands include a limited one-year manufacturer warranty.
*************************
As mentioned earlier, I keep two sets of jack stands. I have a light-duty set that works well on smaller cars. They came in handy when I replaced brake calipers on my Fiat Spider project, as they were shorter and lighter than my 6-ton jacks.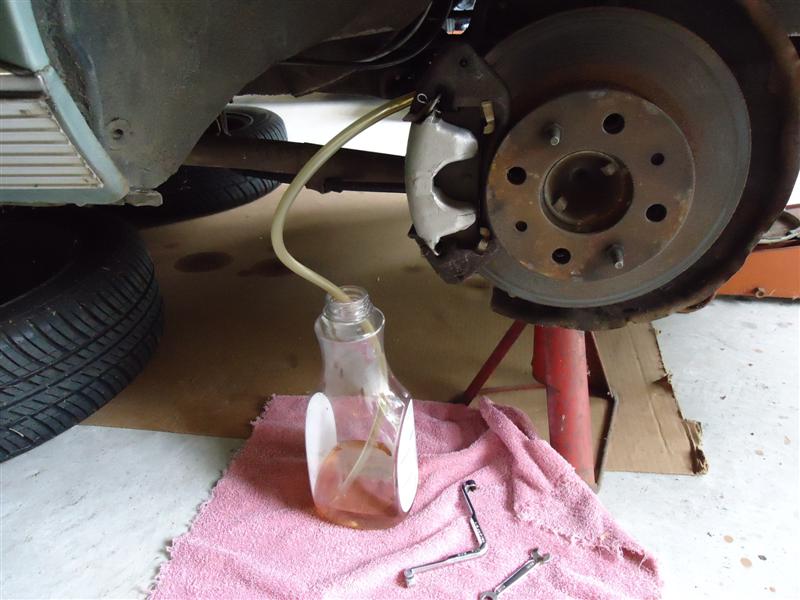 *************************
Three-Ton Jack Stands
The Pro-Lift three-ton (6,000 lb) jack stands have a minimum height of 11" and maximum height of 16-1/2". Jack stand range is 15-3/8" to 23-13/16". Like the Torin, they also feature a double lock.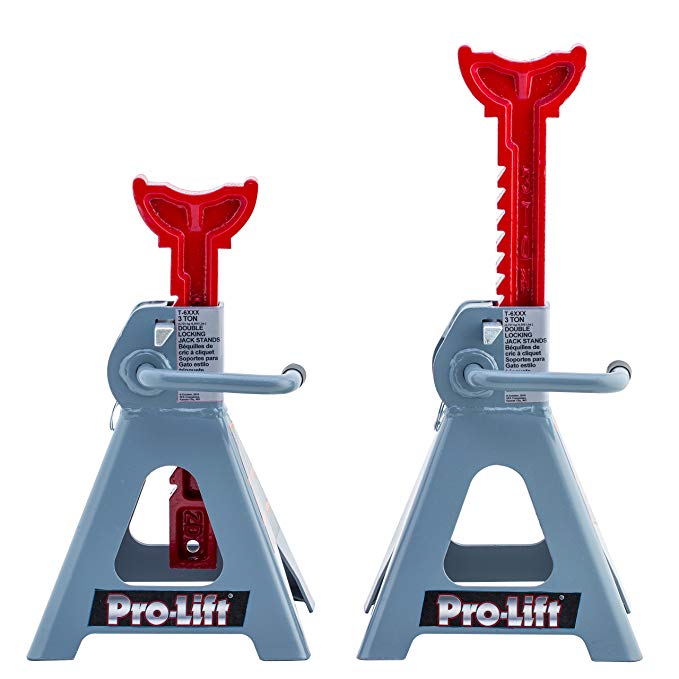 The Pro-Lift jack stands have a sturdy stamped steel base and are ideal for small- to medium-size cars.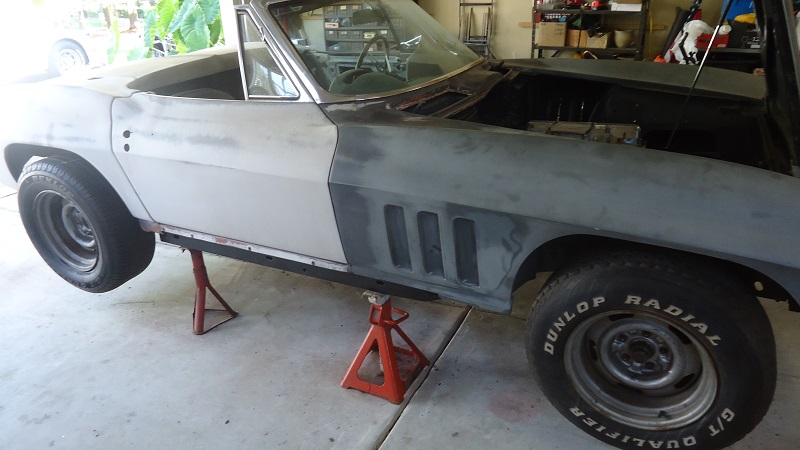 When I need to lift up a car on all fours, my smaller jack stands become the secondary pair.
*************************
Jack Stand Pads
If your old car project will be up on stands for a long period of time, a set of rubber jack stand pads are a good idea. They are designed to protect the pinch welds on your car's frame rails. Jack stand pads are universal and fit most two and three ton jack stands.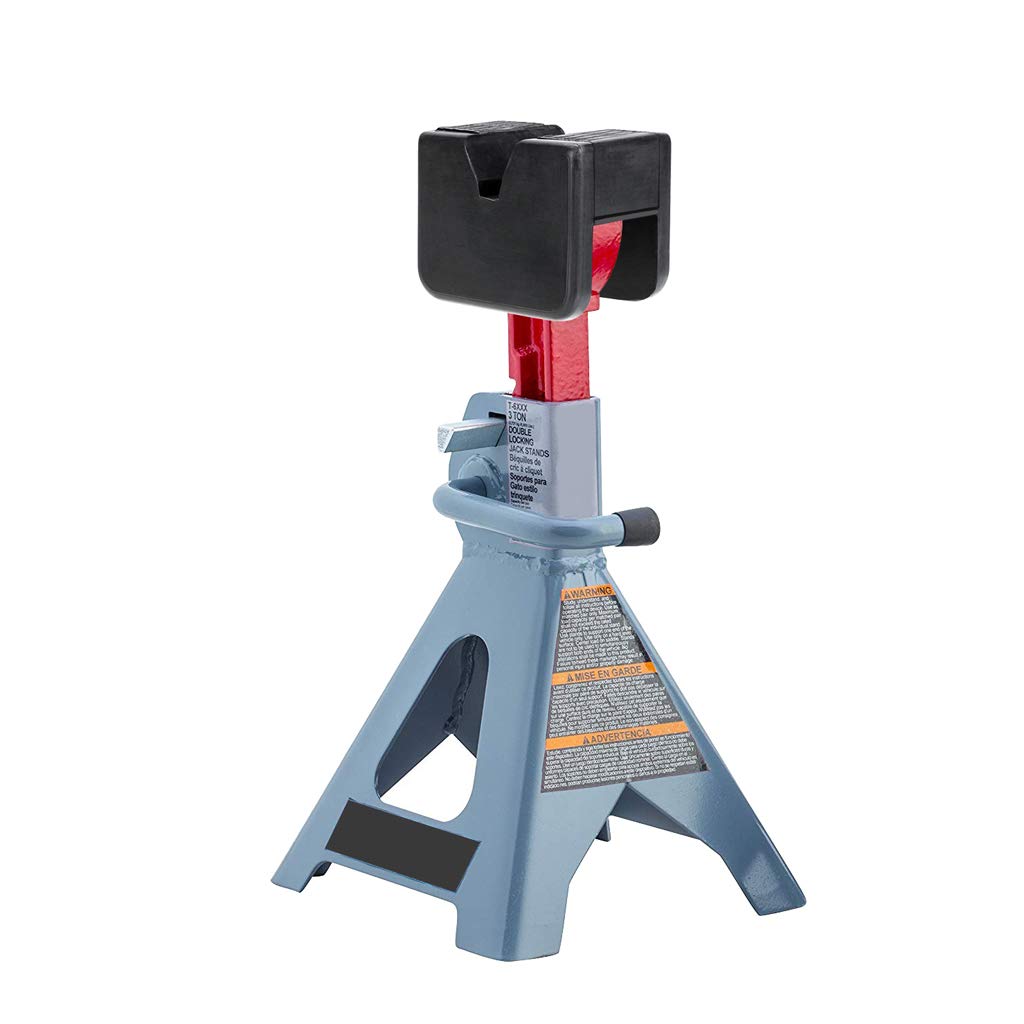 ************************
Best Jack Stand Procedures
Jacks and jack stands are designed to function vertically. To be safest, you need the vehicle to be on solid, level ground. A car lifted on a slope could easily slide off a jack and/or jack stands.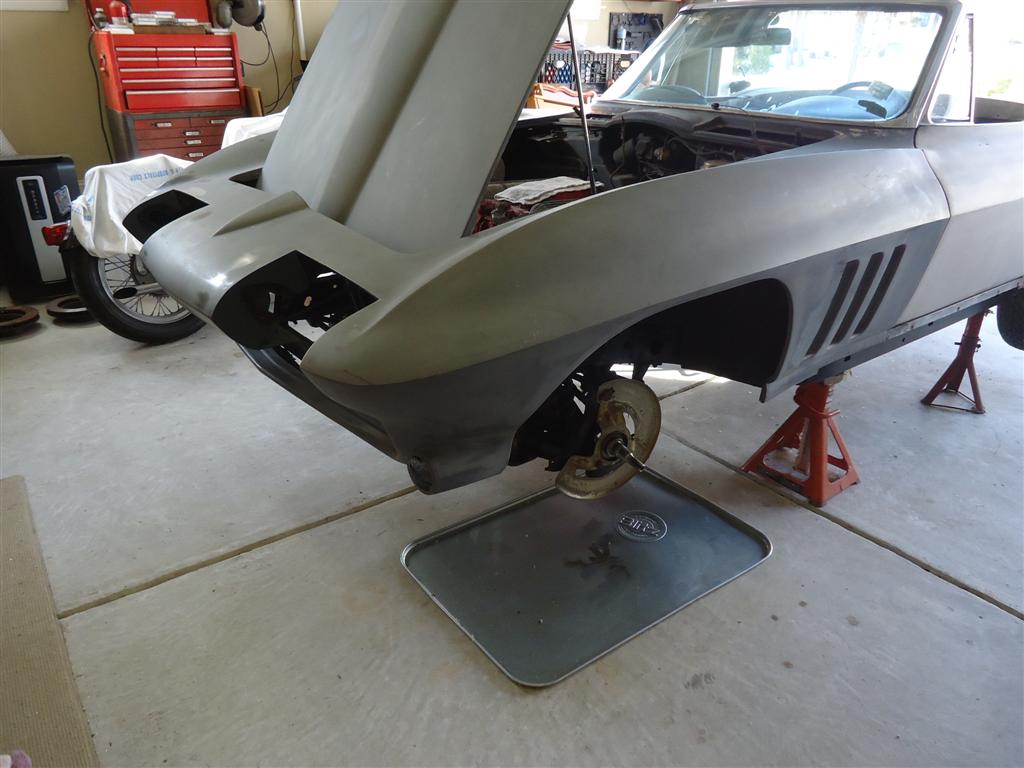 Jack Stand Placement
Every vehicle has suggested lifting points and they are not the same from one car to another. Refer to your car's owners manual or shop manual, or Google it to be sure.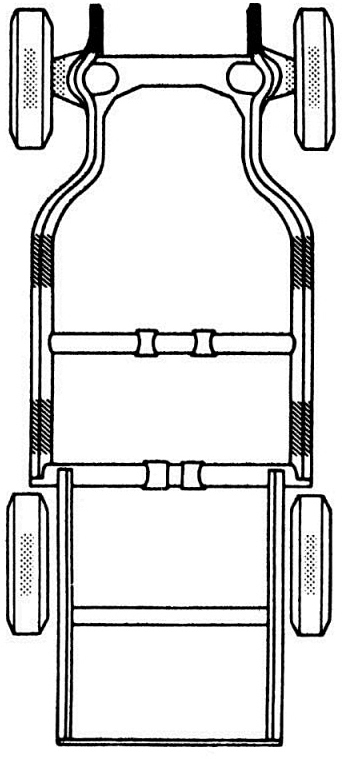 Jack Stand Usage
After jacking the car up, slide the jack stands underneath the proper lifting points. Once you have lowered the weight of the car onto the stands, be sure that the bases are flat on the ground.
After placing the car on jacks, give the car a gentle shove. Check that the jack stands are still planted flat on the ground and that they don't move when you shake the car. Gently shaking the vehicle confirms that it is secure.
Chock The Wheels
When a car is lifted up and on an angle, a wheel chock will prevent it from possibly rolling away if it slips out of gear. There are many styles of wheel chocks, and they can be made from rubber, plastic, wood, or metal.
Wheel chocks are simple to use. With the transmission in gear (or in park), "chock" the wheel opposite to where you are lifting. And don't forget to remove it after you're done!
Misc Notes
If your portable floor jack is not in the way of where you need to work, you can leave it where it is after the vehicle is safely resting on the jack stands. If you decide to do this, remove the weight off the jack, then jack it back up, only until it makes contact with the vehicle, then stop. You now have the jack stands holding the weight of the vehicle, and the floor jack is there for extra security.
Never trust a hydraulic floor jack to support a car by itself.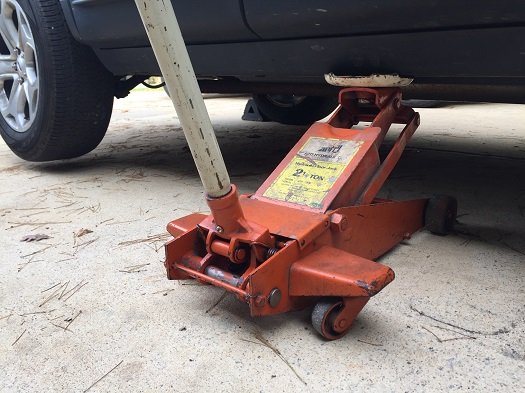 *************************
Related Articles: