Best HVLP Turbine For Automotive
Article by Mark Trotta
When I was learning automotive refinishing in vocational school, turbine spray systems had just entered the market. Soon after, I bought an HVLP Accuspray system, which included a turbine, paint gun, and hose.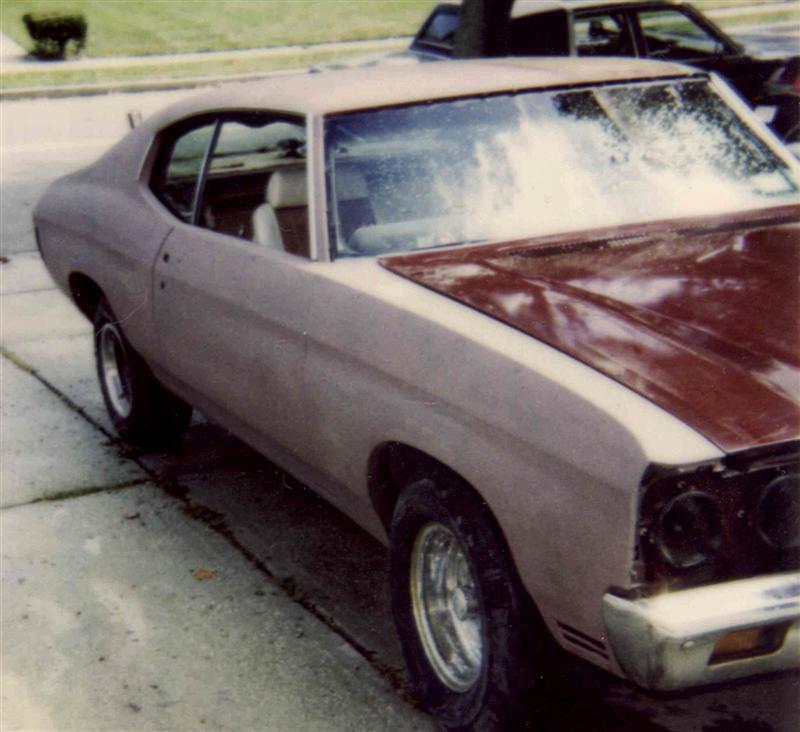 I already had an air compressor in my garage, but after spraying a few cars with a Binks-7 copy and 20-gallon Sears compressor, I wanted something better. Buying a bigger compressor and a real HVLP spray gun would cost nearly as much as a complete HVLP turbine system. Buying a turbine paint system just made sense.
Over the years, I've painted about a dozen cars and a few commercial trucks with my HVLP turbine system. The first car I painted with it was my old 1970 Chevelle, which I sprayed in my home garage.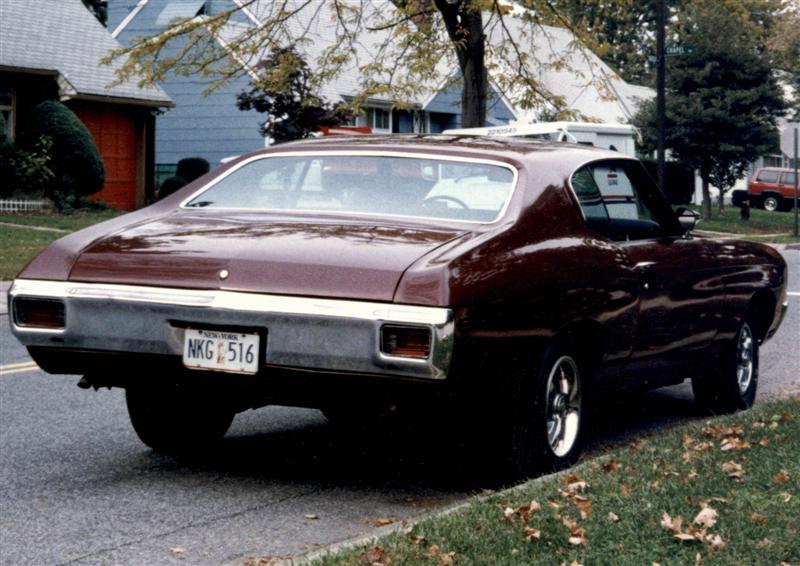 What Is An HVLP System?
Instead of depending on an air compressor like a conventional paint gun, an HVLP (high volume low pressure) system uses a portable turbine that produces warm, clean air to atomize the finish being sprayed. The turbine unit is made up of a series of fans, called stages, that move large volumes of air at low pressure. They are also called airless paint systems.
HVLP Turbine vs Air Compressor
With a conventional spray gun, you need a decent-sized air compressor, paint gun, an air hose, and a moisture separator as minimum requirements for painting a car.
The major disadvantage of the above setup is that a paint gun has a much higher duty-cycle than most air tools, so more air is needed. This requires a smaller compressor to run longer, which builds up more heat and causes moisture (condensation) to get in the air lines.
Automotive Turbine Spray Systems
Nothing ruins a great spray pattern as much as moisture in the air line. An HVLP turbine unit supplies dry air at low pressure, instead of high pressure from your overworked compressor. The result is clean dry air to your spray gun.
All turbine-powered spray guns are true high-volume low-pressure (HVLP) systems. A couple of side benefits is that overspray is kept to a minimum with HVLP spray guns, which saves paint. And you don't have to worry about oil or water getting into the air lines.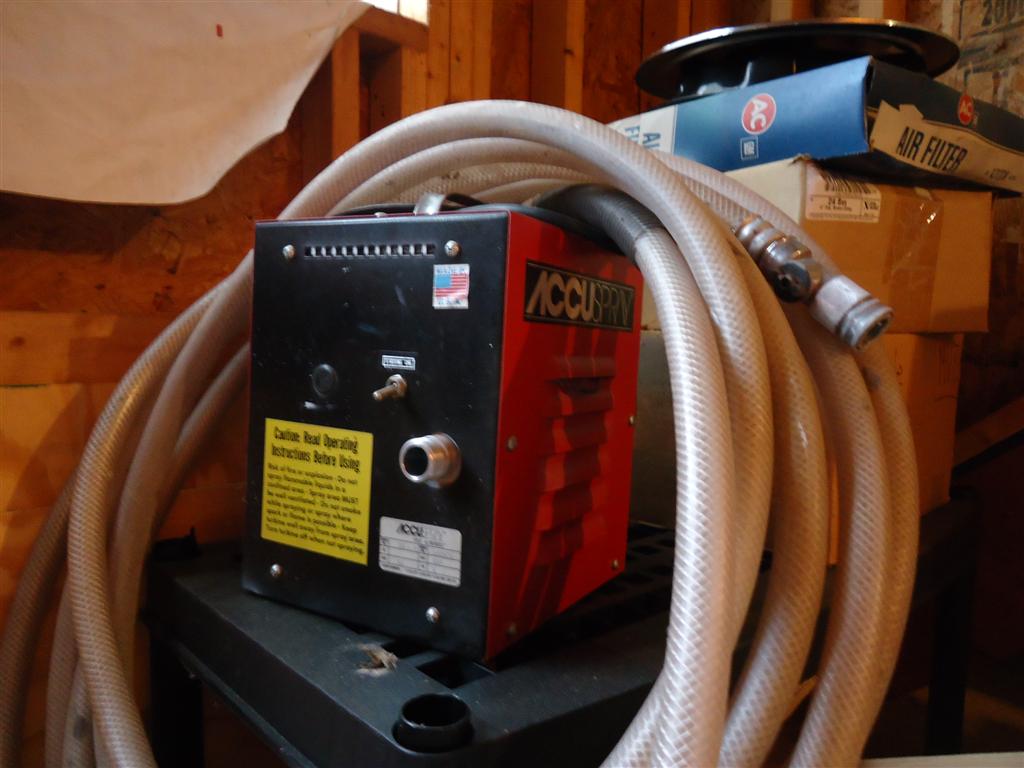 ************************
That Was Then, This Is Now
I still have my Accuspray turbine system that I bought back in the nineties, and it's seen plenty of use. Trouble is, Accuspray was bought out by another company some years back, and replacement parts are near impossible to find. Another issue is it's pretty loud. It sounds like an old vacuum cleaner when running!
Which brought me on my current search to find the best HVLP turbine for automotive use. The Fuju brand seems to be a popular one and had best reviews, so I checked them out first.
Fuji DIY Semi-Pro Turbine
The entry-level Fuji turbine sprayer is the DIY Semi-Pro. It features a lightweight, portable turbine that has more power than other DIY systems in it's price range. This is their entry-level set that includes turbine, HVLP gun, and a 25-foot hose with quick-connect couplings.
The spray gun included with the Semi-Pro Series 2203G is Fuji's M-model, one step below their top of the line T-series guns. It doesn't have as many adjustable features as the T-series, but it does have the same non-bleed spray cap, and a stainless steel nozzle and needle. The pattern control knob is fully adjustable to widen or narrow the fan spray.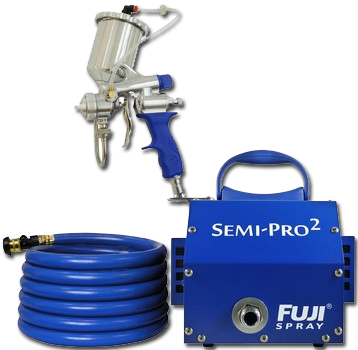 The 25-foot hose length should give enough range for small to medium cars. For larger cars and trucks, you may need to move the turbine unit once or twice during the painting process.
The main drawback of the Semi-Pro series is the two-stage turbine is only capable of 5.0 PSI. If you're painting small panels or motorcycle tanks and fenders, the 2203G Fuji will be perfectly suitable. To correctly spray certain automotive finishes, such as clear coats, you need a higher degree of atomization that only comes with more powerful turbines.
For the professional body man or for bigger jobs, either a four-stage or five-stage system is preferred. For the DIYer, the extra power provides the necessary pressure to spray higher viscosity primers and heavier enamels.
Fuji Mini-Mite Turbine
If you're shopping for a HVLP system in the under a grand price range, the Fuji Mini-Mite spray system easily stands out. The four-stage turbine has a range of 6.5 PSI to 8.5 PSI. Although these mid-line turbines were primarily designed for mobile use, they are also suitable for your home garage. The Mini-Mite series is a good compromise between the entry-level turbines and professional-use turbines.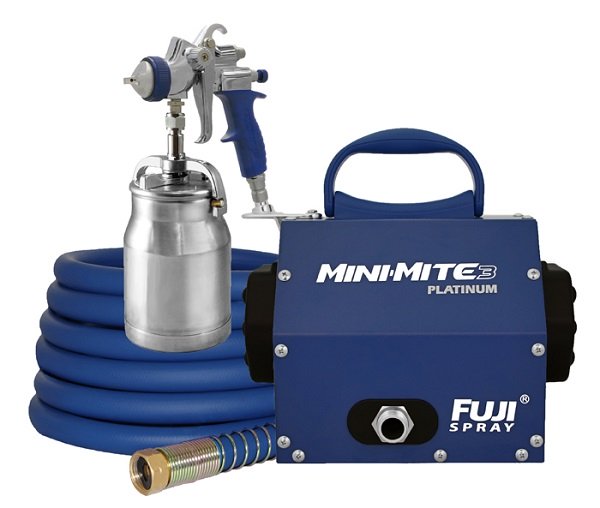 As shipped, most Fuji HVLP spray guns are fitted with a 1.3mm air cap, which is good for most automotive paint. For clear coats, a smaller tip size will give better results. Some primers may require larger tips.
Gravity-Feed vs Pot-Style
I have sprayed with both types of spray guns, and generally prefer gravity-feed (cup on top) over pot-style (cup on bottom). Fuji HVLP guns come with either a gravity-fed cup or a pot-style cup. Both style cups are aluminium.
All Fuji Turbine systems are made in Canada and covered by a two-year warranty. A 20-page instruction manual is included with all models.
Fuji Q-Platinum Turbines
If you're a professional, or plan to spend a lot of time painting, the Fuji Q-Platinum series is a good choice for an HVLP turbine system. Considered the quietest operating turbine on the market today, the Fuji Q-Platinum was designed for use in professional automotive shops. When you're painting for hours at a time, the quiet operation will give less overall fatigue.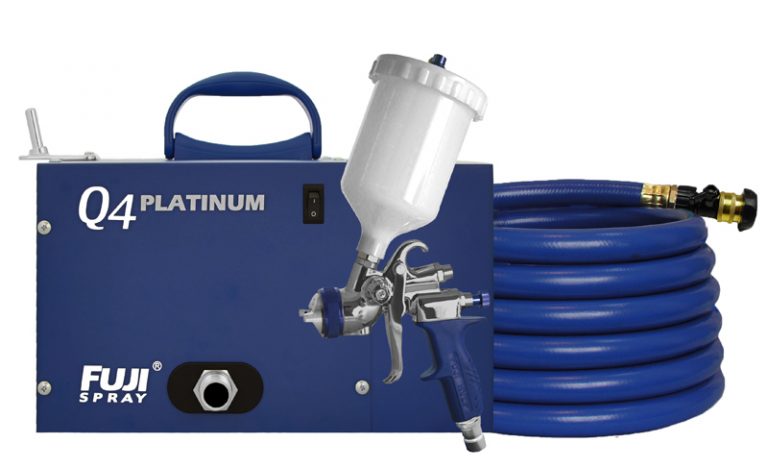 Featured on the Q-Platinum turbine is a turbine speed control switch, allowing you to taper the turbine speed for optimum results. A patented fan pattern control on the gun has three pattern orientations (horizontal, vertical, and circular). Like the Fuji Mini-Mites, operating range is 6.5 PSI to 9.5 PSI.
Different Air Cap Sizes
Air caps, rods, and nozzles are sold as sets and must be used together. They are measured by the width of the rod in millimeters (mm). Air cap sizes range from 0.8mm to 2.0mm.

Fuji offers different tip sizes to spray a wide range of finishes and paints. A 1.3 air cap is most commonly used for base coats, and is supplied with most of Fuji airless sprayers. A 0.8 or 1.0 cap is for suited for clear coats. For thicker finishes such as primer coats, a 1.5 or 1.8 is best.
1.5mm-1.8mm for primer application
1.3mm for base coat
0.8mm-1.0mm for clear coat
Note: The 5100 air caps are compatible with Fuji T-model (T-70, T-75) spray guns.
Best Turbine Sprayer For Automotive
While many professional automotive turbine spray systems are too expensive for the average DIYer, technology has made them less costly over the years. Your budget will most likely decide which turbine spray system is best for you. Like other automotive restoration tools, buy the best you can afford.
Other Uses For A Turbine Sprayer
Aside from cars, trucks, and motorcycles, turbine spray systems are also suited for DIY spray painting projects, such as furniture, interior room walls, and wood and metal crafts. The techniques are slightly different as when painting a car.
************************
Safety Concerns
When painting your car, safety hazards are very real. The chemicals in today's paints are dangerous and can be absorbed through your skin and eyes. The EPA states that the health risks of VOC's include: eye, nose, and throat irritation, headaches, loss of coordination, nausea, damage to liver, kidney, and central nervous system.
Use caution and common sense while painting.
A good respirator is essential (remember to change respirator filters often).
Wear disposable nitrile gloves when mixing and spraying paint.
A head sock and full body covering are recommended.
Always wear eye protection.