Best Air Tools For Automotive Restoration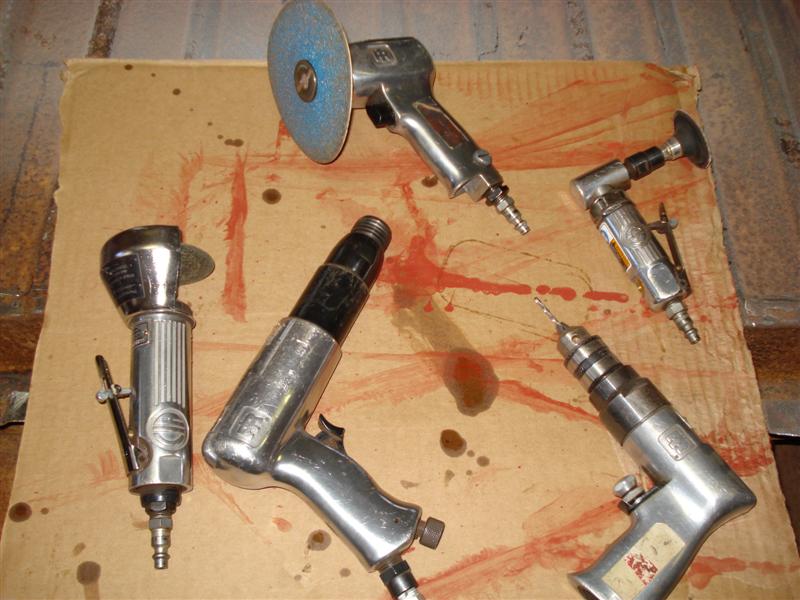 Classic car restoration is very time-consuming. Having the right tools saves you time. Air tools deliver higher torque and are more powerful than traditional electric tools. They also decrease the amount of time spent on a project. From my 30+ years of experience, here's a breakdown of the ten best air tools for automotive repair and restoration.
Die Grinder
Die Grinders come in straight or right-angle, they both have many uses. Angle grinders are good for grinding rusty metal down to clean metal. A straight grinder works well for porting cylinder heads and polishing manifolds. Either will accept 2" or 3" pads and discs.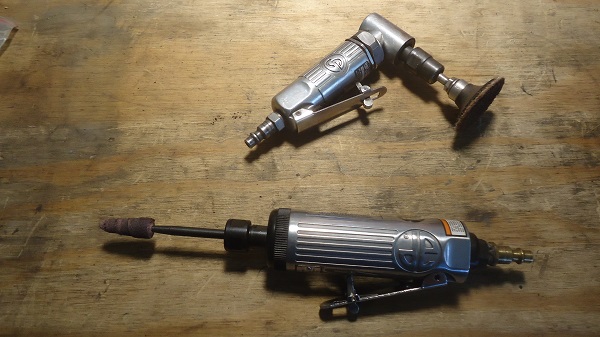 Die grinder price range: $40 to $120
Air Cut-off Tool
By changing the arbor on your die-grinder, it serves as a cut-off wheel (a.k.a. whiz-wheel). You can use tin-snips to cut metal, but an air-powered cut-off wheel is much faster. While cutting sheet metal, slowly slice along a marked-off line with the cut-off wheel, letting the air tool do the work. Don't force it to cut faster, it will overheat the tool and the metal. Other uses include cutting off rusty muffler clamps.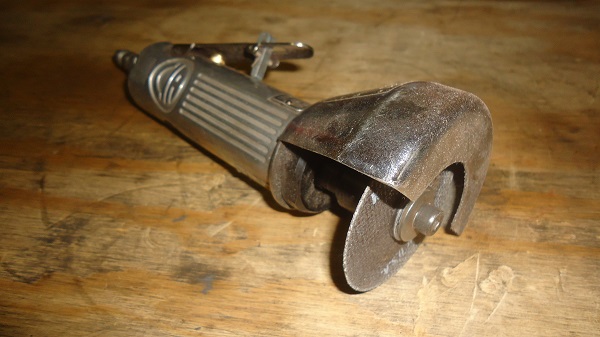 Air cut-off tool price range: $20 to $80
Air Drill
An air drill enables you to drill holes in metal without running out of power or getting the drill hot. Be careful though, air drills run so fast that you may have a hard time starting a pilot hole. This drill was particularly helpful while removing the riveted brake rotors on the 1966 Corvette.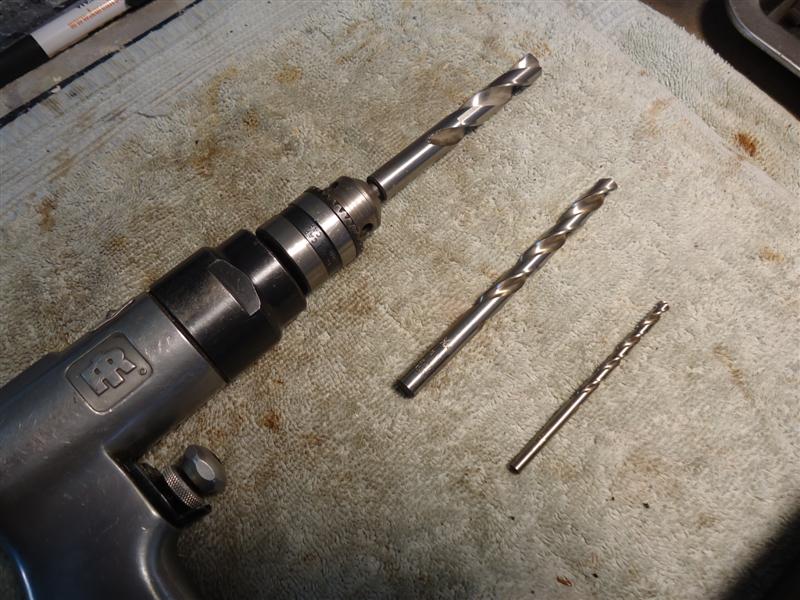 Air drill price range: $40 to $200
Dual-Action Palm Sander
The D/A, or dual-action sander, is small and light and works at low RPMs. They have a dual orbital motion that helps prevent scratching. Its primary use is to "feather", or fan out, the area around a panel repair. 150 or 220-grit sandpaper is commonly used. When using a D/A sander, keep it flat to the surface and don't press down too hard. Let the sander do the work.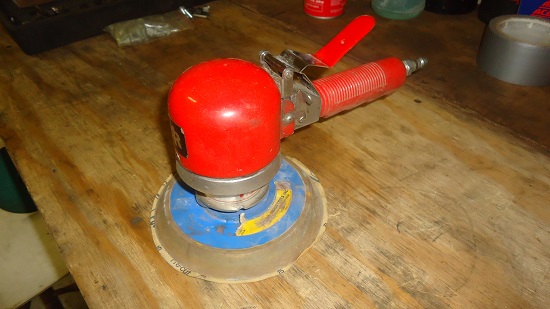 D/A sander price range: $35 to $120
Air Grinder
Good air grinders have more power than electric grinders, and have a smoother action that won't fatigue your hands as quickly. They work at higher RPMs without the orbital motion of a D/A sander and make quick work of paint removal or grinding down welds. They can also damage sheet metal, so they need to be used with finesse.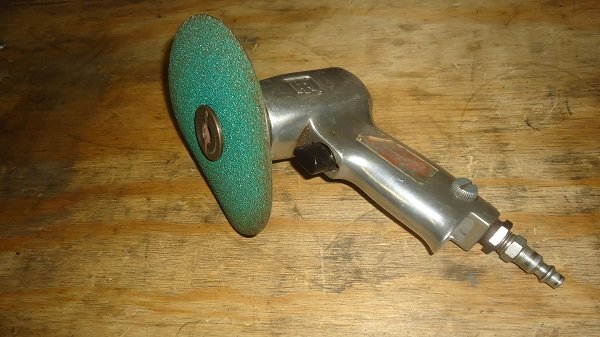 Air grinder price range: $30 to $120
Air Hammer
The old "Billy Baroo." This tool has gotten me out of more jams than any other. Its multiple uses include separating stubborn body panels and removing tie rods. Having an assortment of chisel heads makes air hammers invaluable.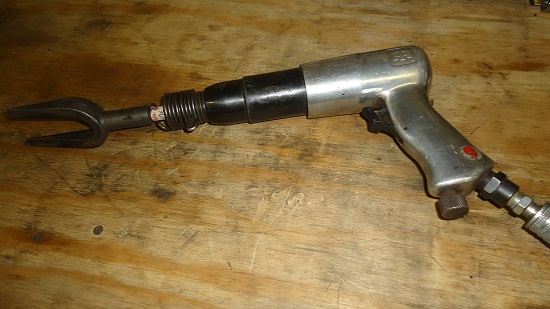 Air hammer price range: $80 to $350
Air Ratchet
I use an air ratchet mostly for disassembly. Impact guns only fit in so many places, but air ratchets fit in a lot more places. To me, the smaller 1/4" air ratchet is most useful. Not only will it fit into places hand ratchets can't, it will deliver needed torque to remove that stubborn nut or bolt.
Air ratchet price range: $40 to $150
Air Body Saw
An air saw is more compact than a Sawzall or Portaband, so it's handy for close quarters, such as cutting part of a floorboard out. They're ideal for fiberglass or carbon fiber or really small detail cuts. It's like a mini-Sawzall, but a lot smoother.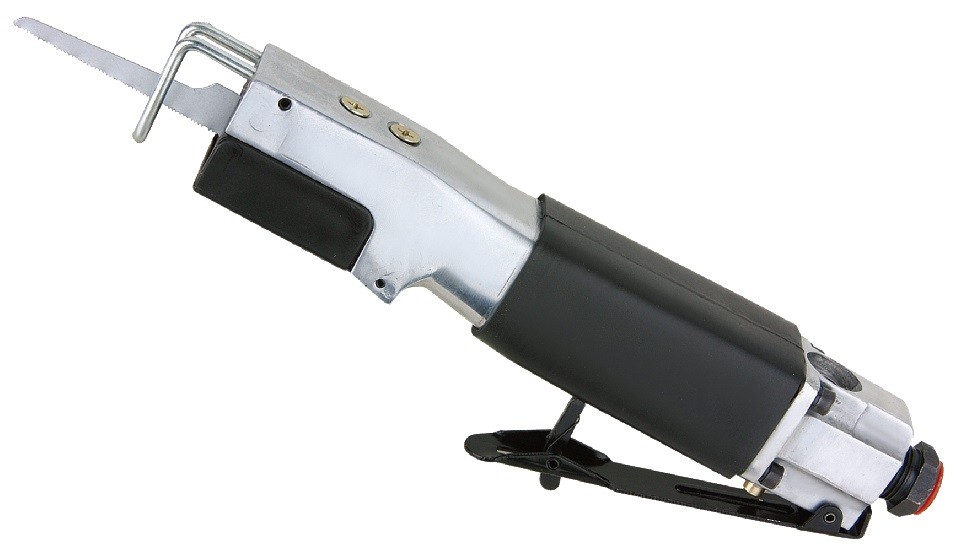 Air body saw range: $40 to $110
Paint Gun
I've been using a turbine spray system when painting cars, but I also have a small siphon-feed spray gun for tight quarters and small panels. It's also good for motorcycle gas tanks and fenders.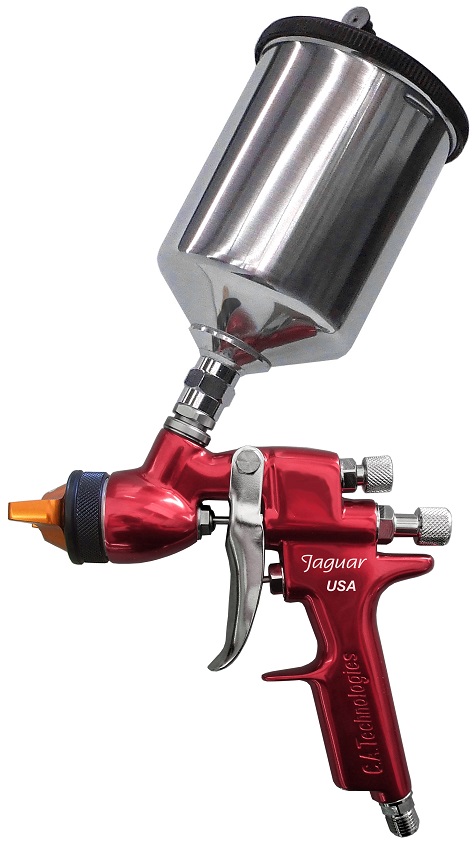 Spray gun price range: $80 to $450
Blow-Gun Attachment
The many uses of a air blow-gun include cleaning fuel lines, blowing away filings and metal chips, cleaning spark plugs, etc. I use mine quite often for drying metal panels and parts before painting. After you're done with your garage session, you can use the blow-gun attachment to clean up your shop area.
Blow-gun attachment price range: $5 to $22
Air Tool Maintenance
Having outlined the ten best tools for automotive repairs, a final word about maintenance. Even with a filter/regulator, moisture from the air compressor gets through the hose and contaminates air tools, so adding a bit of oil before or after every use is a good idea. Several companies, including DeVilbiss, offer short desiccant hoses. These have an inline air filter to help removes dirt, oil and water.
Having an air compressor and air tools in your garage will save you time and allow you to work more effectively. Like other shop equipment, they are an investment, so buy quality name brands when you can. Some of my air tools are over 20 years old, and work just as well today as when I bought them. Die grinders seem to have the shortest life-span.