Best Angle Grinder For Automotive
Article by Mark Trotta
Commonly called upon for cutting metal, stripping paint, and sanding rust, electric angle grinders are also handy when welding, such as beveling metal plates and dressing weld beads. With a cut-off wheel attached, they'll easily cut through sheet metal, small pipes, and exhaust systems.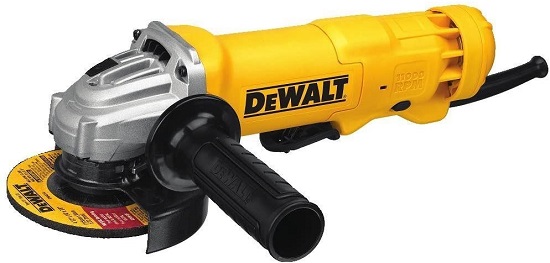 When shopping for an electric grinder, you'll find they're offered in several different sizes. If your budget allows for only one, a 4-1/2" angle grinder is best for home garage use. Below is a review of several name-brand corded electric grinders.
NOTE: Cheap grinders have cheap bearings and therefore, don't last too long.
Bosch Electric Grinders
The electric grinder in my garage is a Bosch AG40-85P with paddle switch, which I bought new in 2012. It's German-made, and the motor is rated at 8.5-amps and spins to 11,500 RPM. Weight is approximately five pounds.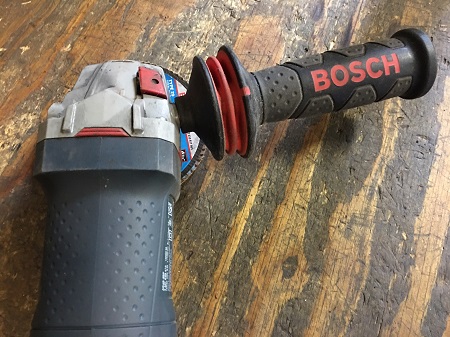 The AG40-85P grinder has a two-position "vibration control" side handle, and depending on what I'm working on, I'll switch the handle from left to right for comfort.
The tool didn't come with a case, so I keep mine in the original cardboard box with the top cut off. A wheel release tool was included with the grinder.
Bosch GWS10-45P Angle Grinder
Now discontinued, the AG40-85P was replaced with the Bosch GWS10-45P Grinder. It features a paddle switch, two-position "vibration control" side handle, 10-amp motor, and spins to 11,500 rpm. Weight is approximately five pounds.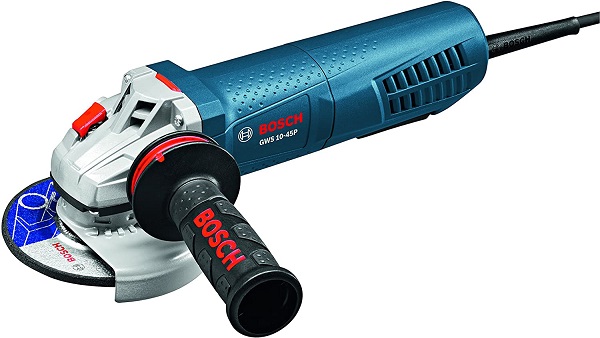 The country of origin of the GWS10-45P grinder is Germany.
NOTE: The country of origin of the cheaper GWS10-45PE is China.
Dewalt Angle Grinders
Slightly less expensive than the Bosch unit, the Dewalt DWE402 electric grinder features a paddle switch, two-position handle, 11-amp motor, and quick-change wheel release, which requires no special wrench. Comparisons show the DWE402 having an ideal power to weight/size ratio.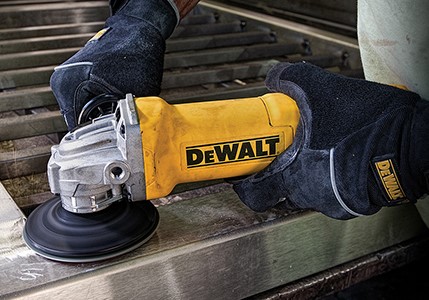 Dewalt is a well-known and respected brand in the power tool industry, and their grinders are backed with a three-year limited manufacturer's warranty. The DWE402 grinder is U.S. made with global materials.
Makita Angle Grinder with Case
Another mid-price angle grinder is the Makita 4-1/2" angle grinder with case. It features a small-diameter barrel grip and extra large paddle switch. The motor is rated at 7.5 amps.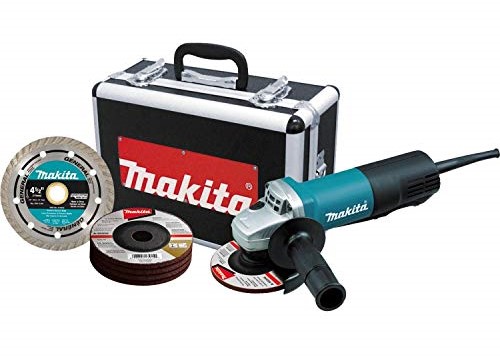 The Makita 9557PBX1 kit includes grinder, two wheel guards (one Type-27 and one Type-1), and five 4-1/2" grinding wheels, all enclosed in a nice-looking aluminum tool case. Although Makita is a Japanese company, the 9557PBX1 grinder, parts, and case are made in China.
Best Budget Angle Grinder
Weighing only 3.75 pounds, the Bosch 1375A angle grinder is lightweight, compact, and suitable for minor metal work and fabrication. It features a six-amp motor that spins to 11,000 rpm.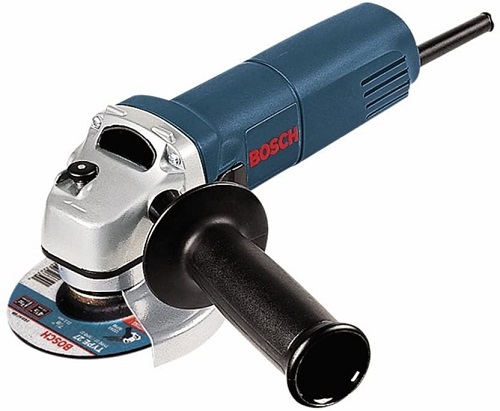 Although most Bosch power tools are still made in Germany, the 1375A angle grinder is made in China.
********************************
Paddle Switch vs Trigger Switch
Traditional grinders will have a trigger switch for the on/off function. Once the trigger is locked in place, you can adjust your hands to anywhere on the tool. Of course, there is concern of the running motor getting away from you, which can cause damage and personal injury.
Many DIYers consider a paddle switch to be safer, as it's wider and more controllable. Once locked, you can hold the tool in two places, with one hand in back of the unit's grinding head and the other on the grip.
********************************
Corded vs Cordless
I'm old school on most shop-related items, and this is (another) one of them. Seeing as they have nearly the same output, the choice of corded or cordless angle grinder is largely personal preference.
********************************
Angle Grinder In Use
Sometimes, for clearance reasons, I'll run the tool without the wheel guard or without the screw-on handle. Of course, this is done with the utmost of care. NOTE: the adjustment for the metal wheel guard doesn't require a tool, but to detach/install it requires a tool.
Misc Notes
If undecided on which electric grinder is best for your needs, consider purchasing more than one. If it's in the budget, a larger, more powerful tool can be used for bigger jobs, and a smaller, less powerful one can be used for quick, small jobs. If you keep one fitted with a cut-off wheel, and the other fitted with a grinding disc or a sanding disc, you'll save the time of changing wheels during a project.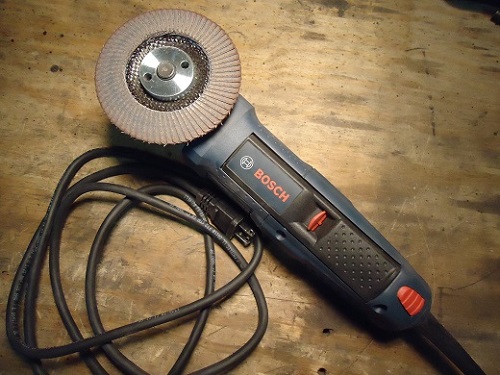 I've found my 4-1/2" Bosch angle grinder to be an essential auto-body repair tool. It does it's job and it's comfortable to work with.
Grinding wheels, cutting wheels, flap discs, sanding discs, wire wheels - all of these are useful during auto body repair, but they all serve different purposes. To get the most out of your angle grinder, know which attachment is best for the task at hand.
Although mostly used for metalworking in automotive repair, with the proper attachment, angle grinders are also capable of cutting wood, rebar, concrete, and cinder blocks.
********************************
Notes and Cautions When Using An Angle Grinder:
Protect your hands from sharp edges - always wear gloves.
Wear a face shield or safety glasses with side-protectors.