Milwaukee Portaband Saw Review
Article by Mark Trotta
Originally marketed for cutting steel on job sites, portable band saws are also popular with serious DIYers. They cut metal clean and fast, and are quieter than abrasive saws. For use in my home workshop, I chose the original, a Milwaukee Portaband.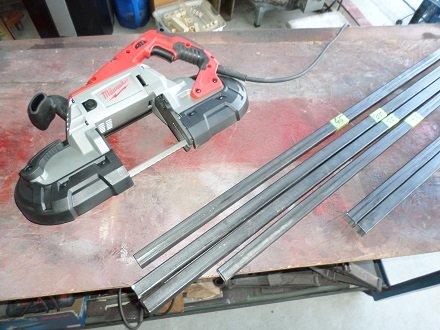 What Is A Portaband?
Portable band saws are a clever design - the cutting blade runs on small wheels driven by a motor, forming an endless loop. It's like a continuous hacksaw blade that goes around and around. This makes for a smooth, quiet operation.
The Milwaukee Portaband was the original, and years later is still the gold standard to which other portable band saws are compared. The trigger action is smooth, and the variable speed is a nice feature. It's 11-amp motor is best-in-class.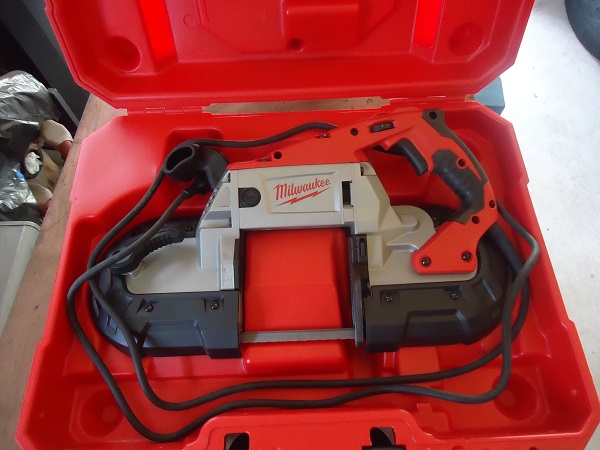 Advantages
Because there is no base, a portable band saw must have good handling and safety characteristics. The Portaband was designed so the center of gravity coincides with the cutting edge of the blade. This minimizes the forces needed to control and manipulate the saw.
Disadvantages
It's limiting factor is where it can be used and depth of material to be cut. The 5" opening restricts it to only making cuts on material that's 4.5" width or less. Of course, you can cut larger pieces by coming in from both sides - it just takes a few extra steps.
Portaband Specs
Length: 21"
Weight: 14.5 lbs
Amps: 11
Capacity: 5" x 5"
Surface Feet Per Minute (variable): 0-380
At 14.5 pounds, some may consider it heavy, but the weight actually helps the saw do the cutting.
What Can Portable Band Saws Cut?
If your project requires dozen of cuts (like a homemade trailer) a portable band saw is ideal. As long as you're cutting with a sharp blade, it will cut fast and smooth.
Aside from metal, they can also cut wood, plastics and other materials. With a fine tooth blade, they're ideal for cutting pipe (up to 4" diameter).
Portaband vs Sawzall
A Sawzall has a reciprocating (back and forth) saw blade, whereas a Portaband saw blade goes around and around. Although a Sawzall can get into hard-to-reach places easier, portable band saws are quicker and more accurate, and give far less vibration.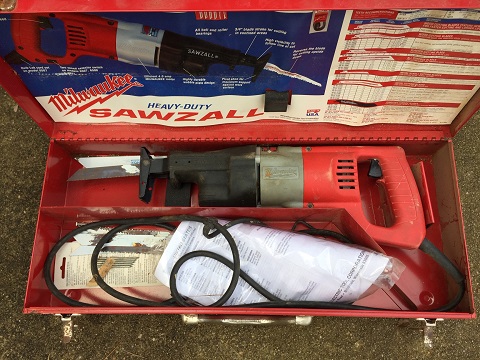 I have both saws, and use the Portaband more often.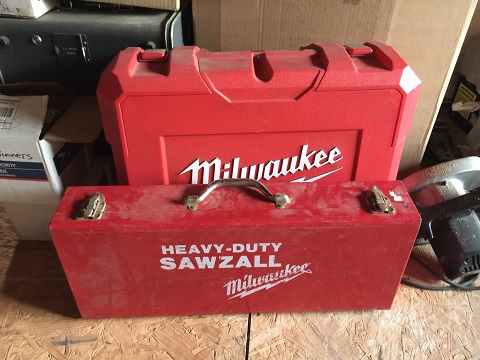 Corded vs Electric
The Portaband is offered in corded or 18-volt lithium ion cordless versions. Although battery technology has evolved rapidly in recent times, I still prefer corded shop equipment. It's personal preference more than anything - I just don't like hassling with charging and swapping batteries.
Milwaukee FUEL Series
Milwaukee Fuel series tools feature brushless electric motors. The benefit is that they run cooler and use slightly less current. Because of this, brushless motors should give a longer service life.
Milwaukee 6232-20 vs 6232-21
These two part numbers are the same tool, but different packaging. The 6232-20 is the tool only, with no storage case. The 6232-21 is the same band saw, but includes a hard-plastic storage case.
I've read customer reviews of people complaining about the case because there's not enough room to fit the cord. I've have no issues - I just wind up the cord around the tool to fit inside the case.
****************************
Blade Choices
The Portaband saw takes a 44-7/8" blade, which are offered in different grades. For general cutting, 18 TPI (teeth per inch) blades work well. Also available are 24 TPI blades for finer cuts on thinner metals.
24 TPI vs 18 TPI
For metals up to 1/8" a 24 TPI blade will give a nice clean cut. For metals over 1/8", 18 TPI or the courser 10/14 TPI would be best.
Replacement Blades
My first blade lasted seven years. When it finally broke, I considered the last few things I cut, which were under 1/8" width. Then I purchased a 3-pack of 24 TPI blades.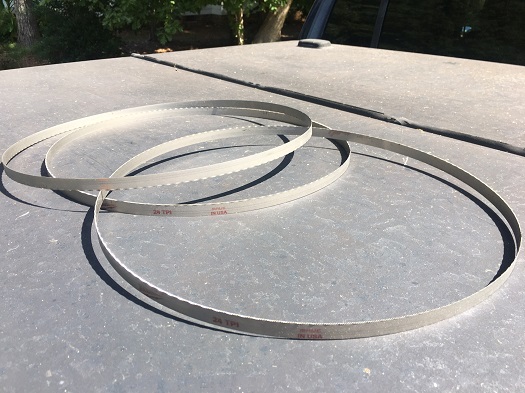 ****************************
Portaband Table
Portable band saws can also be bench-mounted or stand-mounted. Many companies, including Swag Offroad, sell pre-fab tables to convert portable band saws to horizontal table saws.
Cutting metal on a flat, sturdy surface gives you clean, burr-free cuts that are super accurate. And if you have a lot of metal to cut, it's less fatiguing. Make sure everything's clamped securely in place, and don't force the blade.
****************************
Subcompact Portaband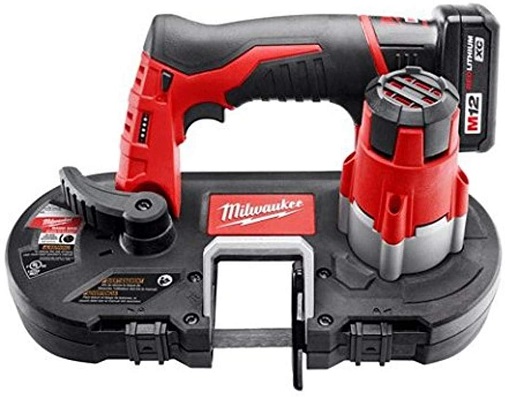 Advantages of the Sub-Compact 2429-21XC Portaband are that it's smaller and lighter and costs less than the 6232, but it's smaller size limits you to smaller cuts.
****************************
Conclusion
Milwaukee is one of the top names in the tool business. If you're in the market for a portable band saw, consider the Milwaukee Portaband. For me, having one has been a real time saver.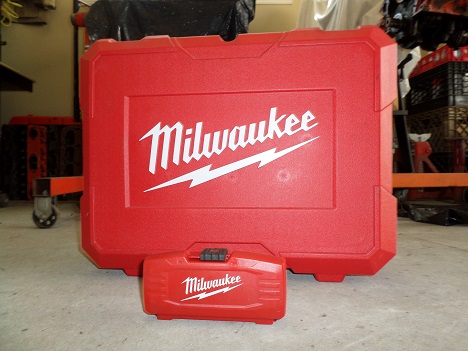 ****************************
DIY Metal Projects
This is a gong stand I made for my son's high school band.
The Portaband makes nice clean cuts on square tubing.
Motorcycle Engine Stand
This Harley engine stand was built with scrap metal pieces I had around the garage.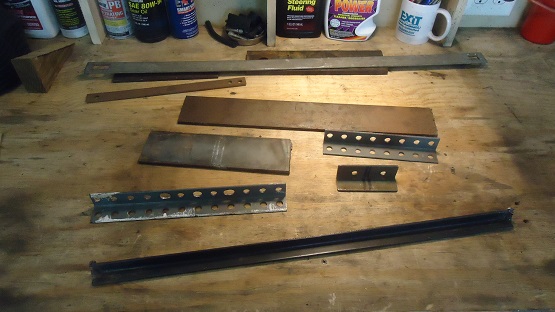 ****************************
Related Articles:
****************************
Notes and Cautions While Cutting Metal
Wear a face shield or safety glasses with side-protectors.
Protect your hands from sharp edges - always wear gloves.
Clamp the piece of metal you need to cut in a vise securely.