GTO Tri-power Rebuild
Article by Mark Trotta
Always trying to squeeze more power out of an engine, hot-rodders learned early on that adding a carburetor or two is a sure-fire way to make more power. Multiple carb setups have always been popular, with Pontiac first offering Tri-Power induction on full-size cars in 1957. With the right combination of parts and tuning, multi-carb induction still offers fairly inexpensive power gains.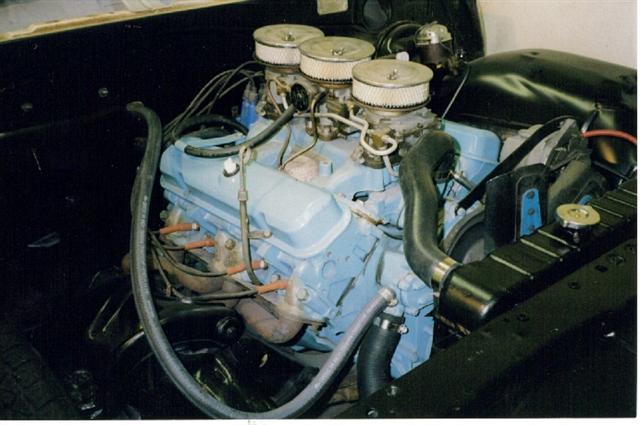 When I purchased my 1965 GTO project, the Tri-Power carbs were fairly intact, including the factory air-horn tags. The only parts I needed to buy to complete the Tri-Power set-up were the (correct) steel fuel lines and three carb kits.
If you're missing the correct fuel lines and fittings, don't be tempted to use rubber hoses and a chrome fuel block. On 1964-1966 Tri-Power engines, there are potentially eight places for possible leaks (versus two for a 4-barrel).
Rebuilding Rochester 2-barrel carbs is pretty easy, especially compared to a 4-barrel Quadrajet carb. With a multi-carb set-up, keep one assembled to use as an example while rebuilding the other two.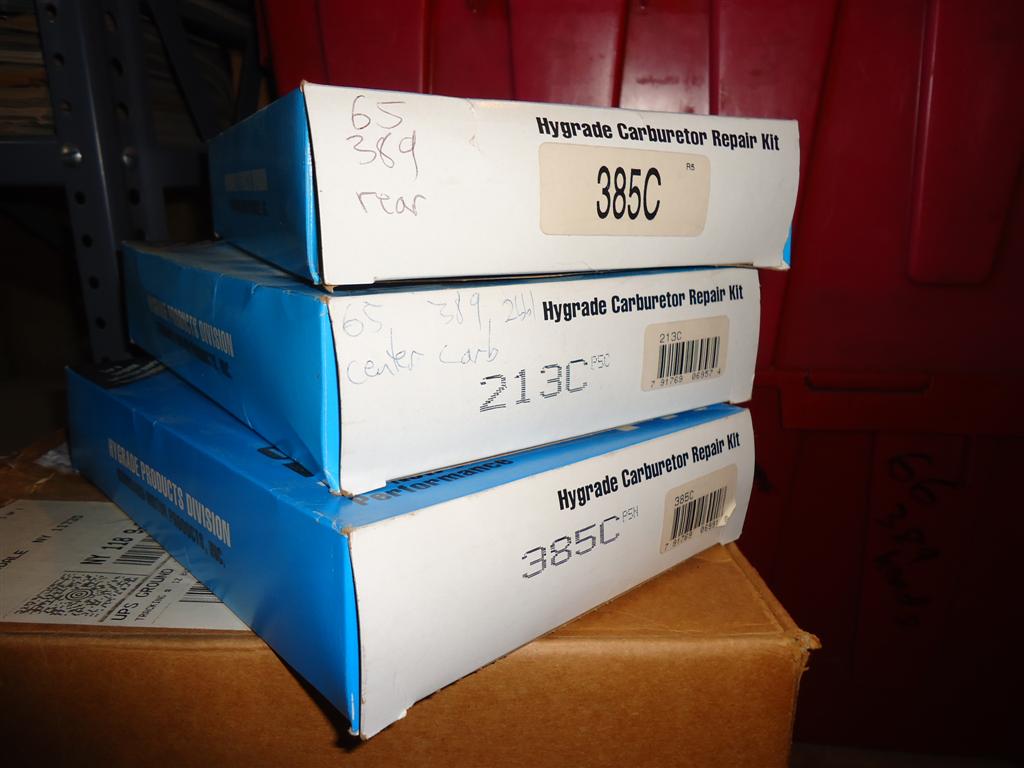 Identifying Tri-power Carburetors
Rochester did not start stamping numbers on their two-barrel carburetors until 1968, and many people with earlier carbs mistakenly believe that the numbers which appear in a circle on the float bowl are carb numbers. These are actually casting numbers which Rochester used for many years on many different two-barrels, and will not help you determine if your two-barrel is a correct Tri-power carburetor or not.
All Tri-Power carburetors were identified by tag numbers attached to left-front air-horn screw, and these are more often than not missing. The best way to tell if it is a Pontiac Tri-Power carburetor is by the fuel inlet - center carbs have inlet facing forward, and outer carbs have outlet facing to the right.
Tri-Power Center Carburetor
The center carburetor supplies fuel to the engine by itself, until full throttle when the outer carbs kick in. Although the 1966 center carb has a larger throttle-bore (1-11/16") than the earlier carbs (1-7/16'), the venturi size is smaller. Center carbs of 1964 and 1965 Tri-Powers have 1-1/4" venturi. The 1966 center carb has a 1-3/16" venturi.
Tri-Power Outer Carburetors
As mentioned, at part-throttle, the engine runs solely on the center carburetor, while the end carbs do nothing. At wide-open throttle, the linkage opens all six barrels. The outer carbs are very simple. They have no idle circuits and no choke. All outer carbs from 1959 to 1966 are similar, and have a 1-3/8" venturi.
After rebuilding the GTO Tri-Power setup, the engine ran smooth and trouble-free. My car had a 4-speed manual transmission. All GTO's so equipped used mechanical linkage, which work crisper than the vacuum-operated linkage found on automatic transmission models.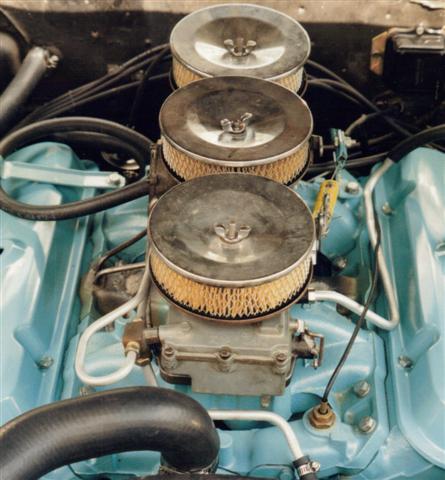 ==========================