1965 GTO Tri-power Engine Rebuild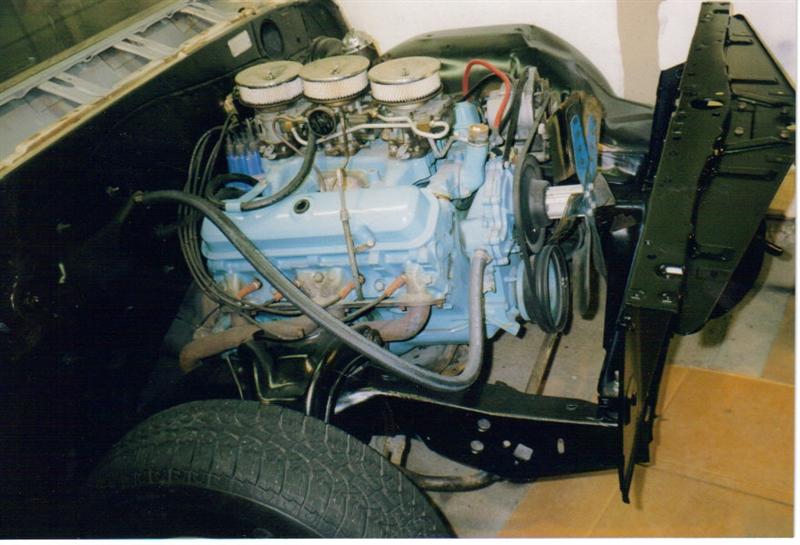 Pulling The Motor
I rented an engine hoist from a local parts house, drove it home in the back of my '70 El Camino, and got started. The GTO hood was already removed (after marking where the bolt-holes were) and propped up out of harm's way.
After the GTO engine was pulled but still on the hoist, it was bolted up to the waiting engine stand. Get a friend or two to help you with these steps. Don't forget the pizza and beer.
With the engine mounted safely on the stand, I began the disassembly process. All engine parts were cleaned, tagged, and put away in marked boxes.
Rebuilding the Bottom End
I found that this 389 block had previously been bored .040" over. There was no ridge on the cylinder walls and all were in allowable tolerance, so re-ringing the pistons was my best option. Because of this unpopular size of over-bore, the rings needed to be special-ordered. After inspecting the pistons and connecting rods, I miked the crankshaft, measuring .010" under on both the main and rod journals. While the crank and rods were at the machine shop being balanced, I cleaned and honed the block.
Before rebuilding this motor, I had rebuilt a 400ci Pontiac motor from a '69 Firebird, and was aware of the tricky two-piece rear-main rope seal. Installing it so it doesn't leak requires one side to be tucked slightly in and the other side sticking slightly out of its cap. Same thing for the other half of rope seal in the cap. The main bearings were lubed and set into the block and main caps. The crankshaft gets torqued down to 100 lb/ft for the front four journals, and 120 lb/ft for the back one.
Tri-power Camshaft
Two different camshafts were used for 1965 GTO engines. Standard 4-barrel carburetor motor used cam #9779067 (stamped "P"). Tri-power engines used #9779068 (stamped "S"). A 1966 Tri-power camshaft is #9785744 and stamped "H".
I decided on the #9779068 cam, which is also used in 421 HO engines, and several Ram-Air 3 applications. Camshaft lift at 1.50:1 is .407" intake and .447" exhaust. Duration at .050 lift is 288 degrees. Stock lifters will work fine up to 6,000 rpm. Recommended adjustment is .010" tighter than zero lash.
After lubing and carefully installing the cam, a double-roller timing chain followed. The cam gear was set to "0" degrees.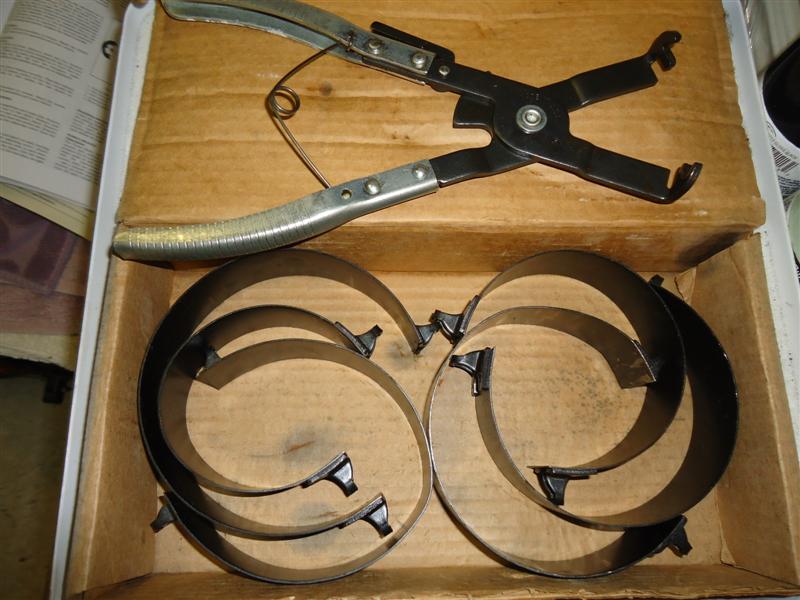 Piston rings must be checked in their prospective bores before installing. Top rings were gapped at .016" and the second rings at .013". A piston ring installer is essential.
After all eight pistons and rods were in, the rod bolts were torqued to 45 ft/lbs. For the oil pump, I went with a TRW high pressure unit, #50049. When the bottom end was complete, the outside of the block was thoroughly cleaned and painted the correct Pontiac "Robins Egg Blue".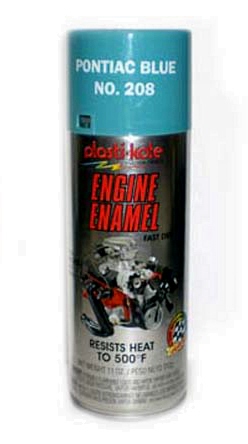 GTO Cylinder Heads and Valvetrain
Correct cylinder heads for the 1965 389 GTO are cast #77 and have 1.96" intake/1.66" exhaust valves. 1967 and later Pontiac performance 400 heads were redesigned to breathe better, and have 2.11" intake/1.77" exhaust valves.
In stock trim, Pontiac rated the 1965 Tri-power motor at a conservative 360 horsepower. In a properly prepared car, that was good for 14-second quarter-mile ETs. But I needed to make a little more power.
The heads that came with my GTO were not correct, nor were they in good shape. After doing a little homework, I found a pair of 1969 Ram-Air 3 heads (cast #16), which have the large valves and better breathing. They fit with no problems and will work fine, but you must use pushrods, rocker arms, and valve covers for the 1968-up Pontiac 400 motor.
Pontiac V8 blocks have just ten head bolts, so correct torquing is critical. On hydraulic cam-equipped motors, rocker arms are adjusted by tightening them to 20 lb/ft. Intake manifold bolts get tightened to 40 lb/ft.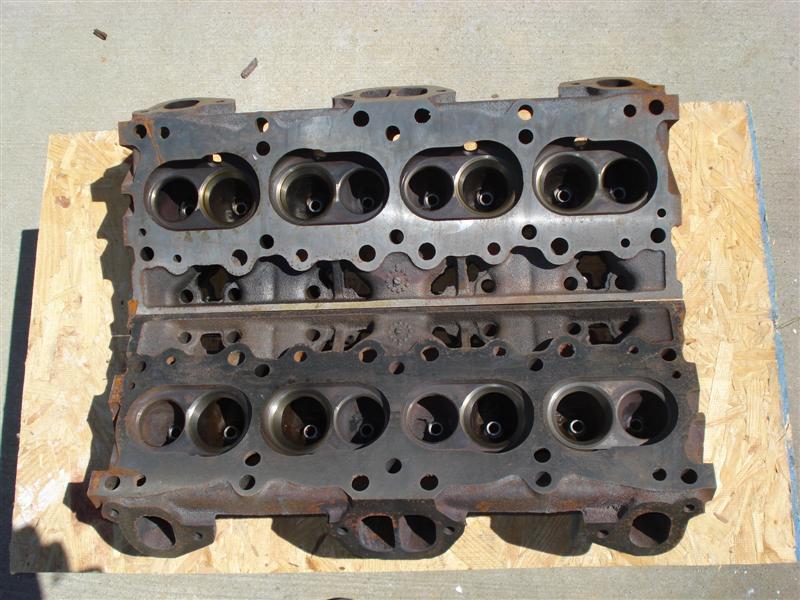 After the Tri-power manifold and carbs were repainted and rebuilt, they were reinstalled.
1965 GTO Exhaust
When I purchased this car, all that was left of the exhaust system were a pair of rotted fenderwell headers with glass-pack mufflers hanging off the back of them. The headers were too rusty and dented to be re-used. Although tempted to buy reproduction free-flow cast-iron manifolds, I decided to get the best performance headers I could find, which at the time were Hooker Super-Comps (there's not much that sounds better than a high-compression V-8 with headers).
Original tailpipe diameter on 1965 GTOs was 2-1/2", but were not available when I restored this car. Tailpipes in smaller-than-stock 2-1/4" diameter were available, so I went with those. The left-side intermediate pipe was available, but the right-side wasn't. So, I bought two left-side intermediate pipes, cut one of them in the middle, slipped on an exhaust coupler, rotated the back end 180 degrees and welded it up. For mufflers I used a pair of free-flow Walker Dynamax units.
Tri-power Performance
The GTO Tri-power engine looked, sounded and ran great. Great lumpy idle and all the torque you'd ever need for the street - it chirped the tires in all four gears. The Tri-power option boosted the standard 389ci engine output to 360 horsepower. By using later-model Ram-Air 3 heads, that figure is significantly higher.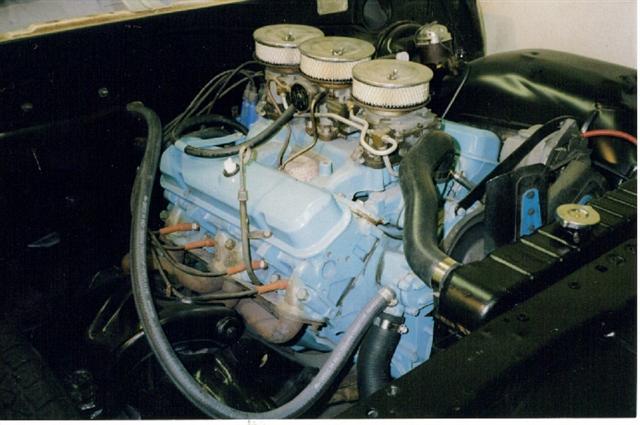 read Tri-power Carbs and Manifold