Willys Jeep (1945-1953)
Article by Mark Trotta
Prior to World-War Two, Willys-Overland (pronounced "Willis Overland") was one of many struggling independent car companies. Their fortune changed after winning the bid to manufacture U.S. Military jeeps, producing over 650,000 units from 1941 to 1945.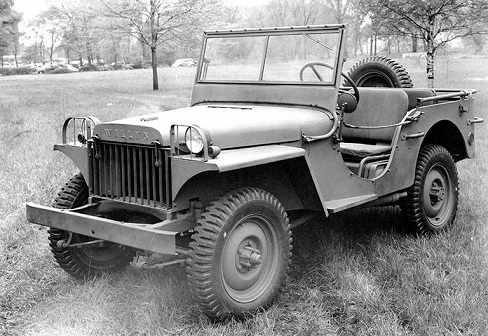 By early 1944, Willys-Overland had designed a prototype civilian jeep. Called the CJ-1, it was basically the MB Army Jeep with military features removed. The addition of a tailgate moved the spare tire to the right side of the truck. A draw-bar and civilian-style canvas top were also added. Between late 1944 and early 1945, 45 examples called the CJ-2 were built for testing purposes.
After World-War Two ended, Willys saw no need to resume production of its pre-war passenger car models. Instead, they continued to do what they did best, and soon became a world leader in four-wheel-drive vehicle production.
Willys Jeep CJ-2A
Willys' first full-production civilian Jeep began in July of 1945, sharing production with the Military-spec MB. Whereas the Military Jeep had recessed headlights and nine-slot grilles, the CJ2A had larger headlights, flush-mounted in a seven-slot grille. The fuel cap was now external.
Jeep CJ-2A Specs
Length: 130"
Width: 59"
Wheelbase: 80"
Weight: 2,137 pounds
Ground Clearance: 8-3/4"
The windshield frame hinged forward and had two separate pieces of glass. Windshield wipers were vacuum-powered on the driver's side and manually operated on the passenger side. Dual vacuum-powered wipers were optional.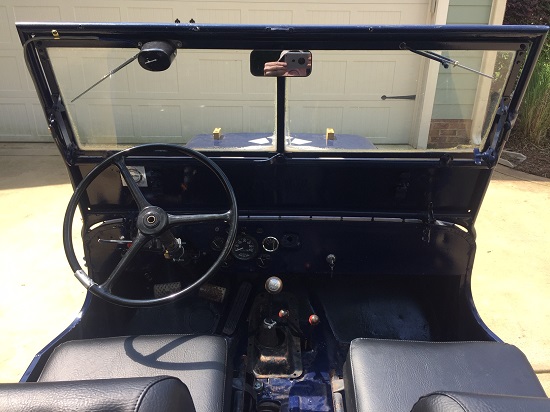 Pictured above is a 1948 Jeep fitted with a drivers-side electric wiper motor conversion. This was not offered from the factory and is an aftermarket upgrade from vacuum wiper motors.
Go-Devil Engine
Fitted with an upgraded transmission, the CJ2A used the same four-cylinder "Go-Devil" engine from the Army Jeep. The durable L-Head engine produced 65-horsepower at 4000 rpm and 105 pound-feet of torque at 2000 rpm.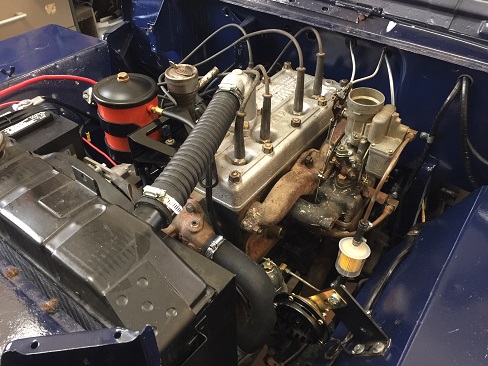 The Jeep CJ2A came with a driver's seat only; front passenger seat and rear seat were optional. Other options included a radiator brush guard, drive shaft guards, side steps, and heater.
Jeep CJ-2A Drivetrain
Early CJ Jeeps were column-shifted, later changed to floor-mount mid-way through 1946 production.
Transmission: three-speed T90
Transfer Case: two-speed Dana 18
Front Axle: Dana 25
Rear Axle: Dana 41
Two exterior colors were offered on 1945 and early-1946 Jeep CJ2As; Pasture Green and Harvest Tan. Additional colors were added during 1946; Michigan Yellow, Normandy Blue, and Picket Grey, and Princeton Black.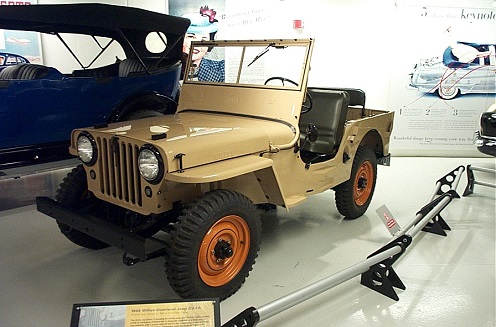 Tires and Wheels
World War II Jeeps had 6.00x16 tires with a non-directional tread (NDT) design. Civilian CJ Jeeps kept this tire size, fitted to 16x4.5 steel wheels as standard equipment, with 15" wheels and tires available optionally.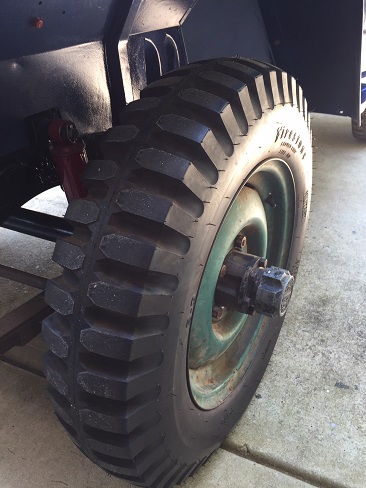 The "knobby" tire is available and popular with restorers, but the stiff sidewalls make for a harsch ride quality. They are known to be dangerous in rainy or icy road conditions.
Although first year sales were just 1,823 units, a total of over 214,000 CJ2A Jeeps were produced through the years 1945 to 1949.
*************************
Jeep Coin
In April of 1948, U.S. President Harry Truman signed the Economic Cooperation Act (Marshall Plan) which helped Europe get back on their feet after the War. One of the countries aided by the Marshall program was Austria, who minted several commemorative coins in 2003.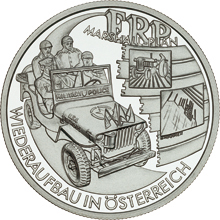 Of interest to Jeep Lovers is the "Post-War Period" silver coin: the head of coin depicts broken chains on the eagle's claws, and the tail-side shows a European Recovery Program poster, an inscription which translates as "Reconstruction in Austria", and four soldiers in a Jeep.
*************************
Jeep CJ-3A
Introduced in the Fall of 1948, the Willys Jeep CJ3A had a larger, one-piece windshield with wipers mounted at the bottom. A stronger transmission and transfer case helped drive the various agricultural implements that were being built for the vehicle. Heavier leaf springs and stronger axles gave the CJ3A a higher payload and better draw-bar torque.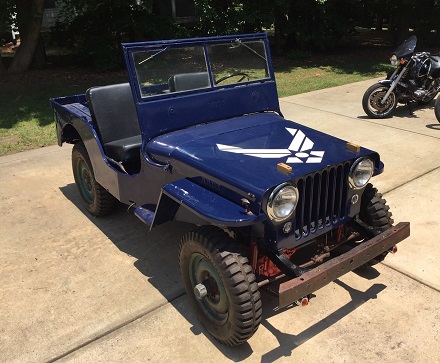 Over 131,000 CJ3A Jeeps were produced before the series ended in 1953.
Willys Farm Jeep
When World-War Two ended, devastation of agriculture in several parts of Europe led to conditions of near starvation. United States was exporting as much food as it possibly could, and with this came an unprecedented increase in demand for farm tractors and equipment. There was never a greater demand for farm-grown products in American history.
Because of their short supply (having been out of production for most of the war), many manufacturers went from building tanks and other military vehicles to making tractors. Willys-Overland saw this as an opportunity to market the Jeep as an alternative.
Offered by Willys from 1951 to 1953, the Farm Jeep was fitted with a low-range transfer case, 5.38 rear axle gears, an engine governor and an engine-driven hydraulic pump. Optional front and rear power take-off (PTO) shafts could power a wide variety of farm implements, including compressors, generators, winches, post-hole diggers, mowers, and welding machines.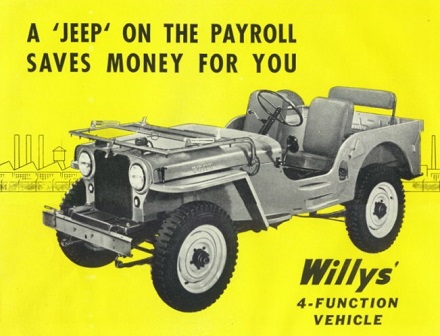 Although the CJ Farm Jeep never really competed with a real farm tractor, mainly due to its light weight, it proved to be very useful for other off-road endeavors. Soon the little four-wheel drive truck was finding favor with ranchers and hunters, around farms, and on and off trails. There were also fire-fighting versions of the CJ, which could pump water from hydrants, ponds or streams, or provide it's own water supply from a trailer-mounted tank.
Jeep CJ-3B
Overlapping production for several months in 1953, the Jeep CJ3B model replaced the CJ3A. Under the hood was the four-cylinder "Hurricane" F-Head motor. To accommodate the larger motor, the CJ3B Jeep had a taller hood and grille.
Willys Hurricane F-134
The F-134 engine was first installed in Jeep trucks, and in 1953, fitted to CJ models. The cast-iron block had three main bearings, and the valvetrain used mechanical lifters.
Whereas the older "Go-Devil" L-134 engine had both intake and exhaust valves in the block, the F-Head 134 motor had exhaust valves in the block, and its intake valves in the cylinder head, allowing them to be larger.
Displacement of the Hurricane engine remained the same as the Go-Devil engine (134ci), but compression was higher at 6.9:1. Power output was 72-horsepower. The F-134 engine remained in production until 1971, and was the only Jeep motor available until 1966.
Willys started using the term 'Universal Jeep' with the CJ3B model, selling over 30,000 units in the first year.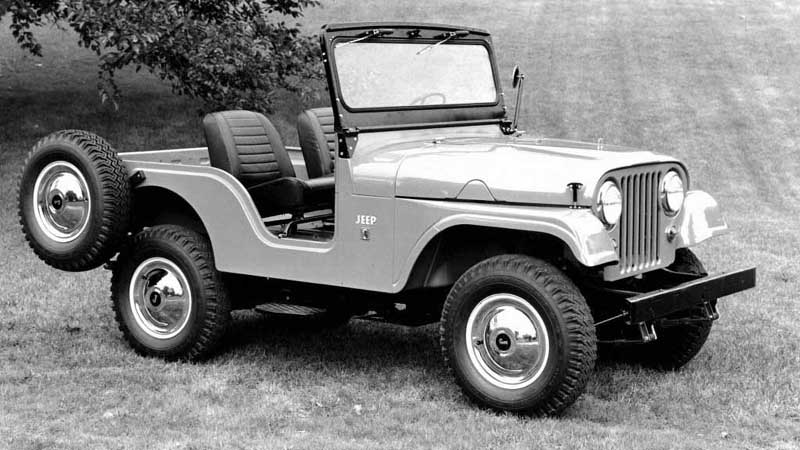 In 1953, Kaiser Motors purchased Willys-Overland and changed the name to Willys Motors.
*************************
Other Related Articles: