CJ5 Engine Swap Choices
Article by Mark Trotta
Early CJ Jeeps (1954 to 1969) have a short wheelbase and weigh about 2,200 pounds. The best choice for an engine swap is not a V8. Aside from requiring too many modifications, it'll have more power than the rest of the vehicle can handle. Combined with the fact that there isn't a lot of room under the hood, a V6 or even a modern four-cylinder are clearly better choices.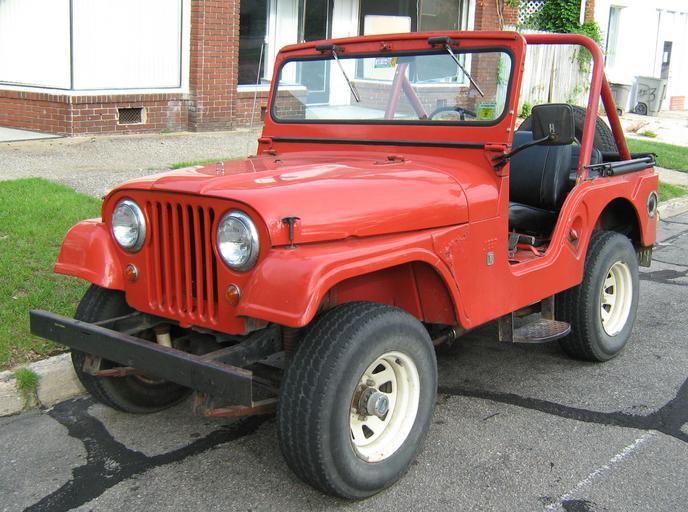 Drivetrain Concerns
The stock Jeep drivetrain is rated at 1/4 ton. To handle V8 power would require replacing the transmission, axles, etc. That doesn't make sense, because the stock (50+ year old) frame can't handle the power. You'd end up with a top-heavy vehicle that just spins tires. This is particularly true of early flat-fender models.
Off-Roading Concerns
If you're planning on taking your old Jeep off-roading, be it mud or dirt or gravel, remember that speed isn't a factor. The added weight of a V8 on the front suspension will make for slower maneuvering, plus you're more likely to sink into mud (have a winch ready).
_______________________________________________________
_______________________________________________________
V6 Engine Swap
A V6 engine will give you all the power that a lightweight, short-wheelbase Jeep can handle. Consider the size of the engine compartment. A V6 configuration (versus a straight six engine) makes for a relatively compact motor, which fits easier into a tight engine compartment.
The two most common V6 swaps are the 225ci Buick and 4.3L Chevy.
Buick V-6 Engine
Introduced in 1966 in Jeep CJ and C101 models, the Buick-designed "Dauntless V-6" displaced 225 cubic-inches and produced 155 horsepower in stock trim. That's nearly double the horsepower of the original four-cylinder engine. Since this motor was offered optionally in CJ models from 1966-1971, it's a fairly easy install.
The block and cylinder heads of the 225 V6 are cast iron, and the motor is externally balanced. The valve lifters are mechanical, so they'll need adjustment from time to time.
The Buick engine's firing order, 1-6-5-4-3-2, is known as an "odd-fire" pattern. The heavier, thicker original flywheel must be used in Jeep vehicles, which increases torque and helps dampen vibrations of the odd-fire design.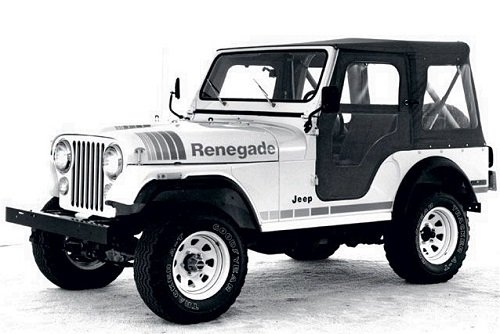 Transmission Choices
The original CJ three-speed manual transmission used behind this engine is not known for it's strength. However, the standard Buick bell-housing will bolt up to an SM420, making it an easy transmission swap. (The SM420 was used in Chevy and GM trucks from 1947 thru 1967.)
Chevy V-6 Engine
Another good engine swap choice for early Jeeps is the 4.3 litre Chevy V6. Introduced in 1985, this motor is basically a small-block Chevy V8 with the back two cylinders cut off, so parts availability is great. It's compact size fits well in vintage Jeeps.
A popular engine/transmission combo is a Chevy 4.3 V6 with a GM TH350 automatic.
AMC 2.5 Four Cylinder
Known to be durable with no reliability issues, the AMC 2.5L was the motor that powered our old 1989 Jeep Wrangler. Truthfully, I always thought it was under-powered on the highway, but it was great for around town or off-roading.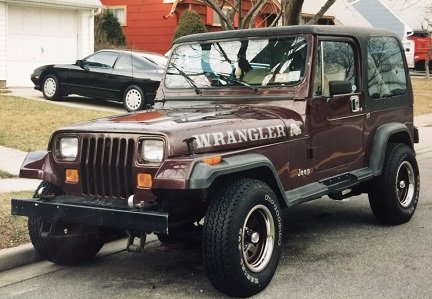 Any AMC 2.5 engine will accept GM small V6 and four-cylinder bolt pattern bell housings. These bell housings are found on many GM transverse-mounted engines.
Another popular engine/trans combo is the AMC 2.5L motor and Borg-Warner T-5 transmission.
AMC 4.0L Straight-Six
If the AMC 2.5L had two more cylinders, it would be the 4.0 motor. These motors were installed in Jeeps from 1987–2006, making them plentiful and cheap.
Four Cylinder Iron Duke Engine
Produced by the Pontiac Motor Division from 1977 to 1993, the 2.5L (151ci) "Iron Duke" was the predecessor of the AMC 2.5L engine. In the eighties, GM began selling the engine to AMC for use in Spirit, Concord and Eagle models, and also in base-model CJ's. The engines in AMC vehicles continued to use the Chevrolet V8 bell housing pattern.
_______________________________________________________
_______________________________________________________
Several significant changes were made to the Iron Duke motor in 1987, including an improved cylinder head and serpentine belt with an automatic spring-loaded tensioner. Through the years, power output went from 85 horsepower up to 110 horsepower.
Installing The Motor Is Only The Beginning
Installing different engine mounts and bolting up the motor is just the first step in the engine swap process. After that starts a multiple series of "mini projects", including hooking up the transmission, cooling and exhaust systems, and wiring it all up.
At this point, you may consider upgrading the brakes and suspension.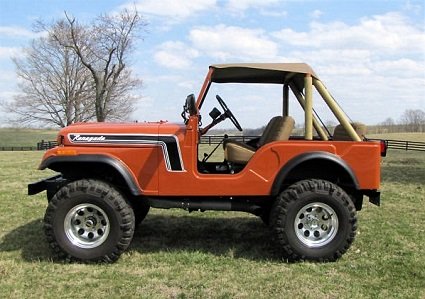 Conclusion
A four-cylinder engine will give you the best mileage you can get from a CJ Jeep. It will also provide adequate power for off-roading or around town driving. But for those who do a lot of highway driving, or want better acceleration, a six-cylinder would be a better choice.
*************************
Related Articles: