Best Old Jeep To Restore
Loved by both collectors and enthusiasts alike, World-War-2 Jeeps and post-WW2 Jeep CJ's are simple to work on, fun to drive, and make great restoration projects.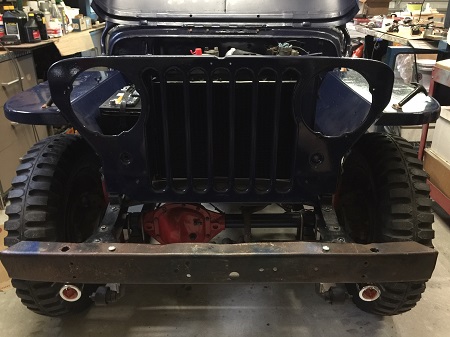 This article is an overview of the many different Jeep CJ models through the years. From WW2 models of the 1940s to the 1980s, there's plenty to choose from!
Early Flat-Fender Jeeps Include:
CJ2 Jeep (1944-1945)
CJ2A Jeep (1945-1949)
CJ3A Jeep (1949-1953)
CJ3B High Hood (1953-1968)
Early model CJ's are super small, but that 80" wheelbase makes them very nimble. They were, and still are, exceptionally capable for off-road use.
Willys Jeep
In 1953, Kaiser Motors purchased Willys-Overland and changed the name to Willys Motors. One year later, the Jeep CJ5 debuted.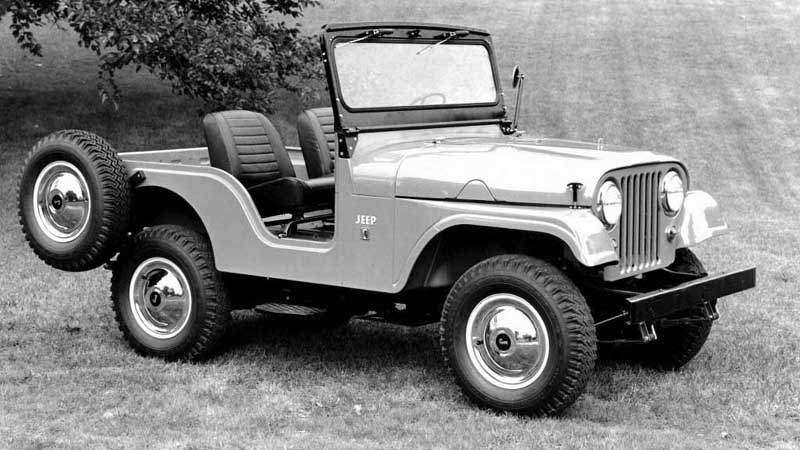 Early Jeep CJ5's were basically a civilian version of the M38A1 military model.
Willys Jeep 4-Cylinder Engines
The Willys L-134 four-cylinder engine displaced 134 cubic-inches and produced 60-horsepower. This was a flathead engine, meaning the intake and exhaust valves were in the block. Many early Jeeps left the factory with no oil filter. A common upgrade is to add a remote oil filter.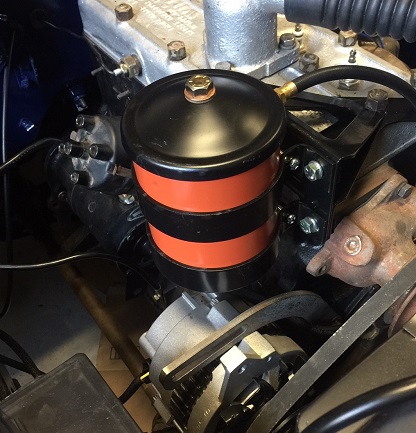 In 1950, the L-134 flathead engine was replaced by the F-134 engine, which kept the exhaust valves in the block, but intake valves now in the cylinder head. By allowing use of larger valves, and raising compression slightly, power output increased to 72 horsepower.
____________________________________________
____________________________________________
The F-134 engine was first installed in Jeep trucks, and in 1953, was fitted to CJ-3B models. Due to the engine change, the hood and fenders were redesigned on the CJ to accommodate the taller engine.
Jeep V-6 Engine
Producing nearly double the horsepower of the 4 cylinder engine, the Buick-designed "Dauntless V-6" was offered in 1966. The compact V6 configuration fit well into the tight Jeep engine compartment.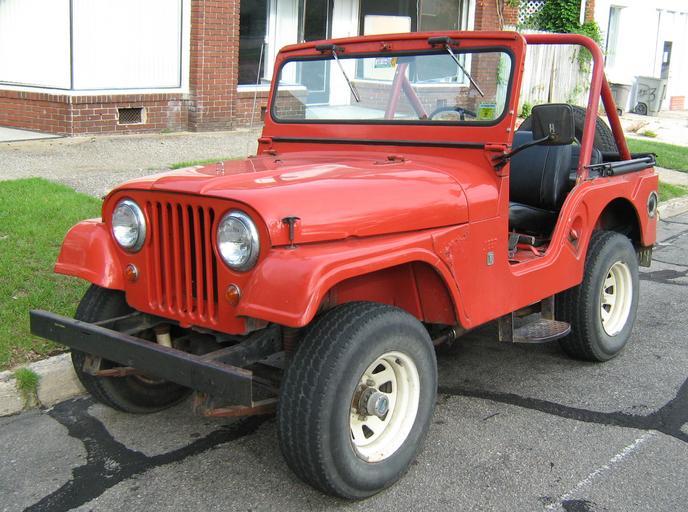 The Jeep V6 engine produced 155 horsepower at 4000 rpm. Net torque was 235 at 2400 rpm. The engine's firing order, 1-6-5-4-3-2, is known as the "odd-fire" pattern. A heavier flywheel was used to increase torque, and also help dampen vibrations of the odd-fire design.
AMC Jeep (1970-1986)
American Motors Corporation purchased Kaiser-Jeep in 1970. Through the next 17 years, the Jeep CJ was offered in an wide array of trim packages and special editions.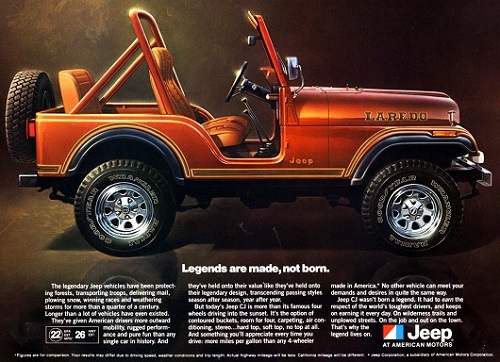 New Engine and Frame
For 1972, the CJ Jeep got a new frame, featuring six cross-members for rigidity, and lengthened three inches to accommodate AMC's six-cylinder engine. Fenders and hood were also lengthened.
The CJ5 wheelbase (hub to hub) was now 81" and the CJ6 wheelbase measured 101". Transmission choices were manual only; either a T14A or T15 three-speed, or T18 four-speed.
258 Inline Six
First introduced in 1971 in J-series pickups and Wagoneers, the AMC 258 six-cylinder engine (4.2 litre) was fitted in CJ Jeeps in 1972. The cast-iron block featured seven main bearings and was very durable.
____________________________________________
____________________________________________
After Chrysler's buyout of AMC in 1987, the 258ci motor continued to be offered in a variety of AMC passenger and Jeep vehicles, and was eventually replaced by the 4.0L engine. Today, the 258 is regarded as one of the most durable engines ever produced.
304 V8
From 1972 through 1981, a 304 V8 motor was offered as a factory option, with the best performance years being 1972-1978. Also offered was a stronger T-15 three-speed or T-18 four-speed transmission with a Dana 20 transfer case.
The idea of putting a V8 in a Jeep CJ was not new. Enthusiasts had been doing it for years, and many aftermarket companies offer installation kits to fit a small-block Chevy into a Jeep.
Jeep CJ7
Introduced in 1976, the CJ7 marked the first significant change to Jeeps in 20 years. The longer wheelbase (about 10") allowed fitment of an automatic transmission.
CJ5 vs CJ7 Jeep
The CJ7 was longer and wider than the CJ5, and was built simultaneously from 1976-1983 (CJ5 production ended after 1983). The larger CJ7 has better overall handling and better driver/passenger comfort.
Jeep purists will always revere the CJ5 as being last model to not be offered with an automatic transmission or smog equipment.
Buying Tips
Like most old vehicles, Jeeps were prone to undercarriage and body rust. Look carefully at the frame, brackets and body parts.
Unless you're willing to pay shipping charges or travel out-of-state, try to find one that's in driving area. No matter how many pictures you look at online, inspecting an old Jeep in person is far better. Look carefully for frame and body rot - repairing or replacing rusty metal gets costly.
____________________________________________
____________________________________________
If you find a choice of two Jeep projects to choose from, pick the one with the better frame, running or not, with or without a body. A good frame is the most valuable part of an old Jeep.
Beware of old farm or hunting Jeeps. These have usually spent all their life outdoors and usually neglected.
Conclusion
Early Jeeps (1940's and 1950's) have a short 80" wheelbase, so they wouldn't be a first choice for a street-driven vehicle. They also have low (high numerically) axle gearing. However, they are a good choice for Saturday night cruises and modified off-road use. With eight-inch drum brakes on all corners and a single-pot master cylinder, a brake upgrade is recommended.
CJ Jeeps from the 70's and early 80's will have automatic transmissions, power steering, air conditioning, better seating, and a host of other driver comforts, making them easier to drive. And since many more were sold than earlier models, it will be easier to find one worthy of a restoration project.
*************************
Related Articles: