Jeep CJ History (1970-1986)
Article by Mark Trotta
By the late sixties, consumer interest in off-road activities had grown in leaps and bounds, and four-wheel drive vehicles were more popular than ever. It was at this time that American Motors Corporation was looking to expand their product line.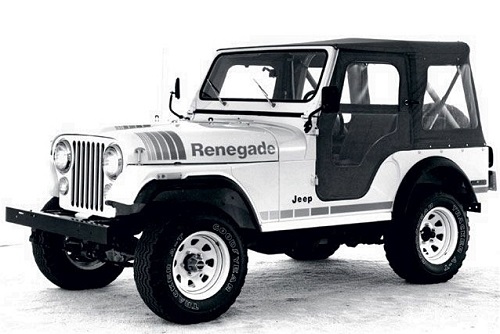 Seeing the rising demand for off-road vehicles, AMC purchased Kaiser-Willys Jeep in 1970, and over the next 17 years offered the CJ Jeep in an wide array of trim packages and special editions.
Longer CJ Frame
For 1972, A new frame, featuring six cross-members for rigidity, was lengthened by 3" to accommodate American Motor's 258ci six-cylinder engine. Fenders and hood were also lengthened. The CJ5 wheelbase (hub to hub) was now 81" and the CJ6 wheelbase measured 101". Transmission choices were upgraded to a T14A or T15 three-speed, or T18 four-speed manual transmission.
_______________________________________________________
_______________________________________________________
Other upgrades on the Jeep CJ included a full-floating Dana-30 front axle and heavier Dana-44 rear axle. Both front and rear axles were suspended with leaf springs. Larger 11-inch drum brakes were fitted, as well as an improved steering system.
Jeep Renegade Series
In 1970, the Renegade I was introduced. The Renegade II followed in 1971, and by 1972, it was simply Renegade. By 1974, it was separate model in the Jeep CJ lineup.
CJ5 Engine Options
The first two years of American Motor's Jeep CJ5 saw the continuation of the GM 225ci V6 engine that first saw use in the 1964/1965 Jeep CJ. In 1972, CJ5 models were fitted with AMC's 232 inline-six engine. The cast-iron block featured seven main bearings and was very durable. An OHC cast-iron head housed hydraulic lifters with non-adjustable rockers.
Jeep 304 V8
From 1972 through 1981, an AMC 304ci V8 was optional in CJ Jeeps. The best performance years were 1972-1978, with a net horsepower of 150 at 4,200 rpm and peak torque rating of 245 at 2,500 rpm. The cast-iron block housed five main bearings, with early engines having an 8.4:1 compression ratio.
Super Jeep
With dozens of available options and a wild stripe pattern, the Super Jeep CJ model was first offered in 1973, then again in 1975 and 1976. The 1973 Super Jeep came with chrome bumpers, white steel wheels, and a 304ci V8 engine.
1976 Jeep CJ5
Courtesy lights, day/night mirror, and a new steering wheel appeared in 1976. This year also saw an energy-absorbing steering column which featured an anti-theft steering lock. Rocker panel moldings between the front and rear wheels were new. Safety concerns brought about larger combination backup/tail-lamps.
Also in 1976, the body tub and frame were modified slightly from earlier versions. The windshield frame also changed, making tops from 1955-1975 CJ models different from 1976-1983 CJ models. The new windshield used screw-type hold-downs.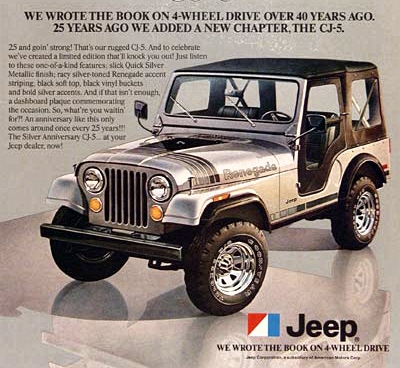 Power disc brakes became optional on the Jeep CJ5 in 1977. In 1979, the base engine became the 258ci straight-six with two-barrel carburetor.
Levi's Jeep
Offered from 1975 to 1986, the Levi's Jeep package was not a special edition, it was an option. It was one of the most popular interior and top options Jeep had ever offered. Aside from simulated stitching in Levi fashion on the seats, there was jean-style padding on the dash, and a jean material-type top. The Levi's package was available in blue or tan, and was optional on all CJ Jeeps and standard on the Renegade.
First Year Jeep CJ7
Introduced in 1976, the CJ7 marked the first significant change in 20 years. A longer wheelbase (about 10") allowed fitment of an automatic transmission.
Quadra-Trac 4WD
Jeep introduced the Quadra-Trac System in 1973, the first automatic full-time 4WD system. The first version was produced from 1973 to 1979 and used the Borg-Warner BW1339 transfer case.
CJ7 Jeeps received the Quadra-Trac system starting in 1976 - it was already available in full-size Jeep trucks and wagons. A vacuum lock switch was located in the glove box, and a low range selector shift located on the center hump.
_______________________________________________________
_______________________________________________________
Many people use the name Quadra-Trac for any full-time Jeep 4wd system, but there are several varieties produced by different manufacturers. The original Qudra-Trac system used a differential which split engine torque from front to rear automatically.
With full-time four-wheel-drive, more interior space, optional molded plastic top, steel doors and air conditioning, the CJ7 was a big leap forward in comfort and day-to-day practicality.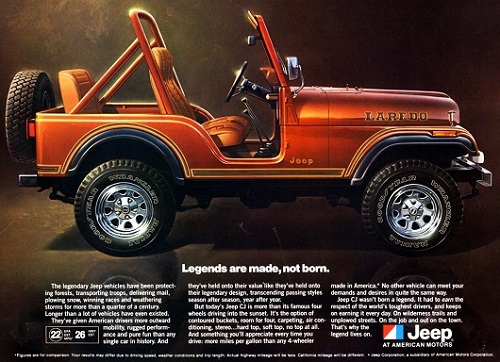 In 1979, the standard 232ci six-cylinder engine was replaced by AMC's 258ci six-cylinder engine. This motor was long-lived and still enjoys a very good reputation within the Jeep community.
Jeep Golden Eagle
From 1977 to 1983, the Golden Eagle package came with a soft-top or hard-top option, power disc brakes, power steering, tachometer, 304ci V8, air conditioning, side steps, and Golden Eagle decals.
A Silver Anniversary Jeep CJ was offered in 1978. Special features on this model included metallic silver finish with accent striping, black interior and soft top, and commemorative dashboard plaque.
4-Cylinder Engine
To help comply with stricter U.S. mileage requirements, a four-cylinder engine built by GM debuted in 1980. With a displacement of 151 cubic inches, a two-barrel carburetor, and 8.2:1 compression ratio, engine output was 82-horsepower at 4,000 rpm. Engine torque was 125 lb-ft at 2,600 rpm. Jeep advertised the 2.5 litre motor as the "Hurricane" but it was commonly known as the Iron Duke.
From 1980 to 1983, the 2.5 four-cylinder would be the standard engine in CJ Jeeps. It was dropped in 1983, leaving the 258-six as the only engine available.
Steel vs Plastic Valve Cover
For 1981, weight reduction on the 258 motor included an aluminum intake manifold and plastic valve cover. You can retro-fit a steel valve cover in place of the plastic one, but the back bolt hole needs to be drilled and tapped out or it will leak.
V8 Option Discontinued
Federal requirements for emission controls severely hurt 304 V8 engine performance, and was dropped from the option list in 1981. By 1979, power output dropped to 130 horsepower. The last two years the 304 was offered, it dropped 110 horsepower, which was barely higher than the 258 six cylinder motor.
The idea of putting a V8 in a Jeep CJ was not new. Enthusiasts had been doing it for years, with several aftermarket companies still offering installation kits to fit small-block Chevy V8's into Jeeps.
_______________________________________________________
_______________________________________________________
During the seventies, Jeep engineers were struggling to meet emissions and mileage standards. One thing that helped was substituting taller gearing in the axles. Although this reduced engine rpm at highway speeds, it hurt performance.
Installed in CJ models from 1976 through the mid 1980s, the two-piece axle design of the AMC Model 20 are OK for stock use. However, you may want to upgrade your axles to handle any significant performance upgrades. Many CJ owners replace the two-piece shafts with the stronger one-piece style, or weld the tubes for additional strength.
***********************************
Jeep CJ Pickup (1981-1986)
Starting production in 1981, the Jeep CJ8 was designed to compete with other American small domestic pickups, such as the Ford Ranger and the Chevy S-10. Wheelbase on the CJ pickup was 104-inches, and was essentially a longer wheelbase version of the CJ7 model.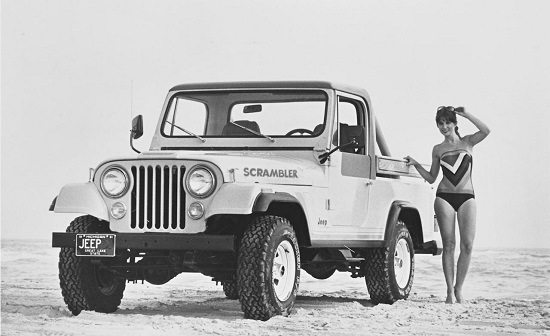 ***********************************
Last Year CJ5 Jeep
With popularity of the Jeep CJ7, demand for the smaller CJ5 gradually decreased, and was eventually discontinued in 1983. With a total of over 600,00 units produced between 1954 and 1983, the CJ5 enjoyed a 29-year production run, longer than any other Jeep model up to that time.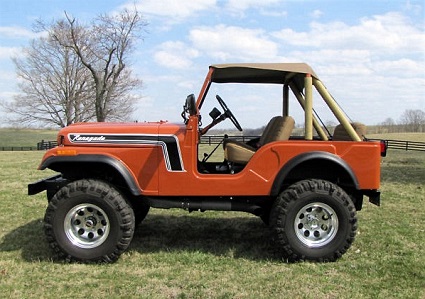 Jeep CJ Series Discontinued
The Jeep CJ-7 and CJ-8 were replaced by the Jeep Wrangler. Late in the 1985 model year, a dash plaque was added, which read "Last of the Great Ones".
The CJ7 was one of the most successful Jeep models, with numerous special packages. Close to 400,000 were produced by the time it was discontinued.
After Chrysler's buyout of American Motors in 1987, the 258ci motor continued production through 2006. It is considered by many to be one of the most durable engines ever produced.
Aftermarket Jeep Parts
Parts availability for CJ Jeeps is second to none. Anything mechanical, as well as wheels, tires, soft and hard tops, interior and exterior parts are easily obtained. There are also plenty of off-road upgrades, such as transfer cases, drive shafts, axles, differential lockers, roll bars, bumpers, skid plates, winches, etc.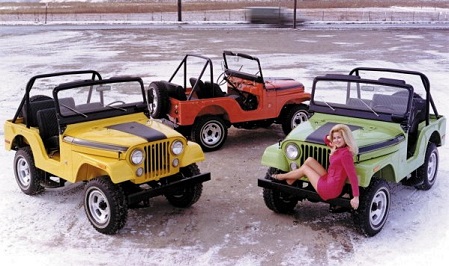 ***********************************
Related Articles: