Small-Block Chevy Timing Chain And Gears
As an engine gets older, a timing chain will wear and stretch, which affects valve timing and hurts performance. Aside from replacing the chain and possibly gears, there is an alternative or two.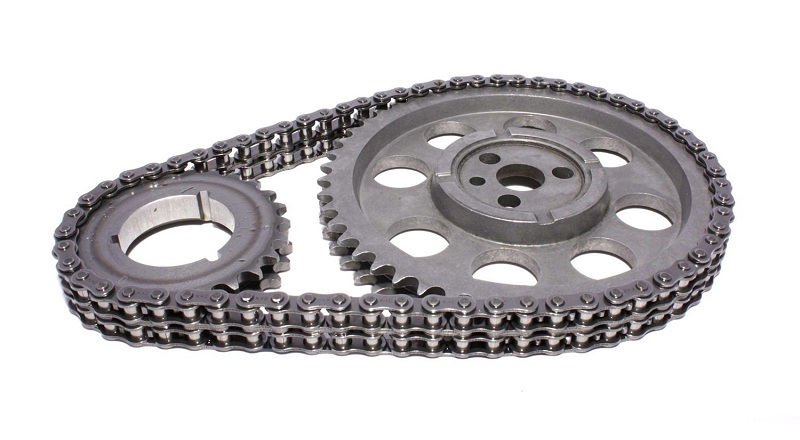 Double-Roller Timing Chain
The stock Chevy timing chain and gears are fine for light-duty driving, but for any kind of performance they won't hold up. For mild street performance applications, a double-roller timing chain will provide a longer life and more accuracy than a stock chain.
Timing Chain Sprockets
Factory camshaft sprockets are light-duty. Some are part-steel with nylon-faced teeth. These are not recommend for re-use. Unless you're building a 100 point restoration, replace your old cam gear and crank gear with all-steel gears.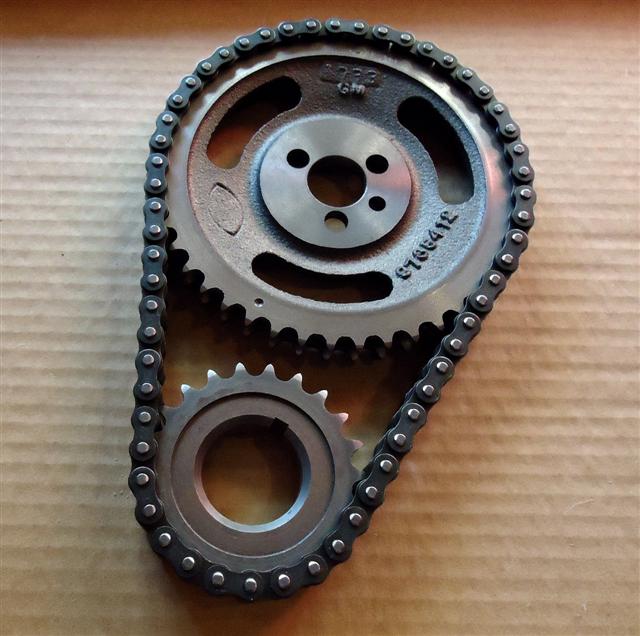 Cloyes SBC Timing Chain Kit
I have rebuilt several first-gen small-block Chevys, and I prefer Cloyes timing chains and gears. The "True Roller" 9-3100 kit features solid bushing rollers that really roll. The pitch diameter is larger than stock, making it less prone to stretch.
The Cloyes cam sprocket is cast iron and dynamically balanced to 5,000 rpm. That equates to 10,000 rpm engine speed.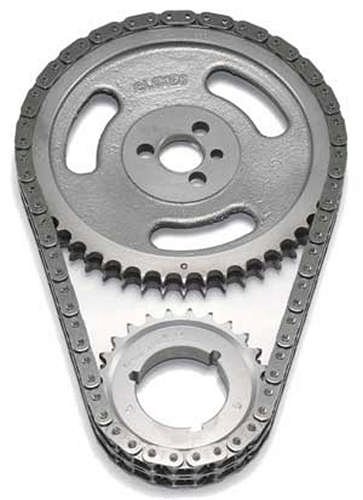 The Cloyes 9-3100 crank sprocket has three keyway slots. This allows you to set the timing either 4° advanced, 4° retarded, or factory standard.
Up to around 7.000 rpm, a double-roller timing chain and steel gears are all you really need for good street performance. Beyond that, chains have a tendency to jump gears, which does bad things to a motor. If you're building a serious high-RPM small-block, consider a gear drive set-up.
Gear Drive
I like the sound of a gear drive. A friend of mine had one in his small-block powered Chevelle. At idle, it made a distinctive "whine" that many people mistook for an intake blower. It wasn't very noticeable on the highway, but it was quite pronounced when accelerating.
I appreciate the benefits of gear drive. They can't stretch or wear out like timing chains do. Being solid metal gears with teeth, there is no variation or play. This gives precise timing throughout the RPM range.
Gear Drive Kit
Competition Cams makes a gear drive kit designed to fit small-blocks originally equipped with hydraulic flat-tappet camshafts. Both gears are made from heat-treated billet steel.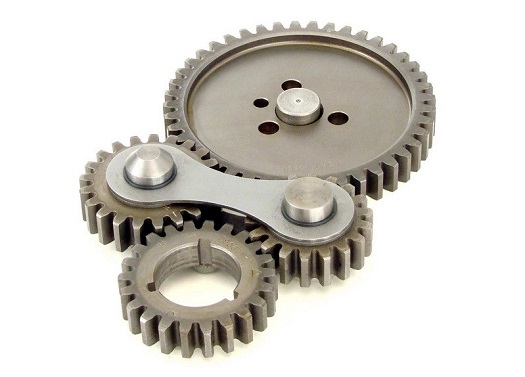 Gear Drive Issues And Complaints
Running metal to metal, gear drive units transfer harmonics to the valvetrain, whereas timing chains help absorb these harmonics. In extreme cases, these have led to valve-train parts breakage.
Some gear drive systems will require modification to a stock timing cover for clearance.
On newer, computer-controlled small-blocks, the harshness of a gear-drive tends to trigger the knock sensor. The computer then compensates by retarding the timing, which decreases the power output of the engine.
Belt-Drive
In many ways, a belt-drive is the ultimate way to turn a camshaft. A belt transmits very little, if any, crankshaft harmonics. Because a belt is connecting the crank pulley and camshaft pulley, there is no harmonic vibration transfer that you can get with a timing chain or gear drive.
Belt drives also make cam swaps much easier, and camshaft timing changes are easily made without removing the timing cover.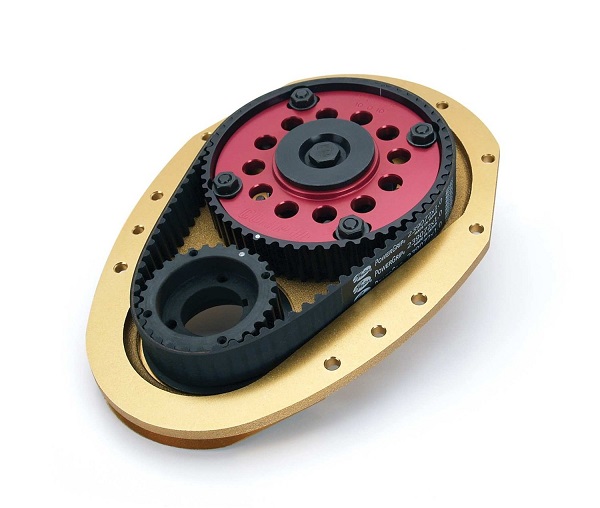 Belt drives have three big negatives.
They're expensive, they're difficult to install, and they're expensive.
Best Choice For Street-Driven Car
A double-roller timing chain with steel gears is really all you need for a street-driven car. Beyond that, it's all about style and attitude.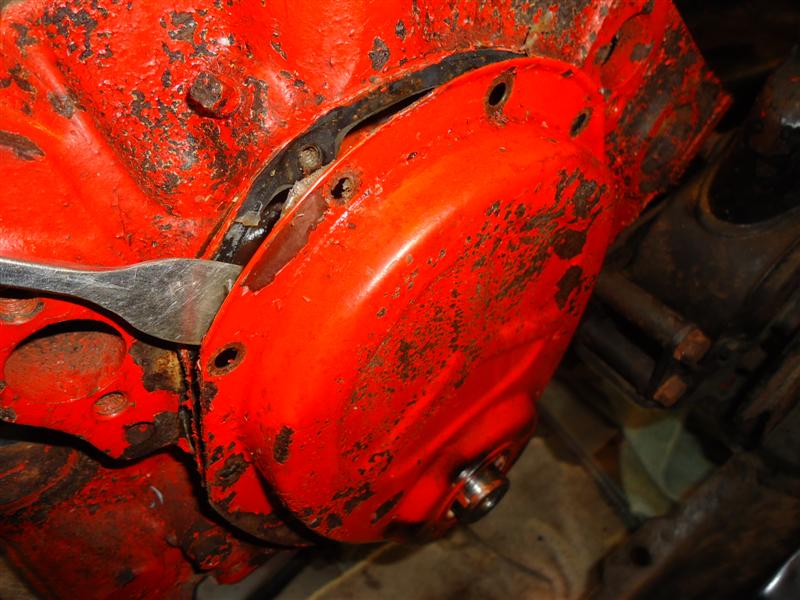 SBC Chevy Timing Chain Cover
Before you buy a Chinese-made chrome timing chain cover to put on your American hot rod, consider re-using the stock piece. The quality of metal is better, and the chrome plating holds in engine heat.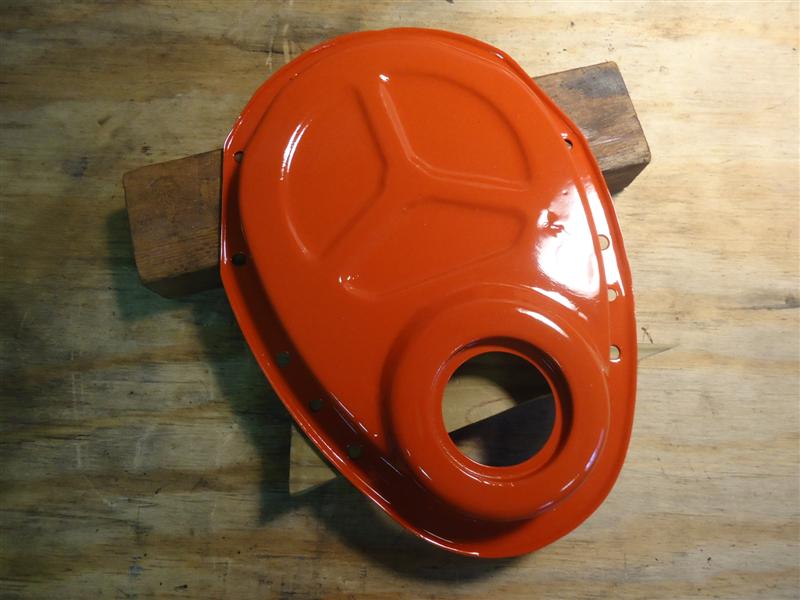 In the 40+ years the first-gen small-block Chevy was produced, there have been several styles of timing chain covers. The important difference is where the timing pointer mounts.
If you decide to use an aftermarket timing cover, it may not have a timing pointer on it. Many suppliers offer a bolt-on timing tab; two bolts attach them to the timing cover. However, care must be taken that it's the right one for your engine and harmonic balancer.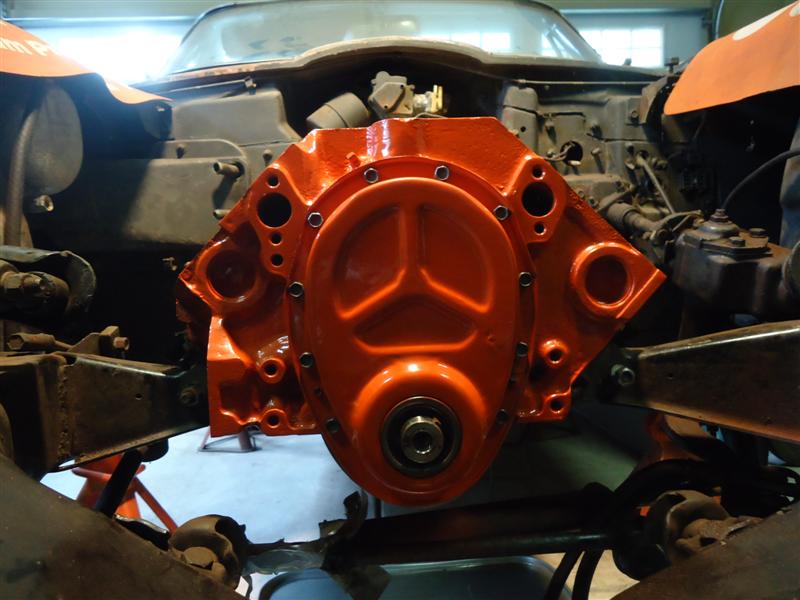 Check that the timing mark on the harmonic balancer is in the right place. Unless the mark is moved to correspond with the new tab, you'll never set the timing correctly.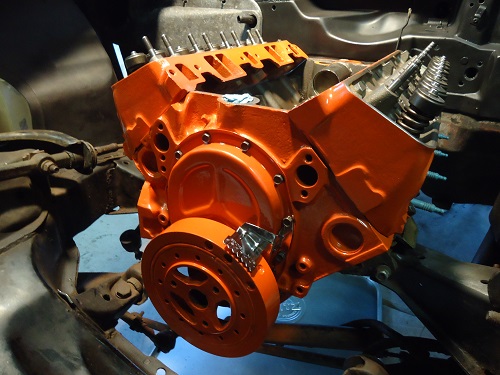 Larger 8" harmonic balancers have the timing pointer higher up to clear the bigger balancer.
Please Note: Timing chain cover bolts require only 7 to 9 lb/ft of torque, no more.
Break-In Oil
Lucas 10631 SAE 30 is a high-zinc break-in oil used for flat tappet camshaft break-in. No moly supplement or additional additives are needed with this oil. Not recommended for passenger cars with catalytic-equipped emissions controls.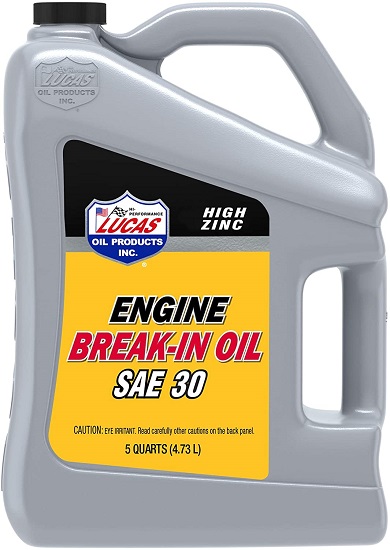 Classic Car Engine Oil
The 10W-30 oil your car left the factory with is not the same 10W-30 that you buy today. There are more flat-tappet hydraulic cam failures than ever before, brought about by inferior foreign lifters as well as the removal of ZDDP additives from motor oils.