Restore An Old Go Kart
They're fun, they're cheap, they're collectable - but most of all they're fun. Vintage go karts take the motorized world down to its most basic element. For about $200 and a few weekends of work, I was able to restore an old go kart from a rusty frame to the orange beauty you see in the pictures.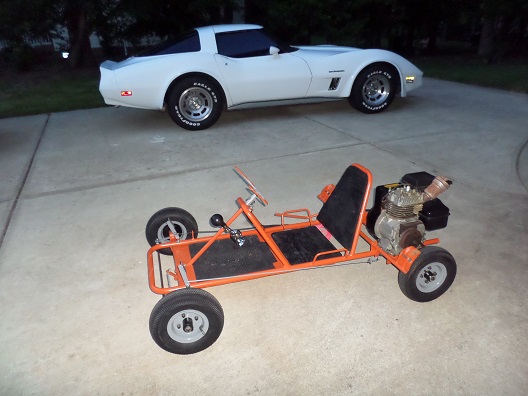 The Purchase
I'm quite sure that Tom Kotter's next book will not be called "The Go Kart In The Barn", but that's where I found this one, resting peacefully for several decades before I showed up. Local rodents had made a meal of the original seat vinyl, the gas in the tank smelled like turpentine, and the old kart had an impact with a tree years ago leaving the steering linkage slightly bent. After counting out five twenty-dollar bills and handing them to the owner, we picked up the kart, put it in the back of my truck, and headed home.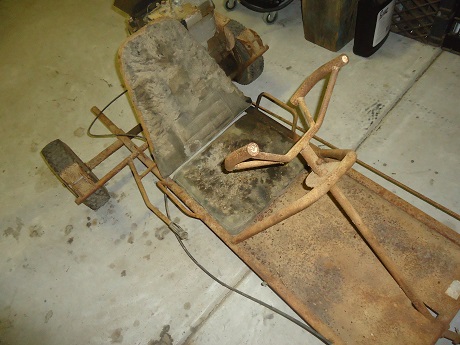 Bird Engineering Go Kart
On the horizontal bar behind the seat, a tin sticker read "Bird Engineering Inc P.O. Box J Fremont, Nebraska 68025" followed by a hand-engraved serial number. I did a little homework and found that Bird Engineering was founded in 1959, and manufactured go karts, mini-bikes and three-wheelers, selling them under their name as well as Sears and JC Penney. The company was bought out by Phoenix Engineering somewhere in the 1980s.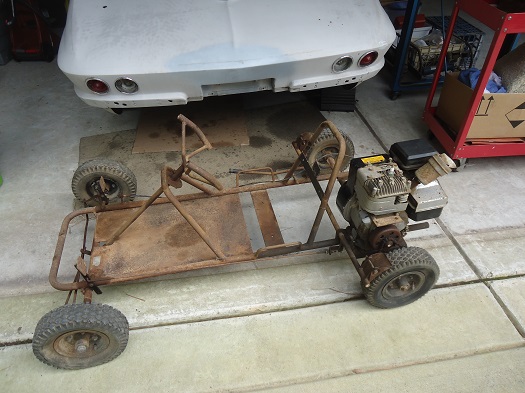 Overall length of this cart is 57", width 35", height 24", with a wheelbase of 43". If you don't have a proper work stand you can prop the kart up on milk crates or cinder blocks.
Go Kart Restoration Tools and Supplies
Ordinary hand tools are all that's needed to restore an old go kart. Parts needing replacing on this kart were the tires, clutch, chain, and a few engine gaskets. Supplies included several spray cans of primer and paint and about $20 of hardware.
Since the go kart frame was a solid shade of brown rust, I could only guess what the original color of the kart was. I decided on a two-tone theme: Allis-Chalmers Orange for the frame, and industrial grey for the wheels, pedals, and linkage. Everything was stripped down to bare metal, then primed and painted.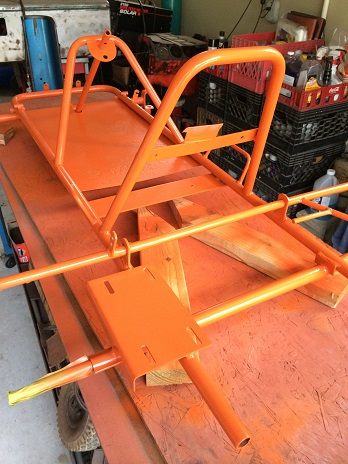 The key to every good paint job is in the preparation. Clean the surface with mineral spirits, and use painters tape to mask off anything you don't want painted. If the frame doesn't fit on your workbench, prop it up on wooden horses or with pieces of wood or cinder blocks while painting.
The two-piece go-kart rims are old-school and saved lots of time on assembly/disassembly. New tires are a "sawtooth" tread, size 4.10-3.50 x 5".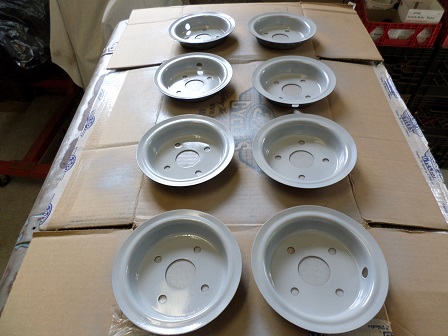 Generally, spray paint fumes aren't as harmful as other paint, but good ventilation provides you not only with fresh air, it also helps the finished product dry faster. Select an area that is well-ventilated.
Rebuilding A Go-Kart Engine
If you've ever rebuilt an old car engine, it's an absolute joy working on a small gas engine. Many old go karts and mini-bikes were originally fitted with either a Briggs & Stratton or Tecumseh 4-cycle flathead engine. These old flathead motors were durable, reliable and easy to repair.
Originally, this Bird go-kart was equipped with a Tecumseh 2.5 horsepower motor, but this one had stopped running. I replaced it with a 1980s Briggs & Stratton motor. The 5-horsepower Briggs flathead is one of the most popular small engines of all time, so popular that there are racing classes based on that engine.
5-HP Briggs&Stratton Motor
This Briggs & Stratton "Funpower" 5-hp motor needed a little work to get back to running condition. A few 2x4 strips of wood were used to make a cheap engine stand.
Small Engine Repair
Since Briggs flathead blower housing covers are easily swapped from engine to engine, you don't really know what you have until you take the cover off and look. You also don't know if the engine has had any modifications, so opening it up helps solve any mysteries. First off was the muffler, carburetor and gas tank assembly, then the blower housing, then the cylinder head. The piston and valves looked OK.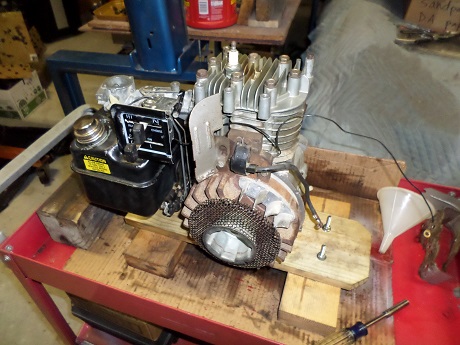 The carburetor was disassembled, soaked in parts cleaner, then cleaned and air-dried. It was reassembled with a new carb rebuild kit, which consists of a diaphragm and a gasket or two. After that, the inside of the gas tank was thoroughly cleaned and flushed with kerosene, then repainted black. I flushed the engine with thin motor oil, then added fresh 10/30 oil and a new spark plug.
Go Kart Clutch
The centrifugal-type clutch found on most old go karts does not like "on-and-off" operation. If you drive it this way, the clutch will have a very short life, so it's better to run pedal down or not at all. Alternatives are either installing a jack-shaft or torque-a-verter, but a centrifugal clutch is cheapest.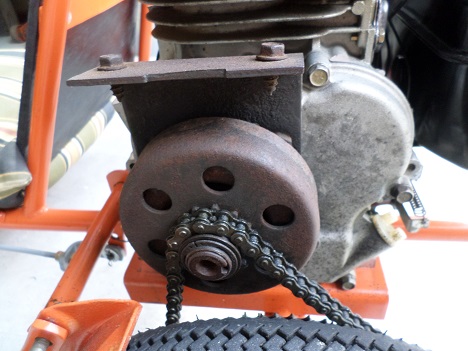 Scrub Brakes
In terms of efficiency, disc brakes are best. Below disc brakes are drum brakes. Below drum brakes are band brakes. And below that are scrub brakes. Pressing down on the foot-operated pedal activates the cross-rod, which has two pucks of U-shaped metal pivoting on a bolt in front of the rear tires. So what is there to say in praise of the scrub brake? Well, they're simple, they're cheap, and they're better than using your feet.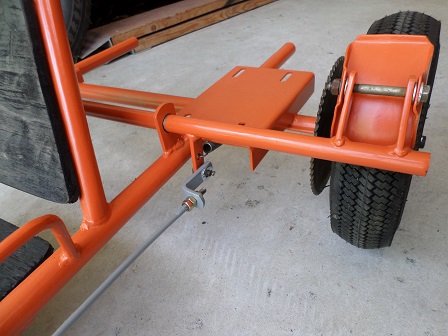 Go Kart Steering Wheel
I couldn't fit my "adult-sized" body behind the original dished steering wheel, so I made a flat one. This was easily done with some 5/16" round-stock metal rod that was bent around an old small-block Chevy harmonic balancer propped up in my workbench vise. For the steering wheel hub, I cut a scrap piece of 5/8" round steel tube and MIG-welded it to the bent rod.
I sliced two lengths of 5/16" fuel line hose and wrapped them around the ends of the steering wheel.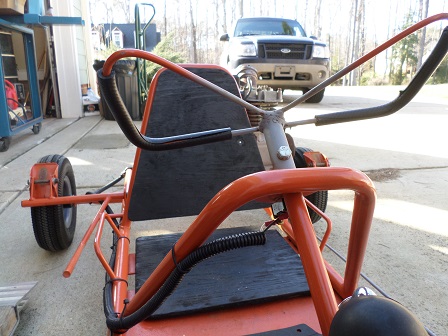 Simple Kill Switch
The simplest kill switch is a shoe-string tied around the spark plug wire so you can reach over and yank it to stop the motor. Better yet, wire up a two-pole switch. Ground one wire to the frame and the other goes to the engine. When you throw the switch, it grounds the ignition and kills the motor.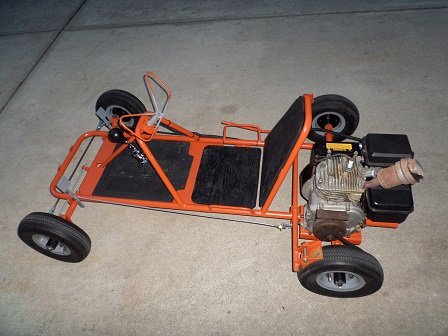 First Ride
With everything tightened down and inspected, I fired up the motor, climbed in, and off I went. What a blast! Rolling along six inches off the pavement, neighborhood kids smiling and waving. Even a quick spin down the street is a blast.
After the trial run, my son and I took turns driving around the block to work out a few kinks. And that's basically all there was to this vintage go kart restoration; a few weekends of work, $100 initial layout and less than $100 in parts and supplies.