Restore An Old Go Kart
Article by Mark Trotta
The go karts that we baby boomers grew up with as kids are very much in vogue, and in restored condition exchange hands for a surprising amount of money.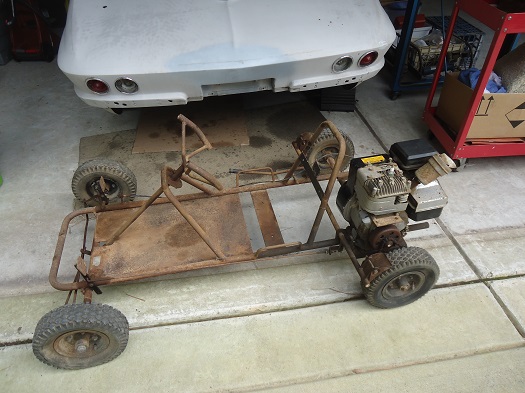 Aside from nostalgia, reasons for the surge of interest in vintage go karts include affordability, mechanical simplicity, and ease of transport and storage. The three basic types of vintage go karts are the yard kart, the race kart, and the car body kart.
____________________________________________
____________________________________________
Yard Karts
The most common of vintage kart is the yard kart. These typically have a flat frame with no side supports, no roll cage, and no suspension. Power was originally from a 5-horsepower or less small engine.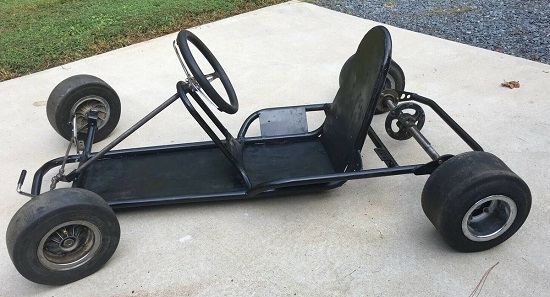 Yard karts are usually one-wheel-drive only, and were not designed for competitive racing, but rather for use on private property, a vacant parking lot, or around a neighborhood.
Vintage Race Karts
Similar to classic muscle cars, the reason that vintage race karts are so rare today is because most were thrashed and abused throughout their lives. Very few complete original examples still exist, and if you find one, they sell for good money.
Most vintage race kart motors were two-strokes, with Mcculloch and West-Bend being two of hottest engines of the day.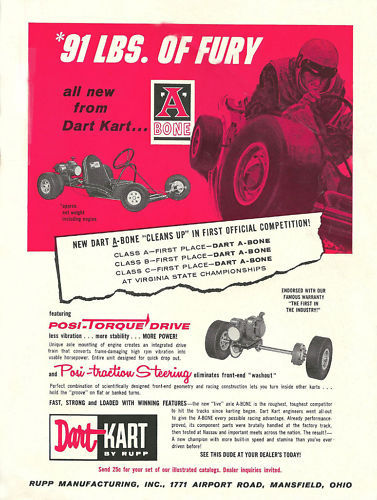 ************************
Dual-Engine Go-Karts
Back in the early 1960's, before we had the technology to get more power from a single-cylinder gas engine, the hot set-up was to add a second motor to your race kart.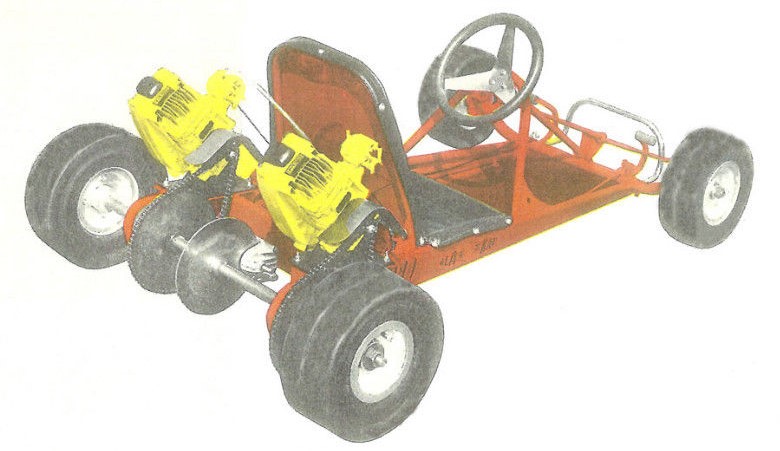 Vintage dual-engine karts had the highest performance of their day, and today command the greatest value.
____________________________________________
____________________________________________
Vintage Kart Identification
Because they were easily swapped from one to another, engines don't help to identify old karts.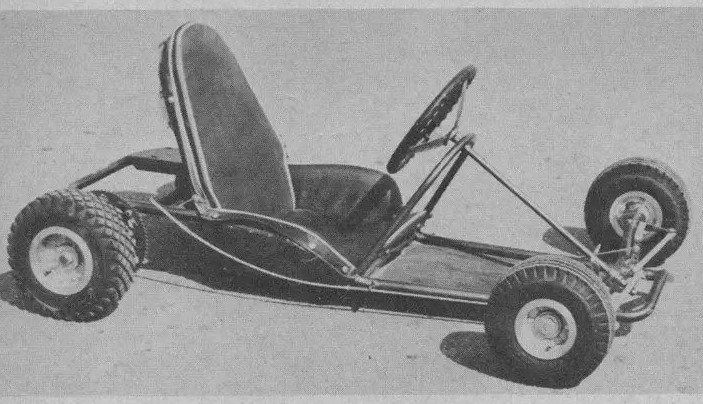 Visual Identification
If your kart has scrub brakes, it's likely from the 1960's. If your kart has disc brakes, it's likely a 1980's kart.
Most post-1980s go-karts have a VIN or serial number on the driver or passenger seat frame.
In cases where a serial number cannot be located, you can identify an old kart through pictures. Jump on the internet and google "vintage go kart" and go from there.
And you may just have a home-built kart with a one-off frame. Look closely at the welds - manufactured karts will have smoother welds.
************************
Car-Body Kart
Several years ago, my wife bought me a Manco Corvette kart body for Father's Day. The previous owner had it hanging from a wall inside his house for 15 years before he decided to sell it.
Car body karts are most always made of fiberglass, and for that reason, most haven't survived as well as this one did.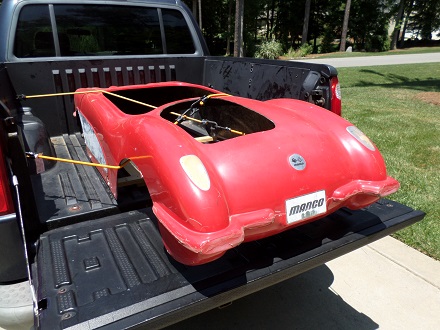 Manco Corvette Kart
The plan was to find/build/adapt a frame for the Corvette kart body. After a year of fruitless searching for a correct frame, I thought about modifying an existing kart frame. But it's just not in my nature to hack up a perfectly good frame.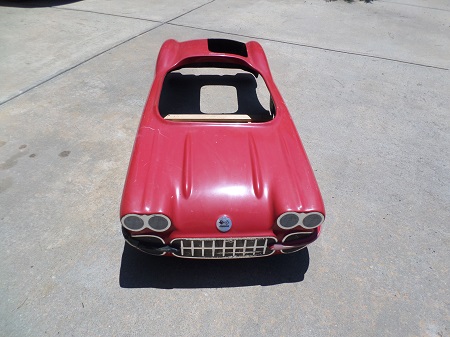 "Plan C" was to build a go kart frame from scratch. Unfortunately, this would have been too much of a project in itself. And from a financial standpoint, it wouldn't have been profitable time-wise.
So, after several years of moving it around from garage to attic to garage, I listed it on ebay. The buyer gladly drove out from another state to pick it up.
************************
Partial List Of Vintage Go Kart Brands:
Ala Kart
Bird Engineering
Bug Kart
Blackhawk Kart
Caretta
Clark - models include Cyclone 440
Dart - models include "A-Bone" with dual engines
Fox
GoBoy
Hartman Kart
Hoffco Kart - models include Hurricane
Hornet
King Kart
Rupp
Simplex
************************
This NASCAR #3 go-kart was posted on my local CL early in 2019. Even if you're not a fan, this would certainly be a worthwhile project.
When complete and restored, vintage car-karts often appear at major auction houses like Barrett-Jackson, some selling for $5,000 and up.
************************
Where To Buy A Vintage Go Kart
Buying an old go kart locally is always best, as shipping is very costly due to their size. They're most always on ebay and FB marketplace.
If you ever see a vintage race kart frame for sale, in any condition, grab it. A substitute engine can always be used to keep the project moving forward while you search for a correct motor.
Vintage Go-Kart Engine
Many old go karts and mini-bikes were originally fitted with either a Briggs & Stratton or Tecumseh 4-cycle flathead engine.
Old single-cylinder motors were, and still are durable, reliable and easy to repair. Compared to rebuilding a modern car engine, it's an absolute joy working on small gas engines.
____________________________________________
____________________________________________
The Go Kart In The Barn
I'm quite sure that Tom Kotter's next book will not be called "The Go Kart In The Barn", but that's where this one was, resting peacefully for several decades before I showed up. Local rodents had made a meal of the original seat vinyl and the gas in the tank smelled like turpentine. The old kart had an impact with a tree years ago leaving the steering linkage slightly bent.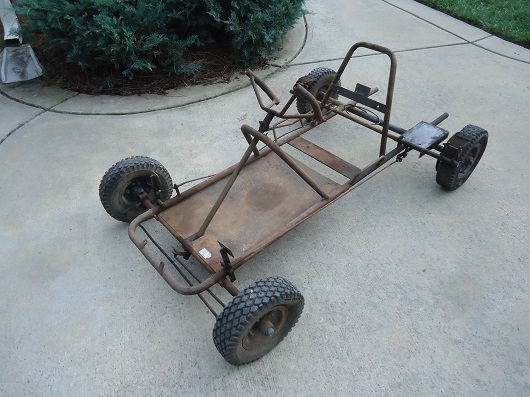 If you'd like to read more about my Bird go kart restoration click here.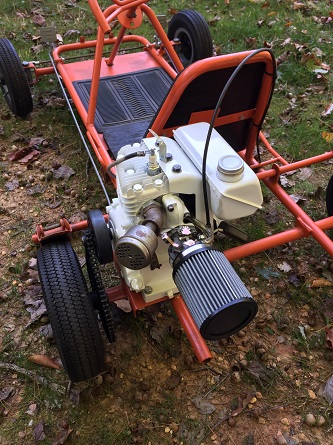 ************************
Related Articles: