Stovebolt 6 History and Specs
Article by Mark Trotta
Durable, affordable, and powerful for their day, early Chevy six-cylinder engines are often referred to as the "Stovebolt" or "Stovebolt-Six" because of the 1/4"x20 slotted-head stove-bolts holding down the valve cover, lifter cover and timing cover.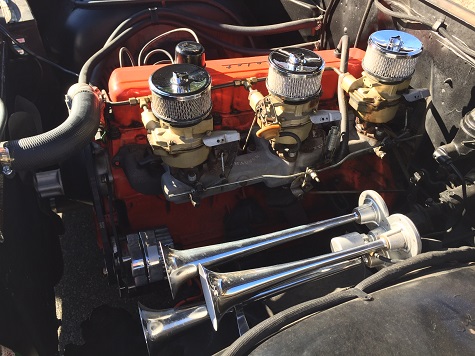 Although only engines from 1929 through 1962 had the slotted-head bolts, the nickname eventually included all inline six-cylinder Chevrolet cars and trucks.
Chevy Stovebolt History
Chevrolet introduced their new inline-six engine to the market in 1929. The original bore and stroke was 3.3125" by 3.75", making 194 cubic-inches. Although the more common flathead engine design was simpler and cheaper to manufacture, the Stovebolt-6 was a more complex, overhead-valve design.
____________________________________________
____________________________________________
194ci Engine
The 194 Stovebolt engine featured a forged-steel crankshaft and connecting rods, with three main bearings and cast-iron pistons. These engines were not named Stovebolt by Chevrolet, they gained that nickname later on.
216ci Engine
With improvements in both durability and performance, an updated 216ci engine was introduced in 1937. This second-generation I-6 had a 46-pound crankshaft that was statically and dynamically balanced.
One drawback to the 216 Stovebolt engine was it did not have pressurized rod journal oiling, and their Babbitt bearings were not noted for their longevity. The 216ci displacement was last offered in 1952.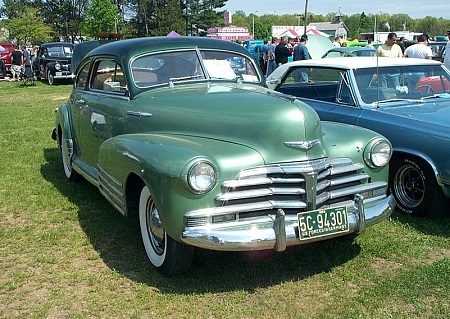 Mechanical vs Hydraulic Lifters
In 1950, the 235 Stovebolt with hydraulic lifters was offered with Chevy's new Powerglide automatic transmission. Engines mated to manual transmissions continued use of mechanical lifters. Hydraulic lifters were quieter and did not need periodic adjustment.
235 Stovebolt Engine
In 1953, Chevrolet discontinued the 216 Stovebolt in favor of the 235ci engine, taken from Chevy's "Load-Master" truck series. Improvements included stronger crankshaft and connecting rods, aluminum pistons, and full-pressure lubrication. All pre-1953 engines were splash-oiled Babbitt bearing engines.
____________________________________________
____________________________________________
With 7.5:1 compression ratio, horsepower rating for the 235ci engine was 112 at 3,700 rpm. Torque was 200 pound-feet at 2,000 rpm.
1953 Chevrolet
All 1953 Chevy's (except a few fleet vehicles) came standard with the 235ci Six, rated at 108-hp with standard transmission. When backed with a Powerglide automatic, power output was 115-hp. Engines in the Powerglide-equipped models had a full-pressure oiling system.
Stovebolt-Six In Competition
At the 1953 Carrera Panamericana road race held in Mexico, driver C.D. Evans drove a Stovebolt-powered Chevy 210 to victory in the Light Stock Car class.
1953 Corvette
As the 235ci Stovebolt was Chevy's only engine at the time, it powered the first Corvette in 1953. Called the "Blue Flame Six", it was painted blue and mated to the Powerglide automatic transmission. The Corvette version had a higher 8.0:1 compression and featured a high-lift, long-duration camshaft with solid lifters. Power output was 150 horsepower at 4,200 rpm.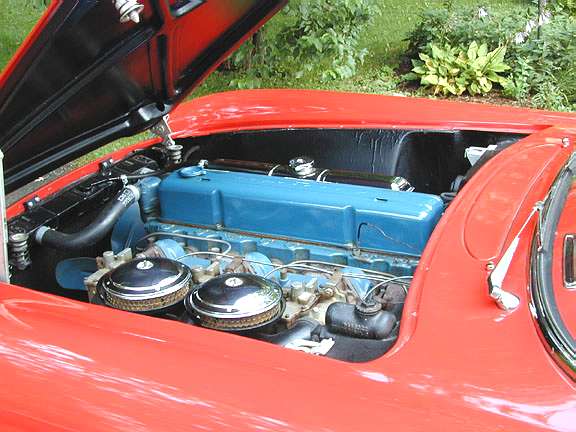 Blue Flame Six
The 'Blue Flame' moniker had been used in Chevrolet advertising since 1934. For the 1953-1954 Corvette, the Blue Flame Six featured three side-draft, single-barrel Carter Model YH carburetors, each carb feeding two cylinders. Dual valve springs were added to help achieve higher RPMs, and split exhaust manifolds rounded out the package. The Blue Flame Six was the only engine available in 1953 and 1954 Corvettes.
The Stovebolt-6 was Chevrolet's only regular production engine from 1929 through 1954. When the optional small block V8 debuted in 1955, it became the base engine in passenger cars and light trucks.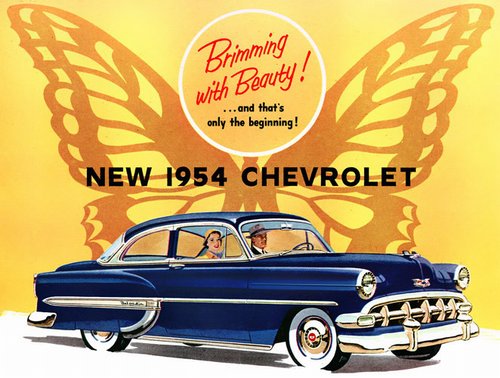 Starting in 1956, all 235ci engines in passenger cars had hydraulic lifters. The 235 was produced until 1962, and is considered one of Chevrolet's best engines.
Transmission Swaps
Starting in the mid-fifties, Chevy inline six-cylinder engines had revised bell-housings, making transmissions and starter motors interchangeable between the I-6 and V8 engines.
Chevy 230ci Engine
By the mid-sixties, not many car buyers were concerned about the economy of a six-cylinder engine, although Chevrolet continued to sell variants of the Stovebolt-Six.
In 1962, the 235ci engine was replaced by a third-generation 230ci straight-six. Part of the re-design was to share parts with the Chevy small-block V8.
____________________________________________
____________________________________________
The 230ci six was the base engine for 1967 through 1969 Camaros. It was also found in Chevelles and El Caminos, as well as several Oldsmobile and Pontiac models.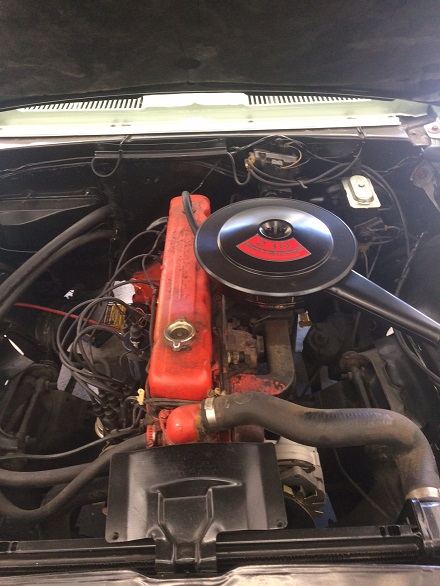 Improvements over the old engine included a seven main-bearing block, up from four in the previous version. Displacement later increased to 250ci, with production continuing until 1988.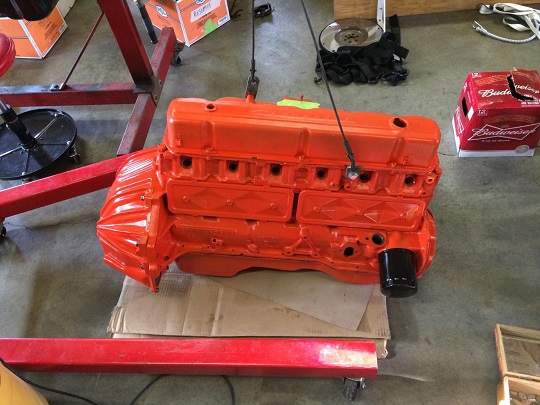 picture courtesy of Thomas Griffin
194ci Engine (Third-Generation)
The 194ci six was available in early Chevelles and Novas, and also some Chevrolet and GMC trucks. It was not offered in the 1/2-ton C/K series trucks. Bore and stroke was 3.56" in and 3.25".
One-Piece Cylinder Head
Between 1975 and 1984, an integrated cylinder head was produced for the Chevy straight six. This was an intake manifold and cylinder head cast as a single piece, presumably for cost savings. The extra weight sometimes resulted in warpage, and it was common practice to swap an earlier, non-integrated head in place of the integrated head.
Engine Identification
Finding and checking the casting numbers on the head and block is the easiest way to identify a Chevy six-cylinder engine. You'll find the numbers on the passenger side of the block behind the distributor.
The letter/number combo will include the engine ID code, assembly plant code, production date and suffix code.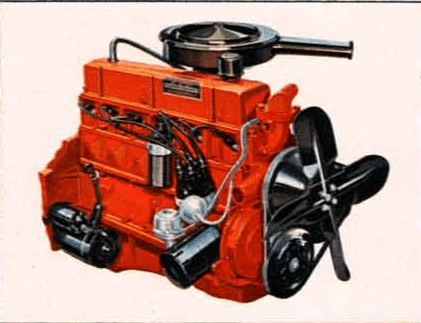 More info can be found at Chevy Stovebolt Website
****************************
Stovebolt Six Performance
Aftermarket performance goodies for the Stovebolt Six include multiple carb intake manifolds and exhaust headers, to name a few. Upgrades include generator to alternator swap, air conditioning, and others.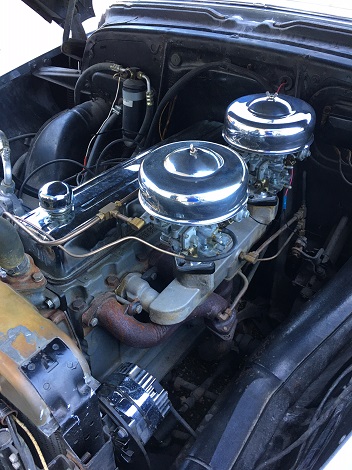 Conclusion
The Chevy Stovebolt-6 is one of the most durable engines ever built - simple and efficient, and capable of making more power. They are easy to work on, easy to maintain, and can be dressed up quite nicely with an aftermarket valve cover and chrome air cleaners.
Notes and Misc
Firing order for 216, 235, and 261 Chevy engine's is 1-5-3-6-2-4. The cylinders are numbered 1-2-3-4-5-6 from the front of the engine to the rear.
****************************
Related Articles: